____________________________________________________________________________________________________________________________________
King County Taxable Sales during the Covid-19 Pandemic

The Covid-19 pandemic caused significant declines to sales tax revenue in King County. Impacts were uneven; a business's sector had a major impact on its change in taxable value. We decided to breakdown taxable sales and taxpaying business counts by 6-digit NAICS code. Using these values we developed a "taxable sales per UBI" metric that measures the average taxable sales of all taxpaying businesses in a given sector each month. To review the data, click on the link below to download our spreadsheet. Some businesses (fewer than 100 according to DOR) accepted taxable sales deferrals offered by the WA state Department of Revenue, which impacted the timing of sale tax revenues in Q2 and Q3 2020. Also, due to confidentiality requirements we are not able to provide data for all NAICS codes, so some have been removed to satisfy those requirements. The sales tax data we receive arrives with a two month lag, so the results we post are for taxable sales that occurred two months ago.

King County and Seattle Taxable Sales per UBI September 2022

Defining some terms:
"Taxable sales" - Taxable sales are the total sales of taxable goods and services by a particular business for a given period of time.

"UBI number" - A Unified Business Identifier (UBI) number is a nine-digit number that registers a business with several state agencies and allows it to do business in Washington State. Businesses large and small will have a UBI number. Businesses with multiple locations will usually still report under the same UBI, though there are instances of large corporate branches having differing UBIs or franchisees that carry a UBI that is different than its corporate parent.

"NAICS code" - The North American Industry Classification System (NAICS) is the standard used by Federal statistical agencies in classifying business establishments for the purpose of collecting, analyzing, and publishing statistical data related to the U.S. business economy.

"Full Service Restaurant" - establishments primarily engaged in providing food services to patrons who order and are served while seated (i.e., waiter/waitress service) and pay after eating. These establishments may provide this type of food service to patrons in combination with selling alcoholic beverages, providing carryout services, or presenting live nontheatrical entertainment.

"Limited Service Restaurant" - establishments primarily engaged in providing food services (except snack and nonalcoholic beverage bars) where patrons generally order or select items and pay before eating. Food and drink may be consumed on premises, taken out, or delivered to the customer's location. Some establishments in this industry may provide these food services in combination with selling alcoholic beverages.

"Drinking Places" - establishments known as bars, taverns, nightclubs, or drinking places primarily engaged in preparing and serving alcoholic beverages for immediate consumption. These establishments may also provide limited food services.

Below are some graphical examples of taxable sales per UBI for King County and Seattle Full and Limited Service Restaurants and Drinking Places. Full definitions of all NAICS codes can be found here at the NAICS website.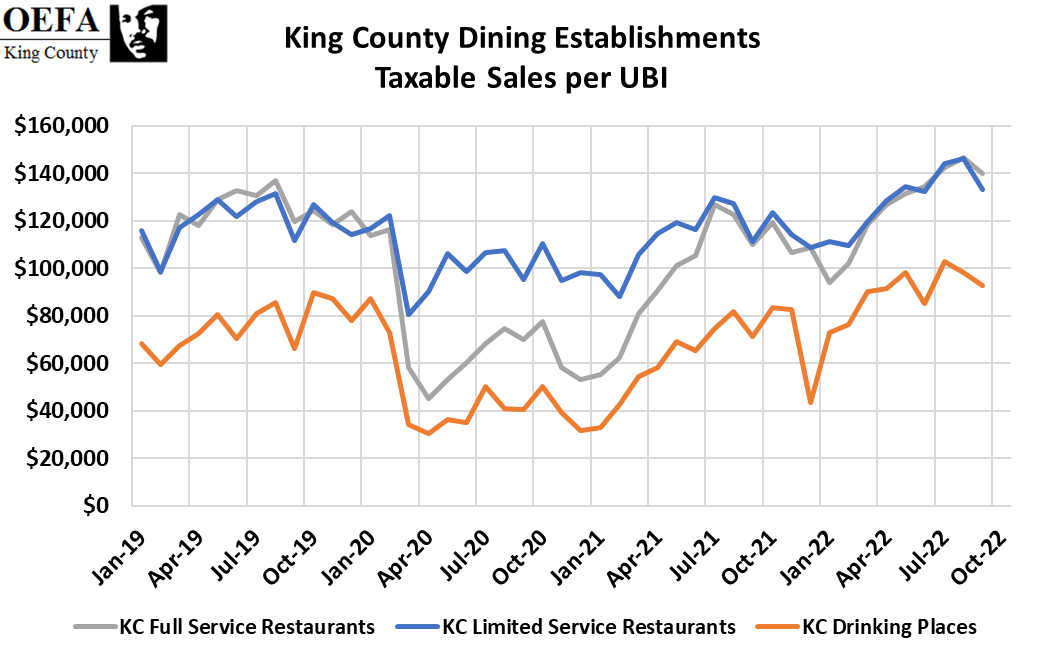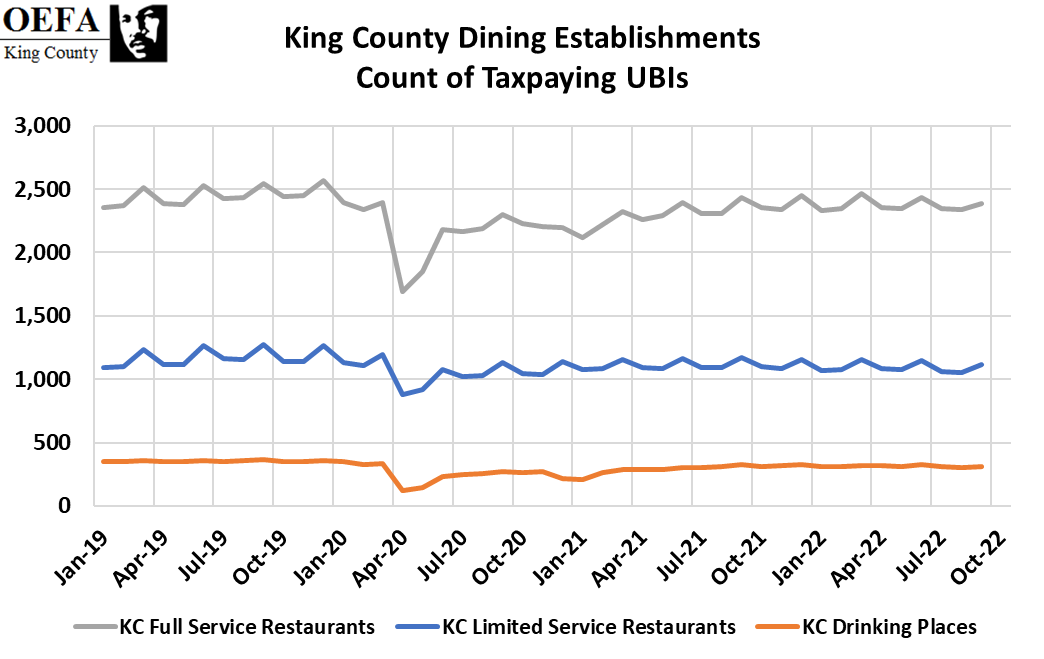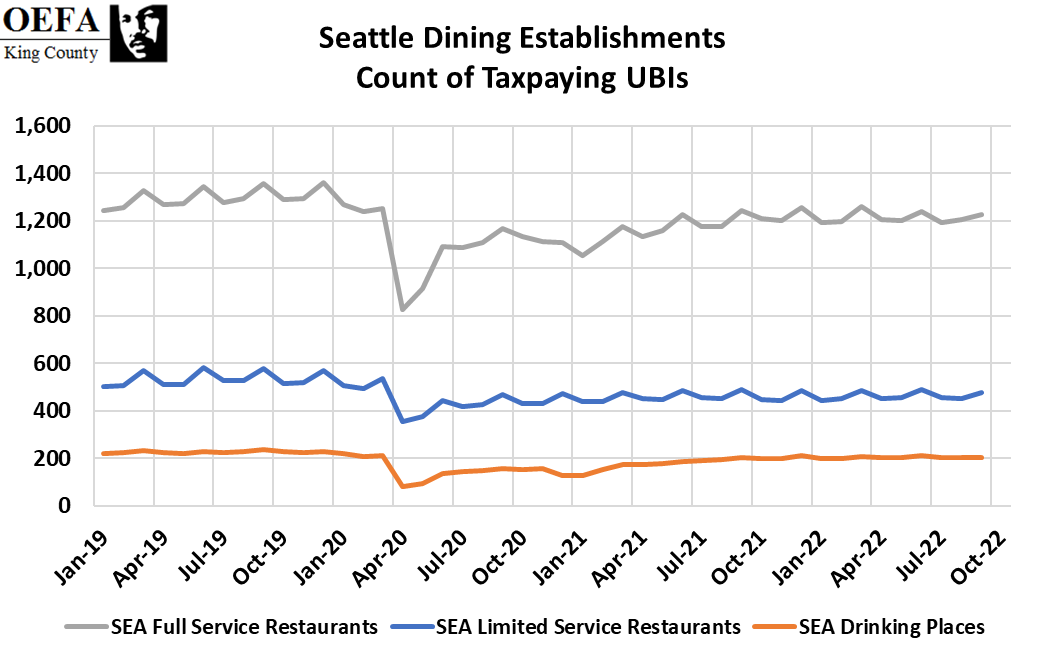 ____________________________________________________________________________________________________________________________________
Covid-19 Trackers

During the March to May, 2020 period there was a great deal of uncertainty regarding the impact of the Coronavirus pandemic on the King County economy. This is partly due to the significant delay associated with government data sources. OEFA paired with many local governments and others within the county to pool and centralize information to help in understanding economic impacts during that period. We posted weekly updates on our website through May when most of the government data was finally available. These updates are linked below.

Tracker #12 - 05/28/2020
Tracker #11 - 05/21/2020
Tracker #10 - 05/14/2020
Tracker #09 - 05/07/2020
Tracker #08 - 04/30/2020
Tracker #07 - 04/23/2020
Tracker #06 - 04/16/2020
Tracker #05 - 04/09/2020
Tracker #04 - 04/02/2020
Tracker #03 - 03/24/2020
Tracker #02 - 03/17/2020
Tracker #01 - 03/12/2020
____________________________________________________________________________________________________________________________________