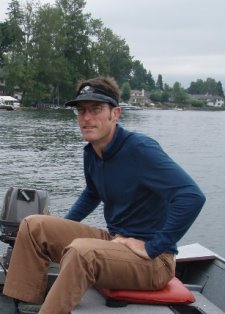 Ben Peterson
officially began as the aquatic weed specialist in February 2013, although he was acting aquatic weed specialist for much of the 2012 weed season. The position itself was created in May 2002. The addition of this position has enabled the Program to accomplish many more noxious weed surveys and far more weed control in aquatic ecosystems than in previous years. A primary goal is to determine the scope of the aquatic noxious weed problem through targeted noxious weed surveys in aquatic systems. The focus then shifts to educating the landowner or land manager on identification of the weed and its growth habit. We then help to develop an appropriate site-specific control strategy that meets the constraints of the landowner while still complying with RCW 17.10.
To accomplish this goal, Program staff surveys lakes by canoe, wetland systems on foot, and stream and river systems by boat or by walking the shoreline. Our main focus has been purple loosestrife, garden loosestrife, Brazilian elodea, parrotfeather milfoil, policeman's helmet, and perennial pepperweed which are all Class B noxious weeds that are required for control in King County. Surveys are recorded with a GPS unit, which provides accurate baseline data on the extent of the infestation and helps determine parcel ownership in remote areas. Program staff is licensed and permitted to apply aquatic herbicides to noxious weeds in water, with permits updated yearly.We have also forged a close partnership with the King County Lake Stewardship Program and regularly share resources to accomplish our shared goals. Our ongoing program and past accomplishments include:
Working with lakeside residents and their community associations to identify and control/eradicate shoreline noxious weed infestations on over 25 King County lakes (both public and private).
Presenting aquatic noxious weed educational programs to a variety of audiences including the Washington Native Plant Society, University of Washington, volunteer lake stewards, professional organizations, municipalities, and community groups.
Continuing surveys into new areas to contain or prevent the spread of aquatic noxious weeds.
Working with volunteers to do submerged aquatic weed surveys on lakes.
Releasing State-approved biological control beetles (Galerucella sp.) each year at 5-8 purple loosestrife sites with large inaccessible infestations or high value native plant communities that would be damaged by other control methods.
Awarded grants through the Washington State Department of Ecology to implement the noxious weed control measures of the IAVMP for Spring Lake and to control garden loosestrife on the Snoqualmie River.
Generated an Integrated Aquatic Vegetation Management Plan (IAVMP) in cooperation with the Spring Lake community and the King County Lake Stewardship Program. This effort included an extensive public outreach and education campaign including two watershed-wide public meetings. The plan outlines what methods will be used to control infestations of four noxious weed species including Eurasian watermilfoil, fragrant water lily and purple loosestrife.
Helped develop and implement the first year of a new intensive control strategy for Hydrilla, a Class A submersed aquatic plant found in only 1 lake system in Washington (Pipe Lake/Lake Lucerne) that has resisted 8 previous years of eradication attempts. This weed costs the State of California $11 million a year to control and is a very high priority to eradicate here in Washington.
Contact info: