County lands weed specialist
Position responsibilities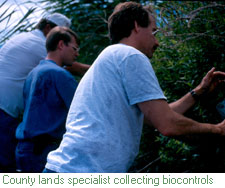 King County manages an extensive network of public lands consisting of approximately 4,000 parcels. These total 32,100 acres or 2 percent of the land area in the county. These lands include parks, trails, open space, bus and transit properties, storm water retention ponds, and facilities for waste water, solid waste and other utilities. The county also owns or manages approximately 1,800 linear miles of roads and rights of way (ROW). County lands vary greatly in area, condition, and land use and are managed by a range of county agencies. The major agencies are: Department of Transportation (Road Services Division and Metro Transit Division) Department of Natural Resources and Parks (Parks and Recreation Division, Water and Land Resources Division Solid Waste Division and Wastewater Division) and the Department of Executive Services (Facilities Management Division). As a land owner, King County is responsible for controlling the regulated noxious weeds found on their property.
In response to a 2002 budget proviso, a Full Time Equivalent Noxious Weed Specialist position was approved with the primary responsibilities of tracking citizen calls and responding to and resolving citizen complaints regarding noxious weeds occurring on King County lands. Citizen complaint responses include investigating, tracking and resolving complaints by notifying and following up with the appropriate county agency to ensure that the weeds are controlled in a timely manner. Where weed densities are low and safety can be ensured, the County Lands Weed Specialist and other program staff manually control the weeds on roadsides, trails, parks and storm water ponds. Where this is not possible or weed densities are too high, other control methods are used by the appropriate agency based on the county's IPM policy.
Current county lands weed specialist
Roy Brunskill, the current county lands weed specialist, has considerable experience and expertise in noxious weed control on highways, aquatic environments and other public lands. To be able to respond to citizen complaints, he focuses on developing and maintaining productive relationships with county agency managers in order to better achieve noxious weed control on all county managed lands. In addition, Roy coordinates the biological control program and also is a member on the county's Integrated Pest Management (IPM) committee. Roy's responsibilities also includes writing and updating the program's Standard Operational Procedures (SOP), writing and evaluating program contracts and day to day program operations requirements.
County lands invasive weed survey project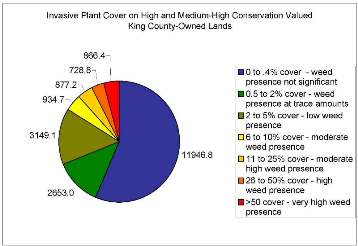 In 2008, the County Lands Weed Specialist led a project to map the non-regulated noxious and invasive vegetation on conservation lands of King County. This survey was the result of the 2007 King County budget process, that included a proviso directing the King County Noxious Weed Control Program to submit a report on noxious weed control by county land managers. Report findings showed that there was a good understanding of the distribution of regulated noxious weeds, but it was apparent that there was not a good understanding of non-regulated invasive vegetation. The report included several recommendations that were later approved by motion.
One of the recommendations was to undertake a survey of large county-owned lands with high and medium-high conservation value, focusing on non-regulated noxious and invasive vegetation. The program contracted with a consultant to design a methodology and then conduct a comprehensive inventory of invasive plants found on county-owned lands that fell within the project areas. The primary deliverable of the project was a MS Access and GIS database containing all the field data collected during the project. These datasets are now available to county land managers to assist in developing management strategies for the control of these weeds, thereby addressing another recommendations outlined in 2007 report.
Summary of survey results
Approximately 21,156 acres of high to medium-high conservation valued lands were surveyed during the project. The survey documented that over two-thirds (14,600 acres) of county-owned lands with high to medium-high conservation value had only trace amounts of invasive vegetation.
The most common invasive weed found during the project survey was Himalayan blackberry, which was documented on 68.5% of the survey area. The second most common weed found was reed canarygrass at 42.3%, and the third was evergreen blackberry at 38.4%. The next step is to assist county land managers as necessary in developing management strategies for controlling these weeds. Since 2008, county land managers have been increasingly implementing invasive vegetation and noxious weed control programs and significant progress has been made toward reducing the threat of invasive plants and noxious weeds on county-owned and managed lands, especially those with high conservation value.
Contact information