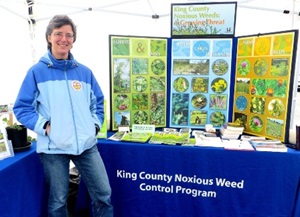 The primary goal of the education specialist is to develop and coordinate the public outreach component for our program: to promote the benefits it offers to all citizens of King County and to explain the impacts of noxious weeds on our county's resources.
The communications plan for our program seeks to reach five major groups of stakeholders:
rural property owners with regulated noxious weed infestations
urban property owners with regulated noxious weed infestations
land managers and property owners without regulated weeds
local, county and state government agencies
community and non-profit groups focusing on parks, conservation and restoration issues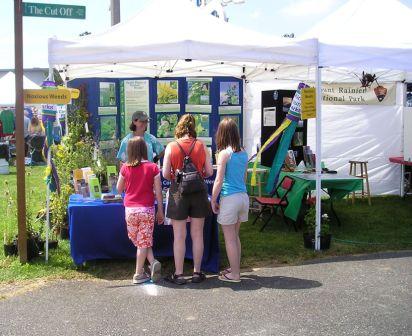 The education specialist organizes a wide range of outreach activities carried out by the noxious weed program staff to achieve the goals of our communications plan. The education and outreach tools we use include: informational handouts and brochures, formal presentations, technical training classes, media alerts and press releases, staffing booths at community and regional events, helping with community restoration events, and, of course, our website.
Through education and technical assistance, we are able to multiply many times over our own staff's ability to reduce the impacts of noxious weeds in King County. We welcome opportunities to provide outreach and technical assistance on weeds to community groups, homeowners, agencies, volunteers, students and others.
Scheduled classes and events
Throughout the year, we will have staff on hand at public events and fairs to answer questions about noxious weeds. We also provide workshops and presentations throughout the year. Contact our office to request a presentation or a weed information booth for your community event.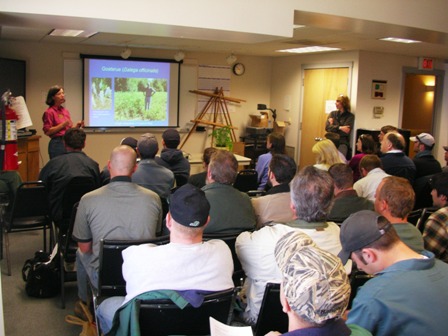 We also have a wide range of educational materials and handouts that can assist groups in their educational efforts. Check out our brochures list and feel free to contact us about obtaining materials for your group or event.
Current education specialist
Sasha Shaw is a noxious weed expert and educator for King County. She provides workshops and lectures on invasive plants throughout the county as well as providing technical bulletins, web-based information and on-site advice on noxious weeds and other invasive plants. She also works with volunteer groups and non-profits to find the best invasive management methods and to help lead invasive removal work parties. When the weeds seem to be winning, Sasha finds her inspiration from the native plants that are struggling against the onslaught of invasive species and from the many community volunteers who are working to stop the invasion of weeds into natural areas.
Sasha spent her childhood exploring the countryside of western Washington and British Columbia, learning about local ecology from a personal perspective. Later in life, she formalized her early interest in plants and received a Bachelor's Degree in Botany from the University of Washington, with an emphasis on ecology and plants of western Washington. In her studies of local plant ecology, she learned about the dramatic and devastating impact of invasive non-native plants on the local ecosystems. Understanding these plant invaders in order to better stop them became her passion. Sasha coordinated the Native Plant Stewardship Program of the Washington Native Plant Society from 1999 to 2002 and started working with the King County Noxious Weed Control Program in 1997, first as a seasonal noxious weed inspector/specialist and currently as the education specialist.
Contact Information