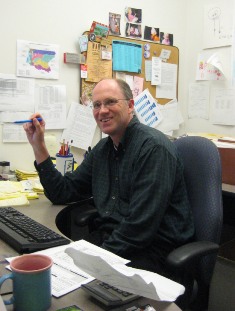 The Program Manager is responsible for managing and directing the daily operations of the Noxious Weed Control Program, and for administering Chapter 17.10 RCW: Noxious Weeds - Control Boards. The Program Manager carries out the policies, operating procedures and decisions made by the King County Noxious Weed Control Board, in addition to carrying out departmental policies and operations.
The Program Manager directs and provides technical assistance to the work of others, is responsible for the development and management of multiple projects or programs, and develops and manages budgets. The Program Manager must have political accountability for both the regulatory and non-regulatory work performed by the program and must be able to effectively represent the program on behalf of the Noxious Weed Board and as a County employee.
Steve Burke is the current program manager and has held this position since 2003. Steve has worked in various aspects of invasive species management for more than 12 years and has an extensive background in community forestry, community based re-vegetation, pest plant management, agriculture and ecosystem restoration.
Primary job functions:
Carry out the policies and procedures outlined in RCW 17.10 and the Rules and Regulations of the Noxious Weed Control Board.
Direct and supervise the work of professional staff
Ensure the program maintains compliance with all relevant laws and regulations
Determine program budget, schedule and scope
Provide technical and educational information and presentations on noxious weed identification and control
Evaluate existing and potential threats of noxious and invasive weeds
Follow through and support field staff on noxious weed enforcement procedures
Negotiate agreements on behalf of the County Weed Board
Serve as expert advisor with unique skills and abilities regarding noxious and invasive species, integrated pest management and related specialty fields.
Work with elected officials on issues affecting the program
Act as a liaison with state federal, city and county agencies and departments
Contact information: