State and Federal Lands Weed Specialist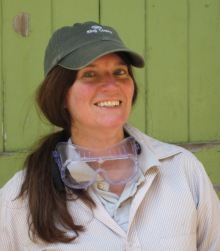 Lands managed by the federal government and the State of Washington make up the largest blocks of ownership in King County. Like any landowner, public agencies need to be responsible for controlling noxious weeds growing on the properties they manage. In order to increase the effectiveness of weed control on publically owned lands, the program has a full time weed specialist with the responsibility of coordinating the efforts of weed control on state and federal lands within King County.
Trish MacLaren, the current state and federal lands weed specialist, has considerable experience and expertise in noxious weeds, forestry, wildlife, and weed control on highways and other public lands. She focuses on developing and maintaining productive relationships with state and federal agency managers in order to better achieve noxious weed control on state and federal lands.
The State of Washington is responsible for over 1,800 parcels containing 121,000 acres of publicly managed lands plus over 300 miles of highway rights-of-way. The Federal government is responsible for over 1,100 parcels and 355,000 acres. This amounts to 35% of King County's 1,365,760 acres. These public lands are managed by various state and federal agencies. This includes the State Departments of Transportation, Fish and Wildlife, State Parks, and Natural Resources. Federal agencies include the Forest Service, General Services Administration, Army Corps of Engineers and others. The State and Federal Lands Specialist notifies and assists the appropriate managers responsible for noxious weed control on their respective jurisdictions.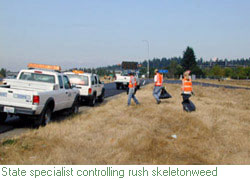 Highways are a major vector for the introduction and spread of invasive plants. The State and Federal Lands Specialist assists the Washington State Department of Transportation (WSDOT) vegetation management team by surveying highway rights-of-way, advising on control techniques, and assisting in control in specific areas.
In 2008, emphasis was on eliminating rush skeletonweed, phragmites and European hawkweed from state rights-of-way, surveying the extent of hawkweed infestations, and coordinating and planning more effective control of Dalmatian toadflax.
Public lands are also a vector for the spread of noxious weeds due to widespread public use and access on these lands. Ongoing efforts are being made to control purple loosestrife and tansy ragwort on State Department of Fish and Wildlife boat launches. Surveys of 11 State Parks in 2002 showed that 70% of State Parks were infested with priority noxious weed species, including purple loosestrife, spotted knapweed, tansy ragwort and several species of hawkweeds. These infestations have been reduced by working with individual park rangers.
Surveying and coordinating control of noxious weeds on remote lands managed by the US Forest Service and State DNR was begun in 2008, and noxious weeds on river banks managed by various public agencies will be a focus for future coordinated weed control efforts.
Contact information: