Fall City Floodplain Restoration Project
(Formerly the Haffner-Barfuse Project)
Project location
The project, formerly referred to as the Haffner-Barfuse Project, encompasses two river facilities (one levee, one revetment) that are across from each other on the mainstem Snoqualmie River about a half-mile downstream of the SR 203 Bridge in the town of Fall City.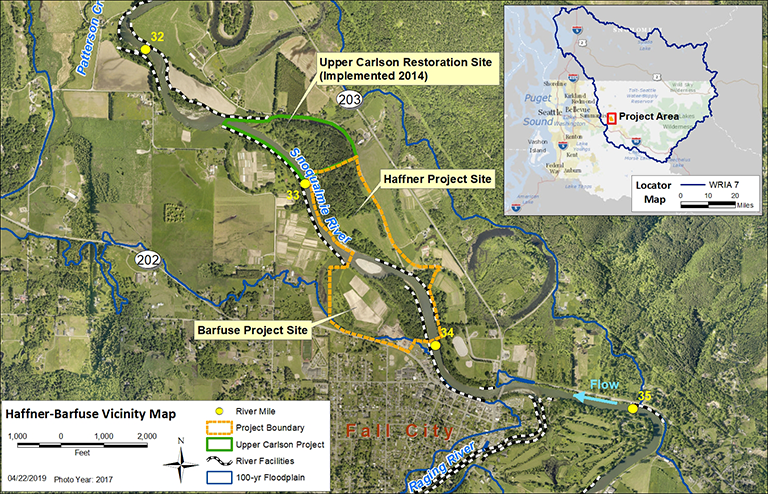 Project goals
This project is essentially the implementation of two projects – the removal and setback of the Haffner revetment on the right bank of the Snoqualmie River and the removal and setback of the Barfuse levee on the left bank. They are being designed simultaneously to address regulatory restrictions related to flooding and also to save on design costs. The Barfuse site will be revegetated in partnership with the Snoqualmie Tribe. Here are the potential anticipated project elements of these two projects:
Right Bank - Haffner site:
Remove approximately 1,400 ft. of revetment to restore edge habitat and channel migration potential;
Improve the connection of the river with its floodplain which will help facilitate habitat-forming processes in approximately 100 acres of floodplain;
Construct an estimated 2,500 ft. of side channel in the floodplain to address zero-rise issues from levee removal on left bank and to increase off-channel habitat;
Relocate approximately 1,200 ft. of Neal Road to maintain public safety and access to private properties;
Construct an estimated 1,000 ft. setback revetment along Neal Road, including log structures to protect the road and private property from channel migration; and
Control invasive weeds and plant native vegetation on approximately 35 - 45 acres to increase forest cover and vegetative diversity along waterways and in the floodplain.
Left Bank – Barfuse site:
Remove approximately 1,200 ft. of a levee/revetment to restore edge habitat and channel migration potential;
Improve the river's connection to approximately 34 acres of its floodplain;
Construct an estimated 2,000 ft. berm to provide necessary flood protection for adjacent properties and infrastructure; and
Control invasive weeds and plant native vegetation on approximately 35 - 45 acres to increase forest cover and vegetative diversity along waterways and in the floodplain.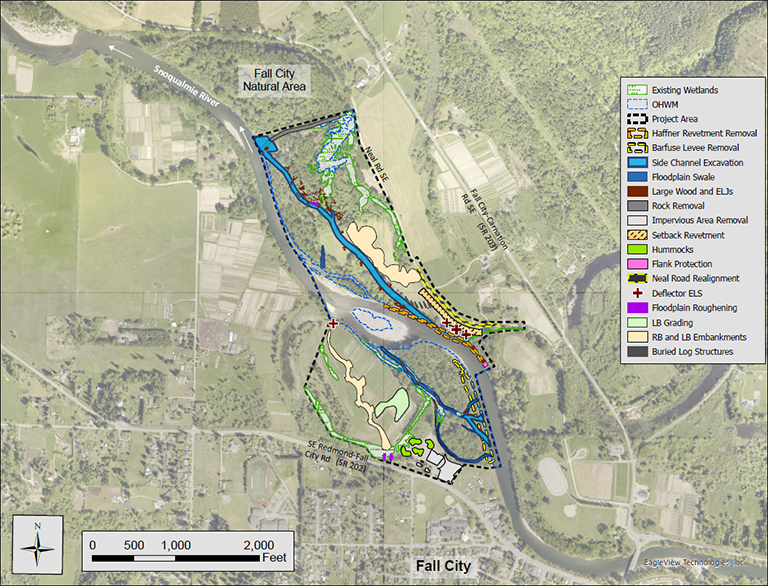 Project benefits
The Fall City Floodplain Restoration project will help address recovery goals for four species listed under the Endangered Species Act (ESA). Chinook salmon, bull trout, and steelhead trout are threatened and the Puget Sound Southern Resident Orca population is endangered. Chinook salmon are at less than 10 percent of their historic population. Puget Sound Steelhead trout populations are currently 5-10 percent of historical abundance and showing little sign of recovery since their listing in 2007, (from the Proposed Puget Sound Steelhead Trout Recovery Plan). The Southern Resident Orca populaton has dwindled from 200 to 74 and is on the brink of extinction. (See Southern Resident Orca Whale Recovery site.) This all points to the fact that immediate and bold actions are needed to save these populations.
The Chinook salmon in the Snoqualmie River are an independent population of wild (non-hatchery) fish. Chinook salmon are the main prey species for the Southern Resident Orca population. The goal is to increase the productivity of a threatened species (Chinook salmon) in part to help keep another endangered population (Southern Resident Orcas) from going extinct. These species are part of northwest heritage and important for the culture, economy and food sources of local Indian tribes. This project and previously-implemented projects, such as the McElhoe Pearson Restoration Project and the Lower Tolt Restoration Project are addressing the habitat needs for Chinook recovery identified in the Snohomish River Basin Salmon Conservation Plan (Salmon Plan). The 2005 plan was supported by 14 local jurisdicitons, one tribe, business representatives, citizen groups and various non-profit organizations. The plan was approved by the federal government in 2007 followed by ongoing implementation.
Project background
The 1999 listing of Chinook salmon as threatened under the ESA triggered the need to develop a plan to increase productivity of the Snoqualmie Chinook population. The Salmon Plan prioritized juvenile rearing in geographic areas like river reaches and actions to better guide efforts to restore the population. The mainstem Snoqualmie River and the Tolt and Raging rivers were historically very productive for Chinook and other salmonids (salmon and trout). However, the habitat needed for salmonid spawning and rearing has been substantially reduced as a result of landscape and river changes, such as levees and revetments built to contain rivers. Salmonids need clean gravel to make salmon nests (redds) and refuge areas, especially in the vicinity of their redds, for when they emerge from their eggs. Refuge areas of slow moving waters associated with floodplain side channels, log jams and complex river edges provide hiding places from predators and relief from strong river currents. The forces of those waters can damage roads, homes and move large trees and boulders so imagine being a salmon fry, one to two inches in length, emerging from your cozy nest in January. Checkout this Healthy Habitat video.
This is where Fall City Floodplain Restoration Project and other salmon recovery projects come into play. This project is one of the many salmon recovery projects that need to be implemented to restore critical rearing habitat such as natural river shorelines, gravel bars, and floodplain side channels that have been lost or degraded. The Haffner and Barfuse projects were identified and prioritized in the Salmon Recovery Funding Board (SRFB)-funded Snoqualmie at Fall City (SAFC) Reach Restoration Assessment (2011). This Assessment recommended pursuing a reach-scale, long-term restoration effort referred to as "The Corridor Project" which not only restores salmon habitat but also restores natural river processes that are resilient to climate change and self-sustaining over time.
Design and construction of the project will be the second and third projects towards realizing this larger-scale vision that will allow unconstrained riverine processes to act on over 140 acres of the floodplain. The Upper Carlson Project was the first project implemented in this reach. While the focus of these projects is often the recovery of species listed under the ESA, they also provide habitat for many other fish and wildlife species and serve many other needs such as improving water quality, reducing flood risk to neighboring farms, tempering the release of flood waters, and providing open space and natural areas.
For more information check out the Project Fact Sheet and Frequently Asked Questions.
Land acquisition
One of the first steps in a large-scale salmon recovery project is securing the footprint needed to do the project. This is done by acquiring the land in fee or easement through voluntary sales. Over the last seven years King County purchased three Rainier Wood Recyclers parcels in the Fall City area for the purpose of implementing the Barfuse project on the left bank. For implementation of the Haffner project on the right bank, we are in the process of working with the private landowner to obtain an easement of the project footprint.
While projects like this will have a substantial impact on restoring critical salmon habitat to help these species in jeopardy, they must be implemented within the context of current land uses. As such, even though the primary purpose is habitat restoration, minimizing adverse impacts where possible is critical as well as providing community benefits, such as reducing flood and erosion hazards to farms, private property and infrastructure, increasing flood storage, improving vehicular access and reducing the impacts of flooding events on agriculture production.
Fish, Farms, and Flood (hazard reduction)
King County plays an important role in the restoration of salmon and associated habitats, the protection and enhancement of farmland, and reduction of risks to residents and infrastructure from flooding. Occasionally, it can be challenging to balance these needs within a shared landscape.
Beginning in late 2013, King County Executive Dow Constantine assembled representatives from throughout the Snoqualmie Valley to explore the issues that were creating obstacles and conflict, and to advise King County on how to overcome them. They included a cross-section of agricultural, salmon recovery and flood risk reduction interests, as well as tribal, state and local jurisdictions. Through a collaborative process the committee identified strategies to improve conditions for fish, farm and flood risk management.
In 2017, the Snoqualmie Fish, Farm, and Flood (FFF) Advisory Committee forged the first major agreement in King County to strike a balance between farming interests and salmon recovery. The Advisory Committee unanimously agreed to a set of 34 recommendations that, if funded and implemented, would significantly improve ecological function and habitat quality, while at the same time strengthening the agricultural economy, and reducing flood risk. Haffner and Barfuse are the first salmon recovery projects scheduled for implementation under the FFF 1.0 agreement.
Project timeline

Construction of the two projects is being planned for 2022 and may be phased over two years. The timeline of construction is dictated by the ability to secure project funding. Preliminary designs will be done by early 2020 in order to apply for grants to fund construction.
Public involvement opportunities
As part of the design process King County hosted an online open house and virtual public meeting in Fall 2020 to share design progress and solicit feedback from the community. Review the virtual open house and responses or watch a recording of the virtual public meeting to learn more details about the project. Sign up to receive project updates through King County's Gov.delivery.
Project documents
Project funding sources
The total estimated cost to implement the Fall City Floodplain Restoration Project is $17,000,000 for both sites. Projects of this scale and nature are typically funded by various sources including competitive grants for the purpose of salmon recovery, improving watershed health, reducing flood and erosion risk and increasing agriculture productivity.
Funding for the project:
Washington State Resource Conservation Office
King County Cooperative Watershed Management Grant (King County Flood Control District)
Surface Water Management Fees
Washington State Department of Ecology – Floodplains by Design
Snoqualmie Tribe
Property acquisition grants:
Conservation Futures Grant
King County Parks Levy
King County Flood Control District
Washington State Salmon Recovery Funding Board
For more information about the Fall City Floodplain Restoration Project, please contact Fauna Nopp, Project Manager, King County Ecological Restoration and Engineering Services.