Project pictures, information and timeline
Lower Tolt River Floodplain Restoration Project
The lower Tolt River Floodplain Restoration project proposes to set back the existing levee within Tolt River - John MacDonald Park to help return the river corridor to its natural flood-plain character and improve fish habitat. The main project area will be along the Tolt River before it joins the Snoqualmie River, in and around the park in Carnation.
A good turn for the tolt: a levee setback project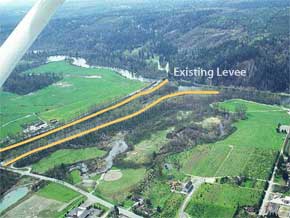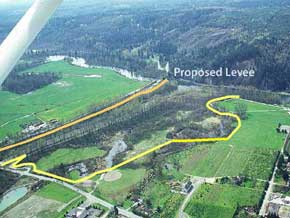 How is a levee setback project a good turn for the Tolt?
Improving watershed health and restoring salmon habitat on the Tolt River:
Since the listing of Puget Sound Chinook salmon under the Endangered Species Act in 1999, local governments in our region have been working to recover salmon populations. The Snoqualmie River hosts a regionally significant population of Chinook salmon- about 20% of which spawn in the Tolt.
This levee setback project is a good-faith effort to demonstrate salmon recovery actions on public land (Tolt River - John MacDonald Park) at a scale not easily achieved by private landowners. By investing regional salmon recovery funding in the Snoqualmie valley, essential river processes can be repaired, improving habitat for salmon and other species.
Enhancing recreational access and trails at Tolt River - John MacDonald Park:
The development of this levee setback project offers an opportunity to enhance recreational access and uses of the park that are compatible with the habitat features of the area. Improving trail access and safety, developing interpretive trails and/or signage, offering new parking areas are all elements the project team is considering.
Maintaining flood protection
The setback levee will be designed to provide equal or better flood protection than the existing levee. The levee setback project will reconnect existing wetlands to the river system while maintaining, or potentially improving, flood protection to the north of the Tolt River.
Involving community and park users
The project partners have been meeting with stakeholders in the area, held several public meetings, and received excellent input on the project's design. Park visitors and community members also provided useful information about important recreational aspects of Tolt River - John MacDonald Park, and ideas to enhance park uses that are focused on and compatible with restored habitat features.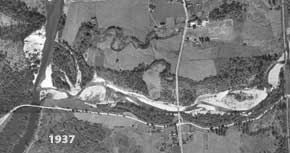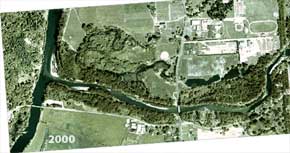 Project timeline
Winter-Spring 2007

Ongoing public outreach
SEPA Checklist
Public meeting

Summer-Fall 2007

Complete design
Submit permits
Secure funding

Summer 2008
Phase 1 project construction
2009
Phase 2 Project construction
Project sponsors
Sponsored by County and the City of Seattle with additional funding from the Washington Salmon Recovery Funding Board; the King Conservation District; a Puget Sound Acquisition and Restoration grant; and a Washington Aquatic Lands Enhancement Account grant.
Project roles
The King County Department of Natural Resources and Parks implements key programs to protect watershed health and maintain parks and flood plain management facilities in the county. The City of Seattle owns and operates the South Fork Tolt water supply and hydroelectric project upstream.
Project references
Tolt River - John MacDonald Park and Campground
Seattle City Light – South Fork Tolt hydroelectric project
Seattle Public Utilities – South Fork Tolt Watershed
For questions about this Web page, please contact Saffa Bardaro, communications specialist.