Challenge Mystery Fish
It's a COHO!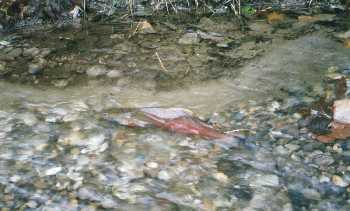 This is a tricky one. It looks like this fish could be either a coho, a sockeye, or even a chinook. But, the identification characteristics that gives this fish away are its size, the horizontal stripe along its side, and the red splotch of color near its cheek. Notice that the back of the fish is dark, and the sides are red. If this was a sockeye, the whole body would be bright red (if it was a male) or would be dull colored (if it was a female). But this fish has a black back and brilliant sides, characteristic of a coho. It also has the characteristic splotch of color on its cheek and lacks a massive size, like a chinook. Great work if you successfully identified this salmon.
Back to the mystery fish page!
This program is conducted in cooperation with the King County Water and Land Resources Division, Bellevue Stream Team, Redmond Stream Team, and the cities of Seattle, Bothell, Kirkland, Renton, Woodinville, and the Vashon-Maury Island Land Trust, with support from the King Conservation District.