Project update
March 2018
Learn about King County's innovative approach to a water quality problem at Brightwater! Keep checking back for updates as the County's team makes adjustments to the floating wetlands in Brightwater's Otter Pond.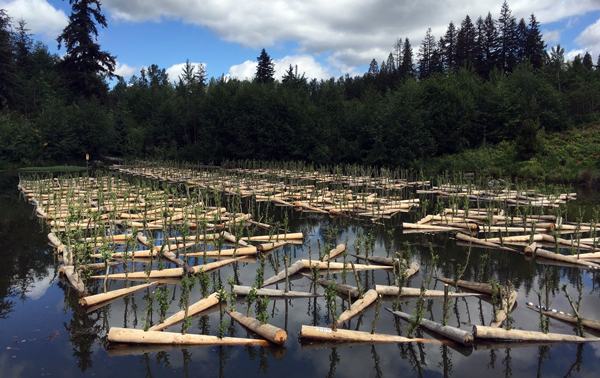 Project description
King County Wastewater Treatment Division is using bold, new approaches to improve water quality on the grounds of the Brightwater Treatment Plant. The County installed two sets of floating wetlands, one in the Lower (Otter) Pond and another in a pond on treatment plant grounds. Floating wetlands are like little floating rafts with plants and trees: engineered structures planted to create shade and take up nutrients that could cause low water quality.
While other floating wetlands on Brightwater grounds are thriving, the willow rafts in Otter Pond are not. King County's project team is refining the approach to provide benefits to Otter Pond and the natural area.
Background
King County restored Brightwater's natural area and helped water sources like creeks become part of this natural area for use by people and wildlife. A former fish-rearing pond became Otter Pond.
The natural area is cherished by trail users and wildlife watchers, and serves as an outdoor classroom for the Brightwater Education Center.
But Otter Pond wasn't meeting water quality permit requirements. High water temperatures and low levels of oxygen in the water posed problems for fish and other wildlife. Then, toxic algae appeared in the summer of 2015, requiring closure of the pond to protect people and pets. Something new and different needed to be done.
Timeline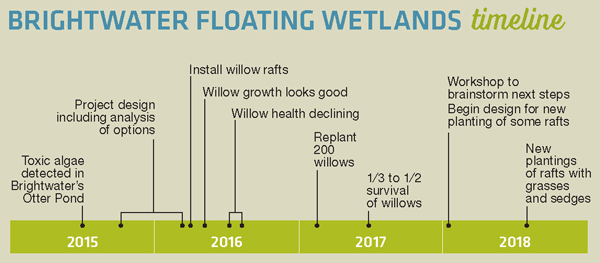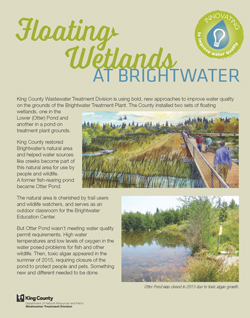 Floating wetlands at Brightwater
, March 2018