King County greenhouse gas emissions
King County assesses greenhouse gas (GHG) emissions regularly – both for King County government operations and the greater community. GHGs are the primary cause of recent climate change.
Puget Sound Regional Emissions Analysis Project underway
Along with seven other regional partners, King County is conducting a first-of-its-kind comprehensive update of the region's GHG emissions. The analysis will provide fresh insight into the region's key carbon emissions sources and pathways for achieving equitable emissions reductions. The project launched in summer 2021 and will be completed in 2022. To learn more about the project, download this project overview .
King County held a public meeting to gather community feedback on this project on October 28th. Check back on this page for announcements of future opportunities to provide feedback.
Where do greenhouse gases come from in King County?
Emissions are complicated because our world is so interconnected. At King County, we track several different types of emissions.
Geographic-Based Emissions are those that are emitted here in King County, within our borders. These include Government Operations Emissions which are produced by the County government's daily services like Metro buses and wastewater treatment. There are also Countywide Emissions which encompass all emissions across the community including cars, trucks, homes, commercial buildings, and more. Together, these two make up Total King County Emissions.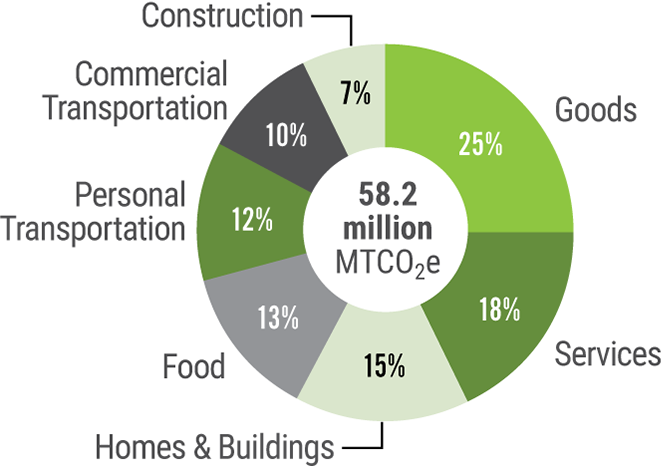 In addition to the emissions that occur within our geographic boundaries, there is an even bigger footprint from Consumption-Based Emissions. These GHGs come from the goods that we buy and consume here in the county, but are produced both locally and elsewhere. Consumption-Based Emissions are more than double the Geographic-Based Emissions above, and occur all over the world.
Learn more about King County's operational and countywide actions to reduce GHG emissions in King County's 2020 Strategic Climate Action Plan (SCAP).
Communitywide - GHG emissions sources and trends
*2017 Update* GHG Emissions in King County: Inventory, Contribution Analysis, and Wedge Analysis (Published July 2019; 48 pages, 893 Kb
This report contains three pieces of analysis: an updated greenhouse gas (GHG) emissions inventory for King County for 2017; a contribution analysis of the drivers of emissions change between 2008 and 2017; and a wedge analysis of actions that can be applied from 2017 through 2050 to achieve emissions reductions in line with shared County and city goals adopted by the Growth Management Planning Council.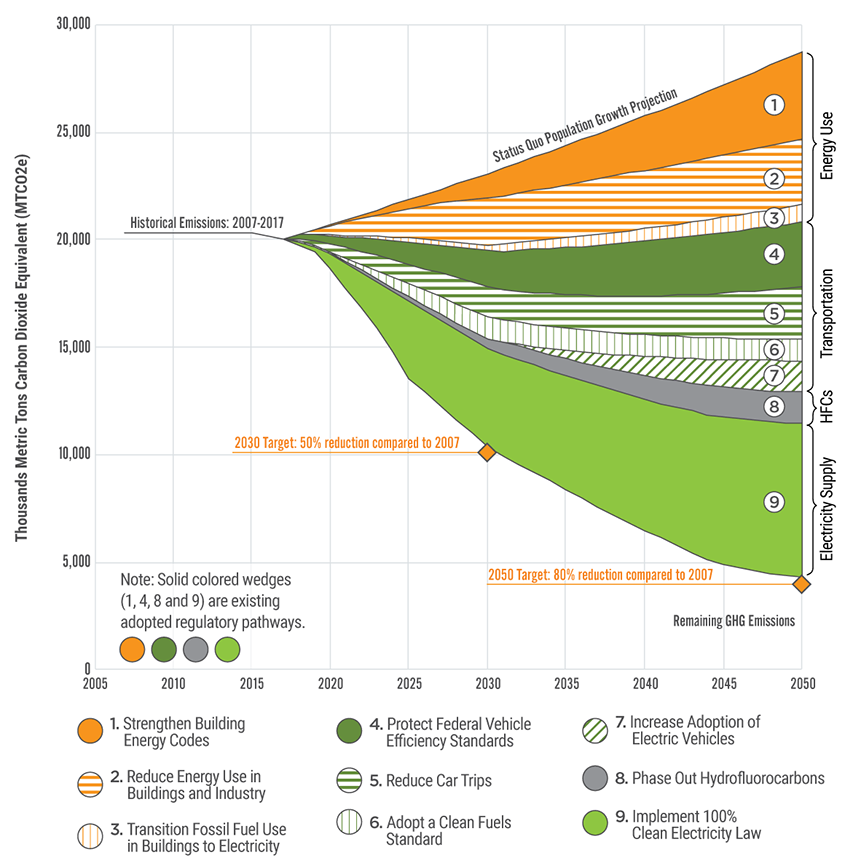 Government operations - GHG emissions sources and trends
For more information about King County government operations GHG emissions sources and trends and King County's work to reduce these sources by at least 80% by 2030, please see King County's Operational Carbon Neutral Plan.
Archive of past reports and inventories
2015 Update: GHG Emissions in King County (2.9 Mb)
In the 2015 and 2008 GHG Emissions in King County reports, in addition to quantifying sources of local emissions from sources like transportation and energy use, King County estimated emissions associated with the consumption of goods and services by King County residents, no matter where the emissions occurred.
2010 Update: GHG Emissions in King County (143 Kb)
2008 Update: GHG Emissions in King County (5.8 Mb)
2003 Update: Inventory of King County Air Emissions (434 Kb)