2020 Strategic Climate Action Plan Update
To focus action on climate change, address broader inequities, and protect and strengthen communities across King County, the County adopted a Strategic Climate Action Plan (SCAP) in 2015. The SCAP is King County's blueprint for climate action, and provides a "one-stop-shop" for county decision-makers, employees, and the general public to learn about the County's climate change goals, priorities and commitments.
In 2019 and 2020 the County will be updating its plan to ensure County work will contribute to regional greenhouse gas emission reduction goals and to identify new opportunities to take action on climate solutions that achieve social, economic and environmental benefits for King County communities. An updated SCAP will be developed and transmitted by King County Executive Dow Constantine to the King County Council by June 30th, 2020.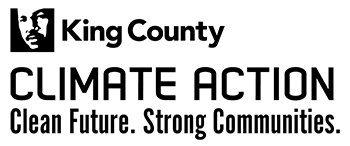 For background on the existing plan, see these resources:
Throughout 2019 King County staff will engage partners and communities to learn about their interests and priorities for County Climate Action. If you are interested in periodic email updates on King County Climate Action, send an email request to join the King County Climate Action email listserve.
To share your ideas for County efforts to address climate change, please send an email to or call 206-477-4554.