Recognizing Outstanding achievement in Environmental Stewardship

This is the fifth time the county's Department of Natural Resources has presented the Green Globe Awards. The biennial award was first given on Earth Day 1997. All recipients excel in leadership and activities that foster environmental stewardship by protecting the environment, managing natural resources and benefiting the community.
Nominees are participants in various programs sponsored by the County. Currently hundreds of businesses actively participate in County programs and thousands of citizens work hand-in- hand with us to protect our environmental legacy.
King County Executive Ron Sims presented the Green Globe Awards at Westlake Park on Earth Day on April 22, 2005 at Westlake Park.
Award Winners
Environmental Catalyst
William Ruckelshaus
Lifetime Achievement Award
The Late Joel Kuperberg
Leader in Biosolids Award
Dr. Sally Brown, University of Washington, College of Forest Resources, and Dr. Chuck Henry, University of Washington - Bothell, Interdisciplinary Arts and Sciences
Leader in Open Space Conservation Award
The Trust for Public Land
Leader in Hazardous Waste Reduction Award
AAA Washington
Leader in Habitat Protection Award
Wendy Walsh
Leader in Industrial Waste Reduction
Honeywell International
Leader Market Development for Recyclable Materials Award
YK Products, LLC
Leader in Recycling, Waste Prevention and Use of Recycled Materials Award
The RE Store
Leader in Resource Management Award
Alayne Blickle, Director, Horses for Clean Water
Leader in Water Quality Protection Award
Eastside Fire & Rescue
Leader in Sustainable Building Award
Port Blakely Communities
Leader in Sustainable Schools Award
The Evergreen School
Leader in Alternative Energy Award
FuelCell Energy, Inc.
Environmental Catalyst
William Ruckelshaus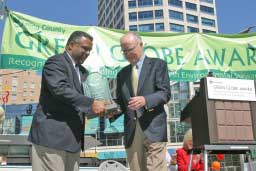 William Ruckelshaus will receive the Environmental Catalyst Award, which is King County's highest honor and is bestowed on individuals for their extraordinary effort in bringing people of diverse interests together to solve environmental problems in the community's best interests. No one in the Puget Sound area is more deserving than Bill Ruckelshaus, who co-founded the Shared Strategy process, along with King County Executive Ron Sims and others. The Shared Strategy is the framework within which King County watersheds are preparing groundbreaking plans - by June 30, 2005 - for recovering harvestable and sustainable populations of salmon across the Puget Sound region. Mr. Ruckelshaus' hands-on experience in solving tough quality of life problems has guided Shared Strategy's visionary yet pragmatic approach, and gives the region confidence that we can achieve this bold goal. Mr. Ruckelshaus is also chairman of the state Salmon Recovery Funding Board, which provides a critical funding source for salmon habitat and acquisition projects in King County watersheds and beyond. And Mr. Ruckelshaus is also a member of the U.S. Commission on Ocean Policy, which is helping bring attention to the importance of protecting and restoring saltwater areas, including Puget Sound, that are important to salmon recovery and a range of cultural, economic, and quality of life interests, e.g., shellfish harvest and the tourism industry. Mr. Ruckelshaus became the United States Environmental Protection Agency's first Administrator when the agency was formed in December 1970, where he served until April 1973. In April 1973 he was appointed acting Director of the Federal Bureau of Investigation, and in the same year was appointed Deputy Attorney General of the United States Department of Justice. Mr. Ruckelshaus is currently a Strategic Director in the Madrona Venture Fund, formed in 1999 and a principal in Madrona Investment Group, L.L.C. (MIG), a Seattle based investment company, formed in 1996.
Lifetime Achievement Award
The late Joel Kuperberg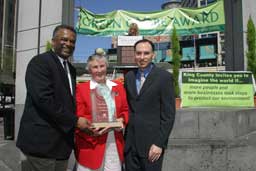 The late Joel Kuperberg received the Lifetime Achievement Award for significant work during his lifetime to preserve and protect our environment. The award was accepted by his wife, Yvonne Kuperberg.
Joel Kuperberg lived on Vashon for the past 25 years with his wife Yvonne. He was considered a leader for conservation on Vashon/Maury Islands, having worked to protect Fern Cove and the Shinglemill Salmon Preserve.
On the island he was active in Salmon Watchers, Preserve Our Islands, Audubon, Protect Our Water, Land Trust, and Vashon-Maury Island Community Council. He also helped found the Forest Stewards to promote sustainable forestry and to educate landowners about forestry.
Joel was born in February 1927 in Miami, Florida and earned a masters in botany. He utilized that education to protection Florida's ecosystems, including founding the Collier County Conservancy, assisting in establishing two national estuarine sanctuaries and serving as Executive Director of the Florida State Lands Agency. Joel passed away in late December.
The St. Petersburg Times noted that as director of the Florida State Lands Agency "he defied some of Florida's most influential developers." He left that job to run the Trust for Public Land and ultimately moved to Vashon Island
Leader in Biosolids Award
Dr. Sally Brown, University of Washington, College of Forest Resources, and Dr Chuck Henry, University of Washington - Bothell, Interdisciplinary Arts and Sciences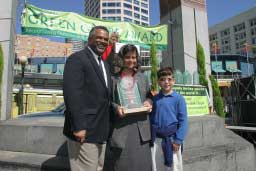 Dr. Sally Brown and Dr. Chuck Henry received the Leader in Biosolids Award for outstanding work to create a closed-loop recycling system using biosolids to grow canola for biodiesel to be used as fuel for transporting biosolids. Biosolids provide soils with organic matter and nutrients, often improving crop yield. In eastern Washington, farmers already use King County biosolids on wheat, hops, orchards and pastures, but they are always keen to try new crops that may expand the local economy. Scientists Brown and Henry convinced a Yakima Valley farmer to test growing canola as a biofuel crop. They secured a grant from U.S. Department of Agriculture to study the potential to increase canola crop yield by fertilizing with biosolids, and to evaluate business strategies for extracting the canola oil and converting it to biodiesel. The first phase of the project demonstrated the use of biosolids as a fertilizer for canola and the economic feasibility of biodiesel production. A second phase of the project has been proposed to USDA to further develop and implement the business plan, including increasing the acreage of canola crops fertilized with biosolids, oil extraction, biodiesel production and marketing the canola by-products and biodiesel.
Sally Brown and Chuck Henry provided the vision and the expertise to develop an innovative and collaborative research project that may lead to a new market for biosolids and a 'home-grown' source of biofuel.
Leader in Open Space Conservation Award
The Trust for Public Land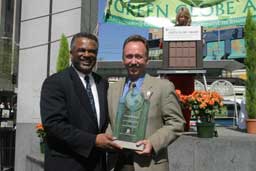 The Trust for Public Land received the Leader in Open Space Conservation Award for outstanding work in protecting King County's ecological lands, regional trails, farms, forests and shoreline areas to ensure that the Cascade Foothills remain forested, critical salmon habitat is protected and missing links in the regional trail system are completed. Roger Hoesterey, NW Regional Director accepted the award.
The Trust for Public Land recently helped develop the Greenprint for King County, a powerful computer model that allows King County to assess where conservation actions and land acquisition will produce the most public benefits. The Trust for Public Land has also played a key role in numerous open space protection efforts in King County, including Tollgate Farm, Rattlesnake Ridge and Lake, Bear Creek, Mount Si, Echo Lake, West Tiger Mountain, Middle Fork Snoqualmie River, Raging River, Cedar River and more. And TPL was a founding partner of the Mountains to Sound Greenway.
The Trust for Public Land is a private, nonprofit land conservation organization that works across the nation to conserve land for people. Founded in 1972, TPL specializes in conservation real estate, applying its expertise in negotiation, public finance and law to protect land for public use. Working with private landowners, communities and government agencies, TPL has helped protect more than 1,400 special places nationwide for people to enjoy as parks, playgrounds, community gardens, historic landmarks and wilderness lands.
Leader in Hazardous Waste Reduction Award
AAA Washington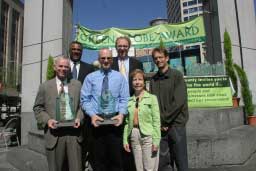 AAA Washington received the Leader in Hazardous Waste Reduction Award for its demonstration of outstanding leadership in reducing hazardous waste and promoting the ethic of environmental responsibility. Overall as a corporation, AAA Washington/Inland has implemented best practices in their own facilities; assisted AAA-approved shops that they work with to be environmentally responsible; and has provided pollution prevention assistance and education to thousands of AAA members. Charlie Liekweg, President and CEO of AAA Washington and company representatives accepted the award.

AAA Washington's fleet operations have implemented a variety of waste reducing practices from using non chlorinated brake cleaners, to purchasing tow trucks that use a clean biodiesel mixture - lowering their dependence on foreign oil and improving air quality. When they were slated to move to a new location near the Magnolia bridge in Seattle, design and construction of the new space incorporated the best environmental practices, such as a built-in indoor vehicle wash pad and complete elimination of a solvent parts washing tank - earning them the 5star EnviroStars rating.

Many of AAA's affiliated approved automotive repair (AAR) facilities are EnviroStars certified as well. Potential approved shops are inspected by AAA with the EnviroStars qualification standards in mind. Shops that meet both AAA requirements and have been EnviroStars certified, are highlighted on the website with the EnviroStars logo.

Each year around Earth Day, AAA Washington hosts a vehicle battery roundup, collecting car batteries from the public and sending them to recycling centers. Proceeds from this event are contributed to the Mountains to Sound Greenway Trust. This year the event was expanded to replace and recycle hazardous mercury switches from vehicles, which are used to operate lights under the hood and in the trunk.
Leader in Habitat Protection Award
Wendy Walsh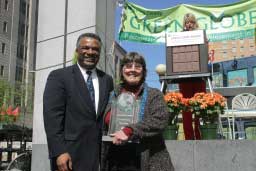 Wendy Walsh received the Leader in Habitat Protection Award her efforts to protect and restore fish and wildlife habitat. Her interest in working on environmental issues began over 30 years ago, when she and her husband purchased their 61 acre property that has a ½ mile long section of Bear Creek running through it. She began educating the entire student and parent population at Cottage Lake Elementary on the treasures within Bear Creek. Today, Wendy routinely offers tours, educational events and research opportunities from her home. The property has been placed into a permanent conservation easement so that future generations are able to enjoy and appreciate the original natural landscape.
Wendy is also active in Freshwater Mussel Awareness and Conservation and while she works hard and loves all the wildlife, freshwater mussel's hold a special place in her heart and in the stream bed running through her property. Upon learning that mussels are an indicator species for the health of a stream, Wendy became interested in protecting the Bear Creek mussels and has worked on this for 30 years. Her environmental action and education efforts are as enthusiastic and purposeful as they were when she began over three decades ago.
Leader in Industrial Waste Reduction
Honeywell International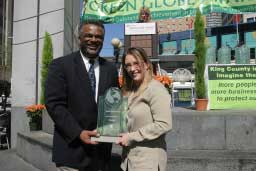 Honeywell International received the Leader in Industrial Waste Reduction Award for its efforts to voluntarily implement innovative pollution prevention strategies, significantly updating its pretreatment equipment and methods. Honeywell was the Industrial Waste program's 2003 EnvirOvation Award winner. Over the last several years Honeywell voluntarily updated its wastewater pretreatment equipment and methods, spending more than $1.7 million for a state-of-the-art system with many safety features, redundant controls and monitoring features. The system neutralizes acidic wastewater from the company's metal-finishing and electronic component operations, resulting in an approximate 33 percent reduction in the generation of dangerous waste. Shaila Nyborg accepted the award.
Honeywell is also protecting our environment through a culture of environmental stewardship it promotes throughout the company. In 2004 Honeywell purchased a triple-rinse station, at a cost of around $35,000, to prepare its empty one-gallon hazardous materials containers for recycling. Last year Honeywell also turned in its single dumpster and switched to two, one for mixed recyclables and one for waste. Recyclable materials are segregated and picked up weekly. Honeywell has encouraged its employees to recycle electronics with two recycling events, one for household electronics, which collected 4,000 pounds of household electronics and one for cell phones, which collected 166 pounds of cell phone and cell phone equipment.
Leader in Market Development for Recyclable Materials Award
YK Products LLC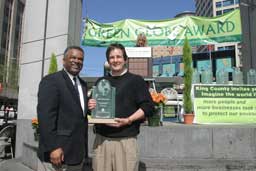 YK Products LLC of Everett received the Leader in Market Development for Recyclable Materials Award for its outstanding efforts to create markets for recyclable materials and products. YK Products manufactures U.S. Cold Patch, a revolutionary new cold asphalt product made from recycled asphalt pavement that is used for patching potholes and cracks in roads and parking lots. Every year some 20 million tons of asphalt pavement is disposed in the nation's landfills. Using YK Products patented technology, old asphalt is being converted into a durable, premium patching compound instead of being thrown away. The product is now widely used by municipal public works departments in Washington (including Seattle and King County), Oregon, California, Nevada, Utah and Arizona. John Ackerman accepted the award.
In just six years, YK Products has developed and patented the U.S. Cold Patch technology, proved the structural and environmental superiority of this new material through independent tests conducted at the Superpave lab at Washington State University, and earned a significant share of the consumer market for cold asphalt in the western and mountain states region. This year U.S. Cold Patch will begin national distribution to the retail and industrial markets through home improvement stores and industrial suppliers. YK Products is a partner in King County's LinkUp program, which works with businesses to improve markets for recycled materials.
Leader in Recycling, Waste Prevention and Use of Recycled Materials Award
The RE Store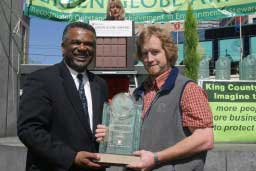 The RE Store of Ballard received the Leader in Recycling, Waste Prevention and Use of Recycled Materials Award for its outstanding efforts to promote waste prevention, recycling and the use of recycled products in the workplace. The RE Store in Seattle has succeeded in diverting tons of reusable building materials from the landfill by salvaging and selling things like cabinets, doors, lumber, lighting, flooring, sinks and hardware from construction sites. The Seattle RE Store opened in 1999 and in 2004 forged an innovative partnership with King County to reclaim building materials from County projects. At no cost to the County, the RE Store picks up reusable materials from King County renovation and deconstruction sites and resells the materials through its Ballard store. More than five tons of materials were diverted from the landfill in just the first four months of the partnership. Now, the City of Seattle, the Port of Seattle, the City of Honolulu and others are using this as a model for their own proposed salvage agreements. Pat Finn accepted the award.
In addition to the King County sites, RE Store salvage crews have recovered usable building materials from many renovation, demolition and deconstruction sites at a number of Seattle schools, the Kingdome and the old Fircrest buildings in Shoreline. The RE Store has pioneered innovative projects such as saving landscape plants from construction sites and has been a tireless promoter of waste prevention, hosting a Recycled Art Show at its store and sponsoring an award-winning reuse display at the Northwest Flower and Garden Show.
Leader in Resource Management Award
Alayne Blickle, Director, Horses for Clean Water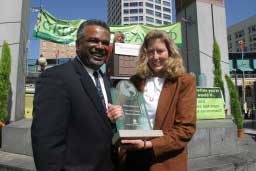 Alayne Blickle received the Leader in Resource Management Award for her efforts to conserve resource lands and promote innovative agricultural or forest management practices that protect the environment.
As Director of Horses for Clean Water for the past 12 years, Blickle has transformed the relationship of horse owners and their land by showing them how to reduce unhealthy surface and groundwater runoff that can affect water quality and fish habitat. Her innovative practices are a hit with horse owners because they also promote healthier horses and easier chore time.
With a county of over 20,000 horses, Blickle's efforts have reached an important population with practical information on proper manure and mud management, pasture management, how to exclude horses from streams and wetlands, and how property conditions can mitigate the effects of horses on the land. She created the monthly "Green Horse" e-mail magazine, which provides information for horse owners and features environmental best management practices. In partnership with King County she also developed a "Horse Businesses for Clean Water" manual that has been widely distributed to commercial stables to assist them as they improve or begin to make significant changes to their horsekeeping practices. Blickle leads by example, using her own farm for tours and educational events.
Leader in Water Quality Protection Award
Eastside Fire & Rescue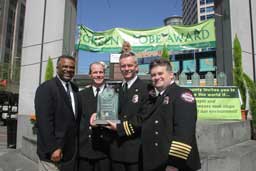 Eastside Fire & Rescue received the Leader in Water Quality Protection Award for its efforts to prevent pollution and protect the region's lakes, streams and Puget Sound. Eastside Fire & Rescue operates 16 fire stations, serving Carnation, Issaquah, North Bend, and Sammamish, and Preston, May Valley, Tiger Mountain, and Wilderness Rim.
A year ago, Eastside Fire & Rescue began significant changes to protect the environment. Fire trucks and other vehicles were typically washed in the station house driveways where the soapy runoff drained to the storm drains. Now, all vehicles are either washed inside the stations so that the water goes to the sanitary sewer or on a grassy or gravel area to allow the washwater to infiltrate slowly into the ground. Also, they began draining fluids from cars before cutting them open as practice for rescues to keep any auto fluids from spilling on the ground. An auto recycler now picks up the hulks and parts once the practice exercise is finished.

The mechanics shop is located at the headquarters station in Issaquah. In the past, dirty engines were steam cleaned prior to maintenance on a gravel area behind the building. This meant oil and other vehicle fluids were being washed into the ground. They now take the trucks and other rescue vehicles to the new Issaquah Public Works maintenance facility that has a closed loop recycling system for steam cleaning.
They have added a new stormwater training class to the annual training program that firefighters and officers are required to complete. They are currently working on a computer version so the training can be done on the internet.

The environmental ethic of Eastside Fire & Rescue can also been seen in its newest station. Station No. 73, built three years ago in the Issaquah Highlands area, has been awarded a "Green Building" award. One of its many green features is that rainwater is collected from the rooftop, and reused for vehicle washing and fire fighting practices at the station house.
Leader in Sustainable Building Award
Port Blakely Communities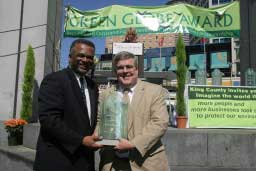 Port Blakely Communities received the Leader in Sustainable Building Award for its efforts to encourage the wise use of resources in their building practices. Port Blakely Communities, developer of the Issaquah Highlands Community, is an active member of the Built Green program and the driving force behind the Built Green Idea Home, which opened in 2004.
Port Blakely Communities implemented extensive sustainable development features into Issaquah Highlands such as preservation of over 1,500 acres as permanent open space and habitat for local wildlife and over 120-acres of wetlands to ensure a healthy ecosystem, community protection from unauthorized pesticide/herbicide use by homeowners, homeowner education on Best Management Practices for green living, and structured land so that stormwater infiltrates naturally to help protect Issaquah drinking water, aquifer and streams. Judd Kirk, President of Port Blakely Communities accepted the award.
In addition, Port Blakely Communities required all builders at Issaquah Highlands to meet Built Green 3-star certification, which encourages participation in King County's Construction Works program and also requires all builders to submit a recycling plan for minimizing construction wastes. On the land development side, Port Blakely Communities recycled dirt that would have normally gone to a landfill, separating it into topsoil, rocks, and fill for reuse. Judd Kirk, President of Port Blakely Communities accepted the award.
Leader in Sustainable Schools Award
The Evergreen School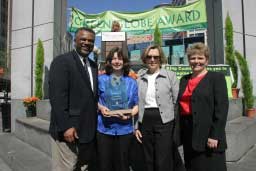 The Evergreen School in Shoreline received the Leader in Sustainable Schools Award for its outstanding efforts to expand conservation practices and raise awareness among students and staff about the importance of stewardship practices.
The Evergreen School, a private pre-K through 8th grade school in Shoreline, has made substantial gains in reducing their environmental footprint and setting a good example for their students, staff and other schools. As a participant in the King County Green Schools Program, the Evergreen School pledged to make environmental gains in the categories of Waste Reduction and Recycling, Water Conservation, Energy Conservation, and Environmental Education and has made measurable strides in each of these areas.
Plastic utensils have been virtually banned school-wide from delivered and self-brought lunches, and students now use durable utensils and mugs. Residual food waste from school lunches is composted in a medium-scale composting system on-site. Recycling has increased, requiring the upsizing of the recycling dumpster from 1.8 cubic yards per month to 4 cubic yards per month. The school is now considering implementing an on-site yard debris composting program.
Low flow sinks and toilets are in use throughout the school. An efficient irrigation system is in place for the school's play fields. The students observed and gathered data on water use (including hand washing habits) and made recommendations for how much water could be saved if students changed their behavior (by turning off water while soaping up, etc).
The school's heating and ventilation system was re-commissioned, thermostats were reset, and a faulty pump was identified and replaced. In fact, natural gas use dropped from 23 therms per month to 15.3 therms per month between August 2001 and April 2004. Solar power is being researched for possible implementation in the future.
Upper classes (grades 4 and 5) designed and led a Conservation Carnival to educate younger students. They developed hands-on materials and games for booths on Food Waste Composting, Recycling, Reuse, Energy Conservation and Water Conservation. The school's computer staff is initiating a program to accept electronics from the school community for use in teaching students about computer repair, and to assure the safe recycling of all units brought to the school.
Leader in Alternative Energy Award
FuelCell Energy, Inc.
FuelCell Inc, received the Leader in Alternative Energy for its leadership in taking the risk, providing the expertise and making the substantial investment in a fuel cell demonstration project with King County and the U.S. Environmental Protection Agency. FuelCell Energy, in cooperation with the U.S. Environmental Protection Agency and King County, has created the world's largest demonstration project of a single-unit fuel cell power plant. Using digester gas from King County's South Treatment Plant in Renton, this fuel cell power plant can produce up to one megawatt of electricity, enough to run 1,000 households.
The electricity generated by the fuel cell is used to run some of the treatment plant equipment and has cut power costs down by 15 percent. Power generated from the fuel cell is "green" power in at least three ways. First, it uses a renewable fuel source, wastewater digester gas. Second, it produces power efficiently. Third, has very low emissions and emits substantially fewer pollutants than combustion engines and turbines.
If this demonstration project proves successful, full-scale fuel cells could provide electricity all over the country. In the United States alone, over 400 treatment plants produce enough digester gas to generate a megawatt of electricity each from a stationary fuel cell. Tours of the demonstration project are available by contacting the county's Wastewater Treatment Division.
For more information visit our fuel cell demonstration project page.
For information on how you or your business can get involved, or on any of the Green Globe Award Winners, call 206-296-8361.