King County honors environmental leaders with the 2011 Green Globe Awards
King County's most prestigious environmental awards were presented on Earth Day at Westlake Center. Winners were leaders in environmental stewardship working to protect the environment, manage natural resources and foster community involvement.
For photos of the Green Globe Awards and Earth Day Expo visit the King County Flickr page.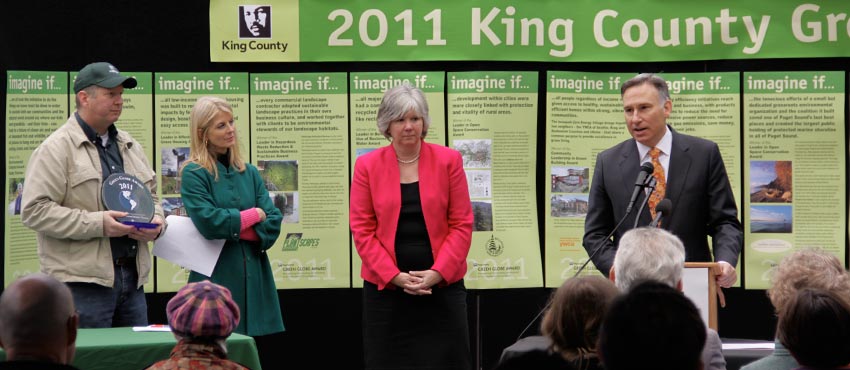 The 2011 King County Green Globe Award winners are:
Kathy Fletcher
Environmental Catalyst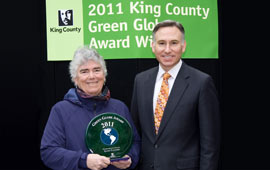 For the past 20 years Kathy Fletcher, the founder and executive director of People for Puget Sound, has led this citizen organization's efforts to protect and restore the health of the Sound and the Northwest Straits through education and action.
Kathy's dedication to environmental protection and education stretches back decades. She previously chaired the Puget Sound Water Quality Authority, and also worked for the Environmental Defense Fund and several other environmental organizations. And her career includes five years heading environmental, energy conservation and other programs at Seattle City Light, and service on the White House staff during the Carter Administration.
Kathy has always believed that we can protect and restore the Sound to health for future generations through education and action based on the science and values of a healthy environment.
BJ Cummings
Leadership in Environmental Activism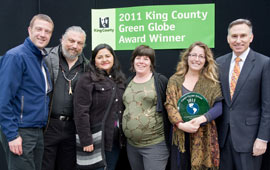 BJ Cummings, the founding coordinator of the Duwamish River Cleanup Coalition / Technical Advisory Group, directed the Coalition's river cleanup education, advocacy and technical advisory work beginning in 2001, and ending just last year. BJ continues to work with the organization in a consulting role as Development and Policy Adviser.
The coalition consists of representatives from 10 community, environmental, tribal and small business groups, and serves to raise awareness about the health risks of the historical pollution that more than 100 years of industrialization has done to Seattle's home river, the Duwamish.
The Korean Women's Association
Leader in Affordable Green Housing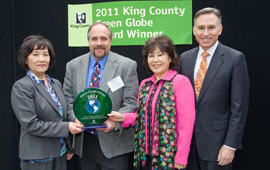 For low-income seniors, finding affordable housing on a fixed income can be challenging, so the Korean Women's Association and their design and construction team set out to build a transit oriented development that exemplifies efficiency, affordability and livability.
Using a highly collaborative process, the team evaluated design decisions for impact on the environment and the operating and maintenance costs of the project. This project's energy efficiency measures, such as heat pumps, triple glazed windows, and efficient lighting controls, were achieved with the help of technical assistance and incentive funding from Federal Energy Efficiency Conservation Block Grants and The Housing Opportunity Fund through King County.
Bastyr University
Leader in Sustainable Building

Bastyr boasts the first student housing project on the west coast to be awarded the Leadership in Energy and Environmental Design platinum certification, the highest possible green-building classification.
Located in on the campus of Bastyr University in Kenmore, Washington, the Student Village takes an eco-friendly new approach to student housing and is comprised of 11 halls that can house 132 students. Built to fit the natural setting of the University's campus, the three-story halls are connected by a series of garden paths, courtyards and outdoor living spaces carefully designed to mitigate impact to the local environment. Each room in the halls includes a private bath, while each cluster of 12 rooms shares a common great room, kitchen, study areas, laundry facilities and storage.
Linda Hall with YWCA , and Brad Liljequist with Zhomes
Issaquah Zero Energy Village
Community Leadership in Green Building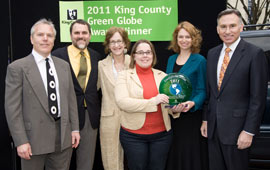 Under the leadership of Linda Hall at the YWCA, and Brad Lilejquist with zHome Project, the Issaquah Zero Energy Village represents many years of planning, fore-thought and persistence on behalf of the YWCA and City of Issaquah to incorporate much-needed housing for Eastside working families.
Located right next to a large Park-and-Ride lot offering convenient access to our vast network of buses, the Zero Energy Village will offer 146 homes to working families. The Village also shares a campus with the zHome – a zero-energy project that will serve as the headquarters of the Stewardship Center for green building.
Seattle City Light
Leader in Promotion of Energy Conservation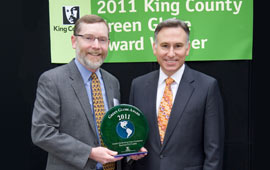 A recognized national leader in energy efficiency and environmental stewardship, Seattle City Light champions energy conservation amongst residential and commercial users, offering conservation programs to customers for over 30 years.
Conserving energy saves resources, money and, ultimately, the environment. For many decades, Seattle City Light has continued to prove its commitment to doing right by the Pacific Northwest.
Alleycat Acres
Leader in Biosolids Recycling and Sustainable Agriculture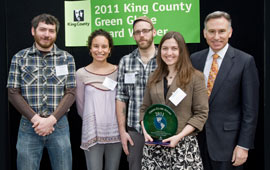 Alleycat Acres is an urban farm collective farming on vacant lots in the city of Seattle. The volunteer group provides fresh produce to food banks and teaches volunteers about urban farming. Always mindful of their carbon footprint the group delivers produce to food banks on bicycle.
By farming the cityscape, Alleycat Acres helps to create solutions that address a number of issues facing our communities. Our urban farms lay the groundwork to enable anyone to join in the process of what they refer to as Farming 2.0: Cultivating food, relationships and a connection to the land in an urban setting.
Starfire Sports in partnership with Seattle Sounders FC
Leader in Beneficial Use of Reclaimed Water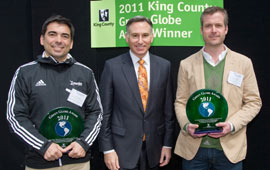 Starfire Sports and the Seattle Sounders constructed a new soccer field and landscape areas irrigated with reclaimed water, which is highly treated wastewater that is suitable for irrigation and industrial uses.
This world class practice field is used by the Seattle Sounders FC and many soccer players from nearby communities. The use of this field by the Seattle Sounders helps demonstrate the benefits of reclaimed water and increase public acceptance of this drought-proof and environmentally sound resource.
Dr. Jessica Saepoff, DDS
Leader in Hazardous Waste Reduction and Sustainable Business Practices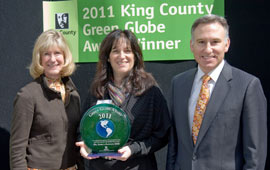 Dr. Saepoff and her staff at Natural Dental Health Associates in Issaquah practice natural and holistic dentistry – the dental complement to natural medicine.
An important aspect of this practice is Dr. Saepoff's extensive knowledge of naturopathic medicine and alternatives in the health field, and that she holds sacred the air and water we all share - which results in offering the least toxic and least invasive treatments available. Their office prides itself in being mercury-free, latex-free, nickel-free, fluoride-free and fragrance-free.
Plantscapes
Leader in Hazardous Waste Reduction and Sustainable Business Practices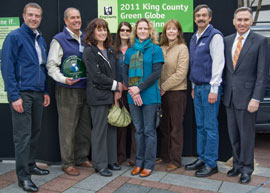 Providing services throughout Seattle for over 40 years, Plantscapes offers interior and exterior landscape management. Plantscapes works primarily with commercial properties, homeowner associations, and multi-family properties.
They have earned the highest 5-Star certification from the EnviroStars Program by choosing the least toxic, most environmentally sensitive options available for every job, and spreading best practices through Green Gardening workshops and the Washington Association of Landscape Professionals.
City of Bellevue
Leader in Open Space Conservation
Cities can protect critical lands of compelling interest to them when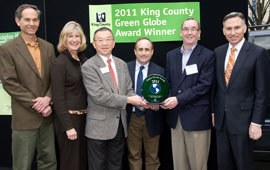 they partner with King County and its Transfer of Development Rights Program (TDR).
Under leadership of Councilmember John Chelminiak, Bellevue and King County signed a TDR partnership agreement in 2009 that allows developers in Bellevue's Bel-Red Corridor to purchase development rights from rural private properties in order to build additional square footage in their future commercial and residential projects. The agreement will protect up to 6,000 acres of forest and farmlands in King County, while creating increased density where services and amenities already exist.
City of Sammamish
Leader in Open Space Conservation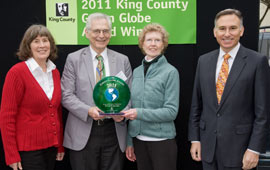 Another TDR success story in the making: In January, the Sammamish City Council voted to partner with King County in an effort to protect rural open space around the city, and use a market-based tool to shift growth into its new Town Center area. The agreement transfers development rights from up to 700 acres of important rural forests and pasturelands in the Patterson Creek watershed to the Sammamish Town Center development.
This effort implements the city's vision for an "Emerald Necklace" of protected land with recreational trail opportunities around the city, while offering private developers the ability to purchase the TDR credits and use them to build more new residential units and commercial space Sammamish Town Center.
Gene Duvernoy, President, Cascade Land Conservancy
Leader in Open Space Conservation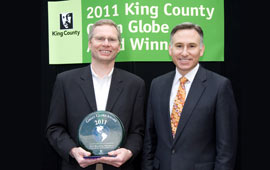 Wally Costello accepting award on behalf
of Gene Duvernoy.
Gene Duvernoy and CLC have been at the table during some of the largest and most-important open space and land preservation agreements across King County, including the 2010 acquisition of the former Maury Island gravel mine, which is now part of the largest stretch of undeveloped beach in Puget Sound; the 90,000-acre Snoqualmie Tree Farm development rights acquisition in 2004; the 45,000-acre upper Green River Watershed conservation easement in 2008; and the 4,000-acre upper Raging River Watershed acquisition in 2009.
With partners like CLC and its president, Gene Duvernoy, it is no coincidence that King County has successfully preserved several times more ecologically valuable acreage than any other county in the United States.
Friends of Cottage Lake
Leader in Community Stewardship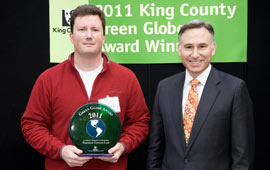 Friends of Cottage Lake is a community group that has rallied around their lake and work tirelessly in getting the message of stewardship out to their neighbors and greater watershed.
The group has worked with King County for six years on trying to change behaviors to keep excess phosphorus out of Cottage Lake. Through workshops, restoration work on private properties and more, these volunteers have spent countless hours encouraging their neighbors to learn more about King County's Natural Yard Care Program as well as Sea Grant septic system workshops.
Partnership for Rural King County
Leader in Community Stewardship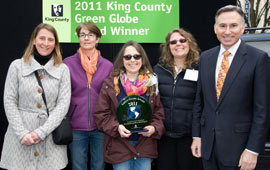 Partnership for Rural King County is a grassroots consortium that is working to ensure the long-term sustainability of forestland, farmland, outdoor recreation and biodiversity in rural eastern King County.
They are partnering with King County on Stewardship in Action, an EPA- funded effort that provides to private landowners in the Patterson Creek and Raging River basins financial and technical assistance to improve the natural resources on their properties. PRKC's approach is to help landowners identify and reach their goals, while improving natural resource conditions.
Preserve Our Islands under leadership of State Senator Sharon Nelson and Director Amy Carey
Leader in Open Space Conservation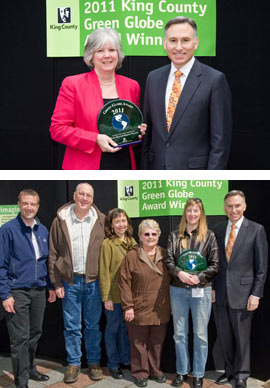 The southeast shoreline of Maury Island has been widely recognized as one of the last best places in Puget Sound. Its rich shoreline provides food and shelter for salmon and orca and its uplands feature the state's largest stands of intact madrone forest habitat.
However, more than decade ago, the largest sand and gravel mine and industrial barging facility in the United States was proposed along the shoreline. This spurred community members to form Preserve Our Islands in order to fight for the protection of this special place. The battle lasted 13 years, but on Jan. 1, 2011, King County acquired the 250-acre Maury Island site for permanent protection.