Event remarks
Conservation Futures (CFT)
July 25, 2012 at Olympic Sculpture Park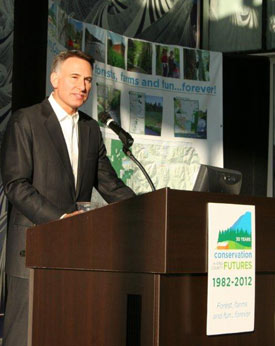 I'm honored to be here with so many people who have been instrumental in making King County a great place to live – so many of my fellow old war horses in the open space preservation movement!
In 1982, King County became the first Washington county to enact Conservation Futures, following the recommendation of the1982 Farmland Preservation Task Force. Many members of that task force are here tonight.
Fast forward to 2012, and Conservation Futures has protected more than 111,000 acres of forests, shorelines, greenways and trails—creating a legacy for the next generations to enjoy forever.
The work of the Conservation Futures Program is all around you. Look east and you will see the deep green forests of the Cascade foothills' and the Greenway. Look west to the wild shoreline of Maury Island and you'll find a mile of beach fringed with eelgrass beds. Or look south to the resurgent Hylebos Waterway – where returning Chinook, coho and chum salmon find restored, life-giving habitat.
This didn't happen overnight. The seeds of today's success were sown more than a century ago with the creation of Seattle's Olmsted Parks system. In 1927, a report to the King County Planning Commission noted:
"We have within the bounds of our county all the splendors to be found in the world . . . Lakes and rivers, waterfalls, mountains covered with foliage and capped with snow and ice; . . . forests yet untouched that need protection and preservation. All of these things should be considered carefully in the planning of future development."

In 1968 and 1970, with leadership from Jim and Marylou Ellis, voters approved the ambitious Forward Thrust Bond issues that funded major infrastructure improvements, including parks and recreation facilities. In 1971 Governor Dan Evans signed the legislation sponsored by State Senator Alan Bluechel that created the Conservation Futures Tax—or CFT—for counties to pay for resource lands.
The CFT is a tool that has protected the irreplaceable, and created collaborations and partnerships never seen before, thanks to leaders that include former Governor and Executive John Spellman; former County Executives Randy Revelle, Tim Hill, and Ron Sims; former Seattle Mayor Greg Nickels; County Councilmember Larry Phillips, and civic leaders such as Jim Ellis, Gerry Johnson and Carol James. Without their foresight, we'd no longer have "all the splendors of the world" in King County.
We are also thankful for a tenacious group of current leaders—people like Mark Boyar, who has been a clear and dogged voice for the Middle Fork, and State Senator Sharon Nelson, who with her Vashon Island allies fought more than a decade to protect critical habitat on Maury Island.
But we celebrate our success knowing the job is not done. Think about the special places in King County that give you great views, salmon runs, local vegetables, or simply a sense of solitude. Will they be here for future generations?
We've permanently protected more than 13,000 acres of farmland, but there are more than 45,000 acres without permanent protection.
In 2004, we set the ambitious goal of preserving 200,000 acres of forested foothills in King County. With 150,000 acres preserved to date, we are three quarters of the way there.
We have permanently protected several thousand of acres of fish and wildlife habitat, but more is essential for salmon recovery.
For those who blazed the trail for Conservation Futures, we thank you. We also ask you to take a look around this room. We've tried to bring in some of the best and brightest young leaders to this celebration. In our midst may be the next Dan Evans, Jim Ellis, Gene Duvernoy, Louise Miller, Lee Springgate or Terry Lavender.
Let's reach out and mentor the next crop of leaders, who will become the caretakers, movers, and shakers to protect these special places in the future.
To that next generation, I encourage you to take up the mantle of stewardship, of leadership. Visit the farm where your produce is grown. Join an advocacy group if you're not in one now. Apply your tech savvy to getting the word out about hidden open space gems. Apply your business smarts to a community parks project, or speak your mind on boards and advisory committees.
Most of all, remember that one person can make a dramatic difference: The outspoken citizen, the courageous legislator, the scientist who devotes a lifetime to restoring habitat. Because of you, the green space we see today can be here forever.
Don't give up! This is our legacy. Thank you for coming tonight, and sharing in this celebration.