Host biographies
Yard Talk - Dirt simple tips for natural yard care
Yard Talk is the new natural gardening show airing on King County Television (KCTV) that teaches viewers how to easily care for their yards and gardens in a way that's good for people, pets and the environment.
Yard Talk is hosted by Doug Rice and Greg Rabourn, resident gardening gurus of the King County Department of Natural Resources and Parks. Doug Rice, a trained landscape architect, and Greg Rabourn, a plant naturalist, combine their expertise to answer common questions about how to take the natural yard care approach.
Greg Rabourn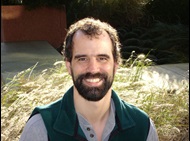 Greg Rabourn's passion for native plants collided with his dislike of mowing his lawn several years ago. He has been practicing and preaching native plant and low-maintenance landscaping techniques ever since.
In addition to hosting Yard Talk, Greg was the co-manager of the King County Naturescaping and Native Plant Salvage Program.
He is the author of the award-winning brochure: Going Native: A Guide to Creating Your Own Native Plant Landscape. He also provided most of the content, images and landscape plan designs for the Online Native Plant Landscape Guide. Greg can be heard on the radio Tuesdays on KUOW, 94.9 FM, as part of the Greendays Gardening Panel.
Doug Rice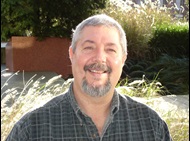 For 13 years, Doug Rice has used his skills in landscape architecture, marketing, advertising and graphic design to create pro-environment programs for the King County Department of Natural Resources and Parks (DNRP).
Through the spirit of cooperation, Doug spearheaded the development of the Natural Yard Care Neighborhoods program which packages many of DNRP's programs and messages into a useful set of techniques for home owners.
Natural Yard Care combines Doug's marketing skills with his landscape know how to achieve behavior change in the community relative to lawn and garden practices.
This program does training in up to 15 region neighborhoods each year. The training involve three nights and 6 trainers over 6 weeks.
Doug also teaches Landscape Design classes at North and South Seattle Community Colleges.
Yard Talk is brought to you by KCTV and the King County Department of Natural Resources and Parks.
For questions about this Web page, please contact Greg Rabourn, Community Stewardship Specialist, Water and Land Resources Division.
Related information
Related agencies