Why we're planting 1 million trees
In November 2015, the King County Council unanimously approved the Strategic Climate Action Plan (SCAP), King County's road map to reducing greenhouse gas emissions and preparing for the impacts of a changing climate, both from King County's operations and communitywide sources.
The SCAP outlines an ambitious agenda of actions that King County government and partners will take that will get us on track to achieve an 80 percent reduction in countywide greenhouse gas emissions by 2050, which is a goal adopted by the King County Growth Management Planning Council.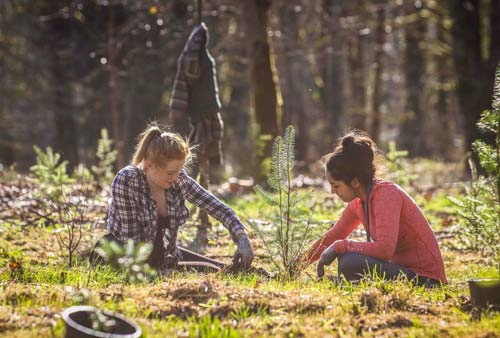 Goal
Carbon sequestration
Resilient forests
Clean air and water
Public health
Livable communities
What Is It?
There are already many tree planting efforts with considerable momentum that exist in the county; by bringing together public, civic and private sector partners in a region-wide effort, we have the opportunity to amplify efforts and leverage resources to benefit everyone's work, achieving the overarching one million trees target and laying the groundwork for long-term collaboration on caring for trees, tree canopy, and forestlands in King County.
Benefits of trees
Trees provide important wildlife habitat for nesting, wintering, and migratory birds as well as other animal species.
Communities and business districts with healthy tree cover attract new residents, industry, and commercial activity, and those property values are higher than similar locations without trees.
Trees help prevent soil erosion.
Trees give us oxygen – clean air to breathe, and they intercept pollutants from the air.
Trees filter and store water, which helps in stormwater management.
Trees create shade in urban areas to the benefit of people, and forests along streams help reduce water temperatures, which the salmon appreciate.
Last but not least, trees sequester carbon and reduce the overall concentration of greenhouse gases in the atmosphere.
Carbon sequestration
Carbon sequestration is the process of removing carbon from the atmosphere and storing it. One method of carbon sequestration occurs in nature through photosynthesis: the bio-chemical respiration of plants that converts carbon dioxide (CO2) into sugar, cellulose and carbohydrates.