Conveyance system improvement
Planning the regional conveyance system is an ongoing task at King County
The Conveyance System Improvement (CSI) Program looks at ways to improve the wastewater conveyance system and address public health concerns, while ensuring that the system has sufficient capacity to respond to regional growth.
February 2021 Update
The 2020 Decennial Flow Monitoring (DFM) project is currently underway. This project will collect accurate flow data over three wet seasons (2019 - 2022) for use in updating:
Prioritization/timing of capital improvement projects for implementation
Sizing of new conveyance wastewater facilities
Goals of this project include:
Maintain existing sewer model basins and update these basins for growth and changes in local systems
Install 132 meters to monitor:

new construction/development in our service area
high priority CSI needs
project areas in WTD capital improvement project (CIP) plan

Leverage existing sewer model to assess meter locations
Summary: The 2017 CSI Program Update culminates in a prioritized list of projects to improve capacity in the separated portion of the regional wastewater treatment system. The prioritized list provides WTD direction on near term projects for implementation and long term program cost projections for financial planning.
The CSI Program Update report presents the prioritized list of conveyance system projects. The report also contains a summary of the entire process that led to the prioritized list of projects. The report is available at the link above.
Consistent with other CSI Program Update activities, the prioritized list of projects was shared with the MWPAAC Engineering and Planning Subcommittee and the local agencies that contract with WTD for wastewater treatment services for input.

The locations of these prioritized projects are displayed below.
Learn more about the 2017 CSI Program Update.
King County's regional conveyance facilities are located throughout the County's wastewater service area and include over 390 miles of regional conveyance pipes, 47 pump stations, and 25 regulator stations.
Since 1999 the CSI Program has focused on guiding major upgrades and improvements to King County-owned regional wastewater facilities.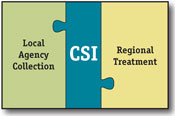 Steve Tolzman
Capital Project Manager