City Soil Farm is a really unique project. It's on the wastewater treatment plant's facility. It uses renewable resources. It's a community space where people can come and learn about how their food is grown, and taste the food, and take some food home.
City Soil Farm is a 1.5 acre demonstration farm located at the King County Wastewater Treatment Plant in Renton. It was once an unused area of the treatment plant's grounds. It has been transformed into a teaching farm and native tree nursery that showcases sustainable farming and accessible, local food. The farm is managed in partnership between King County Wastewater Treatment Division, King Conservation District, DIRTCorps, and White Center Food Bank.
Vision
Our vision of the future is one where education leads to increased public-private partnerships, community participation and innovation, and ecologically and socially sustainable food systems.
Mission
CitySoil Farm is an urban space devoted to environmental education and resource recycling to promote community food systems with imagination. Our mission is to help people make informed decisions and develop innovative solutions for food challenges. We view ourselves as partners with our community and environment, providing a platform for shared knowledge, non-traditional land-use, and the art of salvage.
We practice more than just urban agriculture at CitySoil
We are taking on the challenge of restoring and rebuilding soil to produce food and educate people on an industrial site in an urban area. Our farm space is part of a sprawling 90-acre industrial utility that was built in the 1960's. In the last sixty years, the City of Renton has transitioned from a more rural-agricultural to a dense industrial suburban and partially urban area. Our shared land-use contract has enabled us to farm and give new life to a neglected soil's ecosystem.
At CitySoil, we can take advantage of resources recycled from our waste system with recycled water and compost made from Loop® biosolids.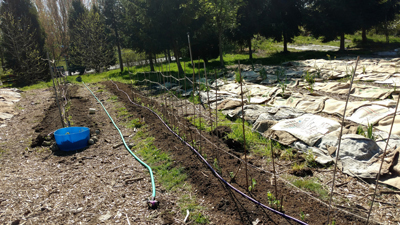 Contact us
For questions about CitySoil Farm education programs and volunteering opportunities contact Charity Villines at cvillines@kingcounty.gov
Learn more
Learn more about the wastewater process and the resources that get recycled everyday by visiting the websites below:
CitySoil Farm partners