We are located on the southeast corner of a 90 acre industrial utility. This means that our physical address doesn't really match our mailing address. The address to the King County South Treatment Plant, whose land we share, is 1200 Monster Road and will take you to a gate that is not near the farm. However, 1300 SW Grady Way is the closest approximation to a physical address.
Please read directions carefully and call Fedora at 620-388-1925 if you get lost.
CitySoil Farm is located in the southeast corner of the King County South Treatment Plant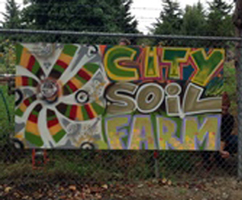 1300 Southwest Grady Way, Renton
Entrance to CitySoil Farm. Our entrance is 100ft West of Oaksdale Ave SW on the North side of Grady Way. We are located at the end of a fire lane. You can notice us by the aerosol artwork on our chain link fence. You will be directed where to park once you enter the site.
Download directions to South Treatment Plant from:
I-5 South/Seattle University
I-5 North
I-405 South
Contact us
For questions about CitySoil Farm or education programs at South Plant, please contact Katelyn Hunt at katelyn.hunt@kingcounty.gov