Groundwater remediation sites
The King County Industrial Waste Program regulates wastewater discharges from groundwater remediation sites and requires discharge approvals. A King County Public Rule regulates discharge of groundwater to the sewer.
We know that the industrial waste authorization and application process is complex. Please
contact us
if you have questions and our staff will be happy to assist you. If you have difficulty viewing or downloading documents, please visit
Software Help
.
Discharges during wet months
In order to be given permission to discharge to the sewer, those proposing discharges greater than 25,000 gallons per day (large-volume discharges) during the "wet months" (November through April) must show that it is not feasible to discharge to surface waters or to on-site subsurface infiltration systems.
Sewer charges
Where applicable, sewer charges will be levied to those discharging groundwater to the KC sewer system.
Billing procedures update - see Other Fees.
Discharges from petroleum-contaminated soils have the following limits:
Maximum Concentration Allowed in Discharges
Parameter
mg/l (ppm)
µg/l (ppb)
Benzene
0.07
70
Ethylbenzene
1.7
1700
Toluene
1.4
1400
Total xylene
2.2
2200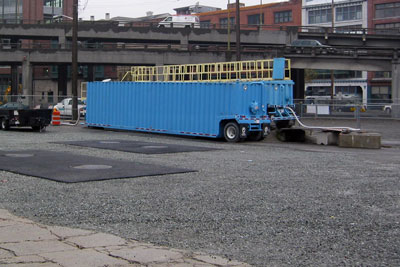 About groundwater remediation discharges
Land with contaminated groundwater may undergo a remediation process, which partly consists of pumping out the groundwater and treating it to remove contaminates. Then the treated water may be disposed of into the sewerage system.