Technology Evaluation
Always a few steps ahead of the future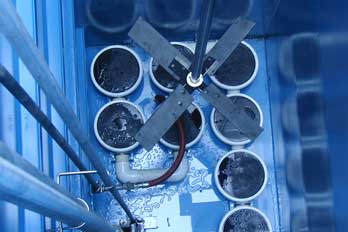 Since 1994, WTD has evaluated technologies with the potential to save money, improve treatment, or recover valuable resources.
Many research, demonstration and pilot-test projects have produced findings that have been integrated to make for stronger industry operations, testing protocols, policy debates, and capital investments. The resulting savings, efficiencies and pre-emptive actions have leveraged our research investment many times over and keep WTD at the forefront of innovation within the utility sector.
By investigating new and changing technologies in the wastewater industry, the Technology Assessment Program provides timely and balanced information to decision-makers on WTD programs and projects.
The screening process: treating ideas as thoroughly as we treat wastewater
As a clean water utility, we are an environmental agency with an ultimate goal to protect public health and improve the quality of our water and air. Before incorporating new technologies, WTD researches, studies, and tests them.
Our initial technology screening process considers the following elements:
Applicability to King County wastewater facilities: Does it make sense for King County facilities/operations?
Potential benefits to ratepayers: Is it cost-effective? Does it resolve a current or potential issue?
Potential impacts to the environment: Can it be utilized without negative impacts to the environment?
Potential for resource recovery: Does it create something useful?
Level of technology development: Is it ready to use now, or is development years away?
Consistency with King County policies and directives: Is it aligned with WTD's mission and goals?
View a blank copy of our Preliminary Technology Assessment Screening Form.
For more information about the Technology Assessment Program, contact:
Bob Bucher
206-477-9747
201 S. Jackson Street, KSC-NR-0512, Seattle, WA 98104