Farm Pad Program
King County, Washington
King County is working in the Snoqualmie Valley Agricultural Production District to help mitigate flood damages to farming operations. The Farm Pad Program provides:
technical assistance for flood modeling;
engineering and design assistance;
logistical support for construction of farm pads, such as facilitating the movement of material from our capital project sites in the vicinity to the farm pad site; and
assess alternative means of mitigating flood risks without placing fill material in the floodplain.
Technical assistance
King County will provide technical assistance to help you locate and construct an elevated farm pad to store your livestock, farm machinery and other agricultural equipment and supplies. King County cannot be held liable for the stability of the pad during a flood.

King County can provide:
ideas for possible structures;
offer general engineering advice as to the types of soil and methods of compaction to construct your farm pad;
assistance with permitting
preparation of a site plan and farm pad drawings.
You are responsible for:
getting a grading permit,
any required supporting engineering calculations for building permits
hiring a private engineering firm to provide construction documentation if you plan on placing a building on the farm pad, and
oversight of all construction.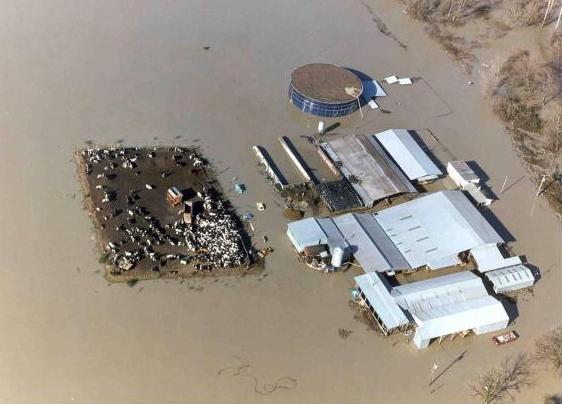 Things to consider when building a farm pad
Location
The location of the farm pad needs to be selected after considering and weighing the options of several agricultural, engineering and ecological variables. King County staff will assist applicants with the technical assessments necessary to determine if a farm pad can be constructed based on these variables:
Is it easy to access?
Is it out of high-velocity flood waters?
Is it on existing high ground to minimize the amount of fill?
Will it increase negative flood impacts on neighboring structures or roads?
Is it out of wetlands and away from wetlands and streams to the extent possible?
Size
The smaller the farm pad the less likely it is to exceed regulatory standards for conveyance or compensatory storage (KC 21.A.24, PDF). There is a very limited capacity for fill in the valley if we are to preserve conveyance capacity of floodwaters over time. Other landowners, and other floodplain uses need to have capacity also. If the conveyance standard is exceeded, the pad will not be allowed.
If you are proposing a pad larger than 2000 square feet, staff from the King County Agriculture Program or the King Conservation District (external link) will consult with you about efficient use of the space, and propose as small a pad as possible to meet your needs.
Drawing for permit submittal
A King County Rivers engineer will coordinate with you and King County Department of Local Services - Permits to complete a site plan and drawings. A scale (e.g., 1" = 40') drawing of your proposed farm pad is required. (See sample diagram). Also, you must submit an accurate representation of the pad on the contour map provided by King County.
Design
Side slopes should be no steeper than two horizontal

slopes to one vertical slope.

Ramp(s) - Slopes of the approach and departure ramps are dependent on the climbing capability of equipment and/or livestock. A slope steeper than four to one is not recommended.
Height/elevation - Farm pads should be built at a minimum of one foot above base-flood elevation level, but you can build it higher. Since the pads will be built on top of organic soils, settlement should be expected. Base flood elevation will be provided by King County.
Pad Construction
Materials: The type of dirt used to make the farm pad can make the difference between a solid pad your livestock can stand on and one that they sink in. Granular "pit run" type soils compact well, whereas rich, high-organic soils do not. Organic soils can be used on the surface of the sideslopes of the completed pad to encourage plant growth that will help hold the soil in place during floods. If granular material is not readily available, it is possible to use other soil as long as a filter-fabric material is placed over the base material and at least 2 feet of granular soil is used to cap the other soils.
Compaction: is the next most important component in construction of a farm pad. Thin (6") lifts during construction add time but result in a farm pad that provides firm footing and easy loading of machinery. Lifts should never be over 1' thick. Bulldozers are great for placing dirt in lifts during construction, but they do not compact the material well. Either a vibratory drum roller or tracking back and forth with a heavily loaded truck or wheeled tractor will compact the soil better. If tracking is used, track back and forth in one direction and then track it again at 90° to the original direction.
Building/structure: If you plan to put a shelter or other building on top of the pad in the future, a private consulting engineer must hired so that the soils will be placed in a manner that will support the building. King County is providing advice and guidelines for farm pads only. You will save time and money by involving a private engineer from the start if you plan on putting a building on the pad in the future. The engineer can anticipate drainage needs, distance from the edge, etc.
Drainage: The top of the pad needs to be domed so rainfall will runoff the pad rather than saturating it.
Permit conditions
Construction: When your pad is permitted there will be conditions for construction. Examples include conditions that insure road safety (loose dirt on a road is slippery if it rains), protection of nearby streams or wetlands (a silt fence between the construction site and a nearby wetland or stream), a means for insuring that trucks will dump fill within the perimeter of the pad, etc.
Use: You will be asked to sign a covenant indicating that there will be no residential use of the pad in the future. The pad is to support farm viability. While it may provide flood free space for some personal belongings, it is not intended to be sized or used for secondary activities on the farm that are not agriculturally related.
For more information about the Farm Pad Program, please contact Eric Beach, Regulatory/Permitting Specialist, Agriculture Program.