Cedar Grove Mobile Home Park Acquisition
Cedar Grove Mobile Home Park Acquisition
Background: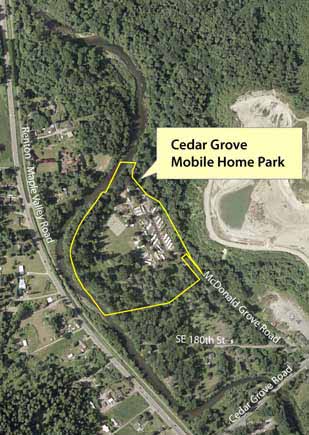 The Cedar Grove Mobile Home Park is located entirely within the floodplain and a high hazard overbank flood path of the Cedar River. Repeated flooding and damage of property and basic services have made this perennially one of the highest flood risk areas in the basin. In the winter of 1990 and again in 1995/96, flows overtopped the levee upstream, inundating the entire area, which caused the septic system to fail, contaminated the drinking water supply, cut off the sole access in and out of the area, and damaged residents' homes.
Cedar Grove Mobile Home Park in Maple Valley sits in a highly vulnerable area of the Cedar River floodplain, where it is virtually impossible to provide proper flood protection.
Past floods have cut off the sole access road to the mobile home park, potentially trapping residents and making it unsafe for rescue workers to reach potential victims.
Flooding has also backed up the mobile home park's septic systems and infiltrated the drinking water supply, creating unhealthy conditions.
Some residents have moved to the mobile home park since the last major flood event and may not fully understand the serious threat to the mobile home park and the risks of living there.
While the Masonry Dam and Chester Morse Reservoir in the Upper Cedar River can sometimes provide flow regulation, and have at times helped the park escape serious flooding, we know from major events in 1990 and 1995-96 that is not always possible. This is because the dam was constructed for storing drinking water, and is not sized or designed for flood control.
Project Action:
For public health and safety reasons, King County is acquiring the 20.42-acre property, and will work with Cedar Grove residents to relocate them to a safer location. Residents will receive financial and technical assistance, and will be provided adequate time to relocate their families.
Purchase will be made at fair market value from willing sellers. It is important to note that there would be no financial or technical assistance available for relocation of the residents if the owner were to sell to a private buyer.
Once all residents are safely relocated, King County will remove the remaining units and all associated structures and will decommission and remove supporting infrastructure, such as the road, utilities, septic systems, and water supply wells.
Lands will be restored for natural floodplain functions to allow flood waters to spread out, slow down, and be released gradually. Flood benefits are expected to extend to neighboring properties well beyond the park boundaries.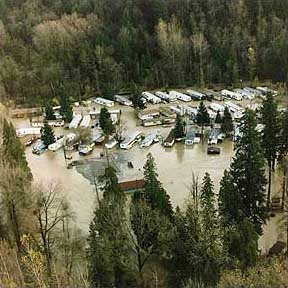 Relocation Assistance:
Relocation will occur in full accordance with King County code and the federal Uniform Relocation Act (URA), which ensure both financial and technical assistance to the existing park residents.
Residents receive benefits in the form of rent supplement or home down payment that is sufficient to move them into fair and decent housing appropriate to their family size.
Residents also receive relocation counseling and assistance and moving expenses. The exact amount of the payout is determined by a formula laid out in the federal standards of the URA.
Park residents are given assistance and adequate time to occupy replacement housing.
Cost and Funding Partnerships:
The total estimated cost of the project is $6,770,000.
Funding for the property purchase includes the King County Flood Control Zone District (FCZD), with assistance from grant sources.
King County has already been awarded $2,586,000 in grants for this project from the Salmon Recovery Funding Board, Conservation Futures Tax, and King Conservation District.
For more information, please contact Nancy Faegenburg, Project Manager.