Water Quality Trend Report
King County, Washington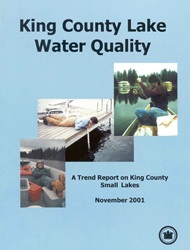 The Lake Stewardship unit of the Land and Water Stewardship Services section is pleased to make available an online version of its new report documenting water quality trends for many of King County's small lakes.
The King County Lake Water Quality report summarizes and discusses data collected on 51 lakes over the years by volunteers and King County staff. Twenty-three lakes had long enough records to qualify for statistically significant trend analysis.
The report highlights some areas of current concern as well as lakes that have shown water quality improvement. However, it should be noted that trends for each lake are based on past data and therefore relate to conditions at the time the data was collected.
Changes in water quality result from a complex set of factors, including population changes, land use changes, and the efficacy of drainage facilities over time. Thus the trends reported in King County Lake Water Quality cannot be used by themselves to extrapolate or predict future water quality for any of the region's small lakes. It is recommended that data from this report be combined with other information such as future impact models to produce predictions that could then be used in making land-use decisions.
Download here
For questions about lakes in King County, please contact lakes@kingcounty.gov or call the Water and Land Resources Division front desk at 206-477-4800.