Cottage Lake
King County, Washington
Cottage Lake is a 63-acre lake located about four miles east of the city of Woodinville. A county park is located on the north shore of the lake. The watershed encompasses approximately 4,300 acres in the upper Bear Creek Basin of northeastern King County and southern Snohomish County. Based upon "historical" water quality data, Cottage Lake has been characterized as biologically highly productive since the early 1970's and experiences frequent and intense algal blooms in the spring and fall.
Cottage Lake recreation
Cottage Lake publications
Cottage Lake community
Cottage Lake and watershed data
Cottage Lake drainage area and park location map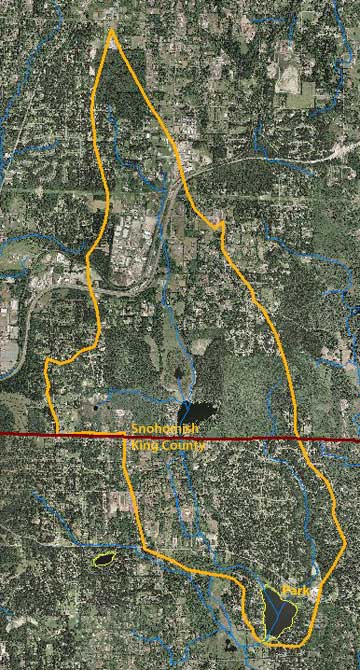 Cottage Lake bathymetric contour map
An in-depth limnological study of Cottage Lake was completed in 1994. This study examined the sources of phosphorus entering the lake and found that 51 percent of the total phosphorus load entered the lake via Daniel's Creek and 29 percent was the result of internal loading (phosphorus being recycled from the sediments and from aquatic plants). The remaining phosphorus was contributed by Cottage Lake Creek (11 percent), groundwater (5 percent), nearshore runoff (2 percent), and precipitation (2 percent). The Cottage Lake Management Plan recommended the construction of an aeration system; aquatic plant management; and several watershed measures to improve water quality.
The County and other agencies have been working with small farms in the Daniel's Creek watershed to improve livestock management practices. Monitoring along Daniel's Creek to document water quality improvements resumed in 1999.
Cottage Lake has been part of the Lake Stewardship Volunteer Monitoring Program since 1995. Twice a month from May through September volunteers collect total phosphorus, chlorophyll a, total nitrogen, and phytoplankton samples to send to the County lab. Additional measurements, such as temperature, Secchi depth, precipitation, and lake level are collected by volunteers weekly throughout the year.
For questions about lakes in King County, please contact lakes@kingcounty.gov or call the Water and Land Resources Division front desk at 206-477-4800.