Archived news and features
Lake Sammamish
This archive page provides past news and features related to Lake Sammamish, for visitors who want to research or re-read older articles and news releases. For the latest news and announcements, please visit King County's Lake Sammamish site.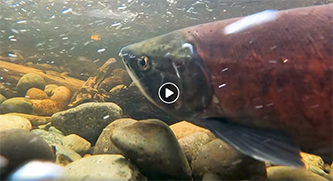 Aug. 4, 2018
External article, Issaquah Reporter
Inaugural perch derby comes to Lake Sammamish State Park Sept. 15
Jul. 26, 2018
GovDelivery Bulletin
Closure on East Lake Sammamish Trail July 30 to Aug 30
Replacing three culverts to help restore kokanee salmon on Zackuse Creek
May 8, 2018
Taking emergency action to prevent the possible extinction of native kokanee salmon
The "little red fish" with a big tale to tell
A partnership to save Lake Sammamish kokanee salmon
Celebrating 10 years of kokanee recovery actions
2017 gathering at Confluence Park in Issaquah
Mar. 10, 2017
External article, Issaquah Reporter
Planned kokanee documentary to tell the story of the little red fish in Lake Sammamish
Plant trees and restore habitat on Ebright Creek for Lake Sammamish kokanee
Saturday, October 28 and
Saturday November 18
10 am – 2 pm
Apr. 28, 2016
External article, Issaquah Reporter
Students pour 'little red fish' into Issaquah Creek during annual Kokanee Release
Apr. 22, 2016
External report, East of Seattle News
VIDEO: Kokanee release on Issaquah Creek
East Lake Sammamish Trail reopens (external)
Apr. 24, 2015
Earth Week Sammamish kokanee release celebrates partnership to save 'little red fish'
Willowmoor Project, Sammamish River
Project video
What would you like to see from this project?
Mar. 4, 2015
King County sets March 14 for Lake Sammamish Willowmoor project update
Jul. 15, 2014
External editorial, Issaquah Press
Kokanee work group does important work
Apr. 29, 2014
External article, Issaquah Press
Sally Jewell announces watershed partnership
Apr. 25, 2014
Interior Secretary Jewell pitches in with Lake Sammamish kokanee restoration
Leader of nation's top conservation agency joins King County Executive to release juvenile kokanee, announce new urban refuge education project
Sep. 17, 2013
External article, Issaquah Press
Lake Sammamish earns federal designation
Jun. 6, 2013
King County sets June 27 meeting to discuss Lake Sammamish Willowmoor project
May 22, 2013
King County urges caution on lakes, rivers over the long Memorial Day weekend
Officials stress importance of using personal flotation devices when on open water
Apr. 26, 2013
Earth Week Sammamish kokanee release caps off strong year for 'little red fish'
Partners in Lake Sammamish Kokanee Work Group join with area students in juvenile fish release on recently rehabilitated Ebright Creek
Dec. 4, 2012
External article, Issaquah Press
More kokanee return as community works to restore species
Nov. 17, 2012
External report, KOMO News
Many happy returns: East side creek again brims with salmon
Oct. 2, 2012
External article, The Issaquah Press
Tribal tales from a kokanee salmon, as told to Dallas Cross
July 18, 2012
External article, Sammamish Review
Where did the Lake Sammamish kokanee salmon go?
Green Shorelines blog (external)
Lake Washington and Lake Sammamish
Apr. 27, 2012
King County reminds boaters to steer clear of data buoys on lakes Washington, Sammamish
Apr. 23, 2012
External article, Issaquah Reporter
Rare Kokanee spawn bigger numbers this spring
Sammamish kokanee release video, spring 2012
Kokanee fry are released into Laughing Jacobs Creek.
Mar. 6, 2012
External article, Issaquah Press
King County plan for creek, lake is under review
Jan. 4, 2012
External article, Sammamish Review
Sammamish Landing waterfront park to open in spring
Jan. 3, 2012
External article, Issaquah Press
Save Lake Sammamish founder Joanna Buehler departs
Issaquah trailblazer led efforts to protect lake from threats for decades
Nov. 21, 2011
External report, King5 News
Sammamish Kokanee make surprising run
Nov. 7, 2011
King County officially opens Redmond stretch of East Lake Sammamish Trail
Oct. 3, 2011
King County and partners dismayed by feds' decision to not protect Sammamish kokanee
Aug. 3, 2011
External article, Sammamish Review
Residents' volunteer efforts protect Sammamish's lakes
July 26, 2011
External article, Issaquah Press
Endangered decision is due soon for Lake Sammamish kokanee
April 19, 2011
External report, KING 5 News
Kokanee salmon released in creeks near Lake Sammamish
April 18, 2011
Release of Lake Sammamish kokanee marks another year of group's work to restore stock
King County, state, federal and local agencies, plus volunteers, work to restore kokanee through supplementation, habitat protection
Mar. 30, 2011
King County responds to community concerns of high water along Lake Sammamish
Jan. 18, 2011
External article, Issaquah Press
Effort to preserve dwindling species is a team effort
Dec. 20, 2010
Sammamish kokanee recovery continues as King County, partners work to build fish runs
Hatchery program, habitat protection and restoration key to weak stock's recovery
Nov. 30, 2010
Executive signs updated shoreline protections for rivers, lakes and Puget Sound
Oct. 13, 2010
'Workers ahead' on Sammamish Trail during 3-month sewer repair project
Pipe relining will increase system reliability, prevent overflows
Sept. 14, 2010
Hundreds celebrate partnership for new rowing boathouse at King County's Marymoor Park
Sept. 10, 2010
King County, Sammamish Rowing Association celebrate partnership, Marymoor boathouse
Aug. 13, 2010
Warm, dry weather: The perfect time for a trip to the lake…and stinky lake algae?
July 30, 2010
Be Responsible With Summer Fun on the Water
Summertime algae blooms!
July 22, 2010
Vandals damage Lake Sammamish data buoy
Replacement cost could reach $60K; King County seeks party responsible