Why is phosphorus a problem?
Lake Sammamish, Washington
Has it always been a problem?
Is the rapid growth in the area making it worse?
What are the governments that share the land: King County, Bellevue, Issaquah and Redmond doing to solve the problem?
Is there a plan and is it being followed?
What can a person living or working in the area do to help?
What about the recent toxic bloom?
Will it happen again?
This site answers these questions and describes some of the phosphorus control actions being taken around the watershed. In the future we will let you know how the lake is responding to management - is it getting better or worse? Do the control actions need to change? What volunteer activities are happening to protect the lake and its resources?
Low phosphorus is the key to good water quality in Lake Sammamish
When phosphorus increases in the lake, algae (small microscopic plants) grow and the lake appears green. With excessive algal growth, the lake surface becomes scummy. There is less oxygen in the water as the algae decay. The lake loses its recreational appeal and value as wildlife habitat.
During the summer months we want to enjoy a clear lake with low algae populations. Reducing the phosphorus coming into the lake and limiting algal growth is the best, and perhaps only, way we have of maintaining water quality in Lake Sammamish.
Survey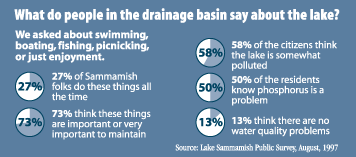 For questions about Lake Sammamish, please contact Debra Bouchard, Water Quality Planner or Curtis DeGasperi, Lead Hydrologist, King County Science and Technical Support Section.