How Lake Sammamish was protected in the past
In 1968, sewage was diverted from Lake Sammamish at the cost of $19.5 million in 1997 dollars. The diversion reduced phosphorus inputs by about 35 percent. The lake responded slowly over a five to ten year period and total phosphorus concentrations went from 30-35 µg/liter (micro-grams per liter or parts per billion) to 15-20 µg/liter. During this period water clarity increased from about 3.3 to 4.5 meters (11 to 15 feet).
These improvements are now being reversed by increases in non-point source phosphorus runoff entering the lake. Since 1978 total phosphorus concentrations have increased from about 13 µg/liter to 22 µg/liter in 1996 (Figure 1) as non-point sources from urbanization have increased throughout the watershed.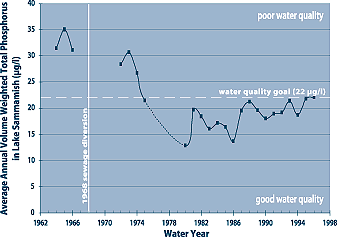 The 1996 Plan to Reduce Phosphorus
Identifying the sources of phosphorus pollution and strategies to reduce them is the intent of the 1996 Lake Sammamish Water Quality Management Plan. A citizen's task force, Partners For a Clean Lake Sammamish, recommended the goals for the plan: to protect the ecological health and public benefits of the lake. They set indicators of 22 µg/liter total phosphorus, 2.8 µg/liter chlorophyll a (a measure of algal density), and 4 meters of water clarity as measures of those goals.
The 1996 Plan is designed to be adaptive and allow actions or indicators to change as our knowledge changes. Management alternatives used now are: forest conservation in the Issaquah Creek basin; practices to reduce the use and loss of phosphorus from homes, gardens, farms, forests, and businesses; water quality facilities for new urban development; better maintenance of storm water facilities in the basin; better enforcement of erosion controls; and capital projects for specific sources throughout the basin. We are monitoring management actions and water quality to understand the lake's response to this pollutant.
For questions about Lake Sammamish, please contact Debra Bouchard, Water Quality Planner or Curtis DeGasperi, Lead Hydrologist, King County Science and Technical Support Section.