Lake Sawyer
King County, Washington
Lake Sawyer is the fourth largest natural lake in King County with a surface area of 286.1 acres. The lake is located in Black Diamond, within the Big Soos Creek Basin of the Green River Watershed.
The lake is used extensively for boating, water skiing, swimming and fishing. Public access to the lake is from the park on the northwest shore and from Lake Sawyer Regional Park on the sound end of the lake. The City of Black Diamond annexed the lake and surrounding homes in 1998.
Lake Sawyer recreation
Lake Sawyer and watershed information
Watershed area: 8,120 acres
Lake surface area: 279 acres
Maximum depth: 58 feet
Mean depth: 26 feet
In the early 1990's, Lake Sawyer was polluted with wastewater from a failed wetland treatment system. In 1992, the flow of wastewater was diverted to the sanitary sewer. King County drafted a lake management plan in 1996 to address the long-term water quality protection of the lake and watershed. The City and County have monitored stormwater in the watershed to better identify sources of phosphorus to the lake.
The Draft Management Plan for Lake Sawyer sought to address nutrient loading from the watershed to maintain existing water quality. In-lake treatments such as alum and/or hypolimnetic aeration are recommended if monitoring results show that watershed controls are ineffective.
Lake Sawyer has been part of the Lake Stewardship Volunteer Monitoring Program since 1994. Twice a month from May through September, volunteers collect water samples for the county lab to measure total phosphorus, chlorophyll a, total nitrogen, and phytoplankton. Volunteers also measure temperature, Secchi depth, precipitation and lake level weekly throughout the year.
Lake Sawyer drainage area and park location map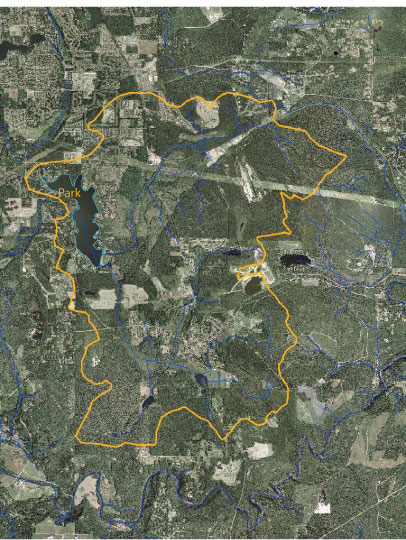 Lake Sawyer bathymetric contour map
For more information about Lake Sawyer, contact the City of Black Diamond at 253-631-0351.
For questions about Lake Sawyer and other small lakes in King County, please contact Rachael Gravon, Water Quality Planner or Chris Knutson, Project Manager, Lake Stewardship Program.