Lake Sawyer Management Plan
King County, Washington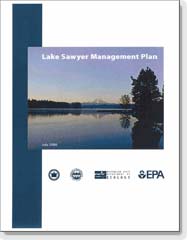 The Lake Sawyer Management Plan reports on the condition of Lake Sawyer, located near Black Diamond, and the mechanisms affecting the lake's water quality, such as excessive nutrient loading.
The document lays out long-term management goals for the lake and describes the plan to meet those goals, including actions to reduce nutrient pollutants flushed into the lake by stormwater, and near-term treatment of the lake for nutrients already concentrated in lake sediments.
The Lake Sawyer Management Plan was published in 2000 by King County Surface Water Management (SWM) with assistance from consultants Entranco, Inc. Funding for this work was provided by the Washington State Department of Ecology, U.S. Environmental Protection Agency, and King County SWM – the precursor to King County Water and Land Resources Division.
The Lake Sawyer Management Plan is offered in Adobe Acrobat format. For help using Acrobat, please visit our Acrobat help page.
Download document here
Technical appendices
For questions about the Lake Sawyer Management Plan, please contact Rachael Gravon, Water Quality Planner or Chris Knutson, Project Manager, Lake Stewardship Program.