Lake Wilderness
King County, Washington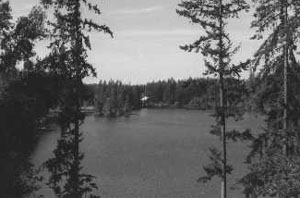 Lake Wilderness is located in south King County within the City of Maple Valley. The lake is 67 acres in size with a mean depth of 21 feet; and with a maximum depth 38 feet. The watershed is 420 acres in size and drains to Soos Creek.
Excessive aquatic plants are the greatest concern to users of Lake Wilderness. An aquatic plant management plan addressing long-term management strategies for Myriophyllum spicatum (Eurasian watermilfoil) was completed in May 1997. In August 1997, the City of Maple Valley incorporated the lake and adjacent residential areas. With the assistance of King County, a lake management district was formed to implement the aquatic plant management plan. In 1998, herbicide was applied to eradicate Eurasian watermilfoil from the lake. Based on 1999 diver surveys, plant control efforts have been successful.
For more information on the activities at Lake Wilderness, contact the City of Maple Valley (external link) at 425-413-8800.
Lake Wilderness alerts
» RSS feed
For questions about lakes in King County, please contact lakes@kingcounty.gov or call the Water and Land Resources Division front desk at 206-477-4800.