Aquatic plants in King County lakes
A necessary component of lake life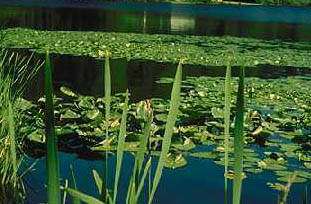 Aquatic plants are an important component of lake systems. These plants may be totally submerged beneath the lake surface, floating, or growing along the shoreline. They provide food and shelter for bugs, fish and other organisms, prevent shoreline erosion, filter pollutants from adjacent shoreline activities, and provide oxygen to the surrounding environment.
Native vs. noxious plants
Native species, which evolved with other Northwest plants and animals, generally have natural population controls which keep their coverage in check. Increasingly, problems with aquatic plants generally stem from the presence of noxious aquatic weed species (e.g. Eurasian watermilfoil) or introduced ornamental species (e.g. white and pink water lilies) which tend to grow unchecked, crowding out native species.
Assistance is available
Technical assistance for identifying plants in your lake and providing control information to shoreline residents.
Shoreline related regulations that must be followed in order to protect sensitive lake environments.
Assistance with developing integrated plant management plans for large-scale or lake-wide aquatic plant problems.
Assistance contact information
If you live in rural zoned King County, contact the King County Lake Stewardship Program for assistance.
If you live in a city or annexation area, contact the King County Noxious Weed Control Program for assistance. Email: noxious.weeds@kingcounty.gov. Call 206-477-9333.
Plant information:
Aquatic plant management fact sheet
For questions about lakes in King County, please contact lakes@kingcounty.gov or call the Water and Land Resources Division front desk at 206-477-4800.