Reed canarygrass (Phalaris arundinacea)
Class C Noxious Weed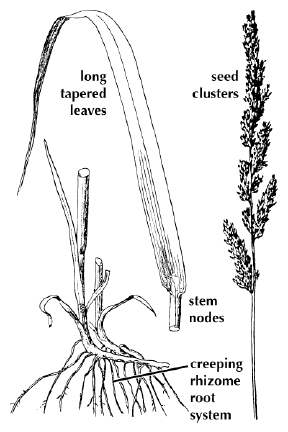 History
Reed canarygrass is likely to have been introduced from Eurasia, as were most of our weedy grasses. Considered a good forage plant in Sweden as early as 1749, it has been used for pasture, silage, and hay as well as filtration for water pollution control. The seed is used for birdseed.
Method of spread
This grass is an aggressive invader of moist areas, meadows and lake shores. Reed canarygrass is a generally competitive, persistent and vigorous perennial grass that grows in poorly drained areas and along stream and canal banks. Its creeping rhizomes force out other grasses and thus reduce biodiversity. Although reed canarygrass has been valuable for forage, it has become a threat to some of our native wetland plant communities. The grass is widely distributed in Idaho, Oregon, Nevada, Utah and Washington.
Methods of control
Reed canarygrass can be hand pulled, but because it does not tolerate shade the best control method is selective planting of favorable species. Once shaded, reed canary grass can be replaced by sedges, rushes, willow, red osier dogwood and chokecherry.
Identification
a coarse but attractive perennial, reed canary grass grows as tall as six feet
long leaves are flat, green with a sooty-gray hue, about 1/2 inch wide, and spread out from the stem at tight right angles
light green to straw colored stems have swollen stem nodes
flowers and grains grow in dense but branched clusters, which commonly turn purplish as the plant matures in spring and fade to straw color in late summer
roots spread extensively by creeping rhizomes and runners
For questions about lakes in King County, please contact lakes@kingcounty.gov or call the Water and Land Resources Division front desk at 206-477-4800.