The Integrated Pond
Enhancing the Design and Value of Stormwater Ponds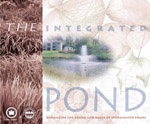 This document will be of interest to developers, landscape architects and homeowners who want stormwater tracts to double as attractive community space as well as for stormwater management. The Integrated Pond is a companion to the King County Surface Water Design Manual, and provides information on how to make stormwater pond property look good while still meeting the design and access requirements of the Manual. Several pictures of well-integrated, multi-functional ponds are given, along with addresses so the reader may visit the sites if they wish.
"The Integrated Pond" is available in three sections for faster download. The document is provided in Adobe Acrobat.
"Introduction" and "Looking in New Directions" (2.38 MB)
"Focusing on Enhancement" and "A Quality Future" (2.21 MB)
"Case Studies" and "References" (1.93 MB)
This document is also available for purchase.
This document was originally published September 1998.
For questions about the stormwater website, please contact Blair Scott, Water Quality Planner, King County Stormwater Services Section.