Lower Cedar River Basin Plan Summary
Contents:
Introduction
The Lower Cedar River Basin and Nonpoint Pollution Action Plan describes current conditions in the basin and proposes solutions to the problems of flooding, property damage and declining salmon and steelhead runs. It also recommends preventive measures to protect and maintain water quality, groundwater supplies and habitat as the basin planning area continues to develop. Preventing problems in the watershed is much more cost-effective in the long term than trying to correct problems once they occur.
The recommendations in the Cedar River Basin Plan have been prioritized into a Core Plan that identifies key capital projects and ongoing programs that would, at a minimum, accomplish the Plan's most important goals. This Core Plan would:
Resolve the threat of hazardous flooding for approximately 90 percent of the 130 homes currently at greatest risk;
Protect the most valuable remaining aquatic habitat sites in the basin planning area, restore those with the best chance for recovery, and ensure long term productivity of Cedar River salmon and steelhead; and
Maintain the Cedar River's high water quality.
The Cedar River Basin Plan presents a unique opportunity and challenge to allow for urban development and to support rural industry and lifestyles, while providing for reduced flood damages, long term salmon and steelhead runs, and high water quality.
The Cedar River Basin Plan combines a traditional King County Basin Plan, jointly funded by King County and the City of Renton, with a Nonpoint Source Pollution Action Plan partially funded by the Washington Department of Ecology. The Plan was prepared under the policy direction of the Watershed Management Committee composed of key tribal, state and local government agencies and non-governmental organizations and a Citizens Advisory Committee, made up of area residents. King County's Surface Water Management Division acted as lead in plan preparation.
The Basin Planning Area
The Cedar River is one of five major rivers in King County and is the largest tributary to Lake Washington. The river drains an elongated basin of 188 square miles that extends westward from the crest of the Cascades to the southern shore of Lake Washington in the City of Renton. The upper basin, which is almost exclusively owned by the City of Seattle, supplies drinking water for two-thirds of the City of Seattle and its regional customers. It is an unpopulated mountainous area protected from land use change and managed for water quality protection, long term forestry and wildlife habitat. The Cedar River Basin Plan focuses on the lower third of the basin, where floods and erosion directly impact people and property and where ongoing development threatens fish habitat and the quality and quantity of ground and surface waters.
The basin planning area extends from the Landsburg Dam to the river mouth in Renton, a 66 square mile area encompassing both the northern and southern plateaus and the mainstem valley. The lower basin has an extensive water system that includes 15 named tributaries, many high-value wetlands, lakes, aquifers and the Cedar River itself. Land uses in the lower basin range from the Renton urban center to adjacent suburbanizing areas to rural and forest zones to the east. The basin planning area is home to a growing population estimated at 55,400 in 1990 and projected to be 93,000 by 2010.
Problems In The Cedar Basin
Flood Hazards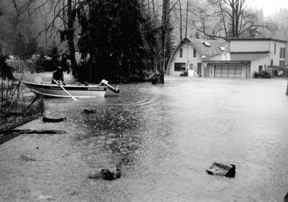 During major storms, over 300 homes along the Cedar River are exposed to mainstem flooding. More than 100 of these homes are subject to life-threatening flood flows and evacuation routes for many other homes are impassable. Commercial losses in downtown Renton, especially at the Renton Municipal Airport and Boeing facility near the mouth of the Cedar, have been substantial. Damage estimates from the November 1990 flood exceeded $11 million. During the November 1995 flood approximately 90 homes and 39 public facilities were damaged. The public facilities damage was estimated at $800,000.
Declining Salmon and Steelhead Runs
The Cedar River posted a record run of sockeye in 1988, the largest in the contiguous United States. However, natural runs of Lake Washington sockeye, coho, and chinook salmon and steelhead trout have been severely depressed in recent years. The reasons for the declines are not fully understood and vary by species. While the specific reasons for the recent decline remain a topic of study and discussion, it is clear that protection and restoration of the Cedar's aquatic habitat must be a key element in both the recovery and the long term sustainability of salmon and steelhead runs in the Lake Washington system.
Opportunities In The Cedar Basin
The Cedar River Basin Plan presents a unique opportunity and challenge to allow for urban development and to support rural industry and lifestyles, while providing for reduced flood damages, long term salmon and steelhead runs, and high water quality.
Valuable Aquatic Habitat
The Cedar River and its tributaries still contain much of the best remaining aquatic habitat in the Lake Washington system. This basin offers an excellent opportunity to protect and restore high quality habitat while reducing flooding costs, enhancing recreation and scenic values, and protecting water quality.
High Water Quality
Based on measured data and biological use of the Cedar River, the water quality in the river is generally very good. However, there are some problems, such as sporadic exceedances of the state water quality standard for fecal coliform bacteria generated by livestock and failing septic tanks. Also, the urbanized tributaries ­Ginger, Maplewood, Molasses and Madsen Creeks ­show signs of declining water quality.
The Cedar River is the largest and cleanest source of water for Lake Washington, contributing almost 50% of the lake's total inflow. The future of Lake Washington may depend on the Cedar River's flows remaining clean. Typically as river basins become more developed, their phosphorus loadings and other water quality problems increase; this is already occurring in the Cedar River's more urbanized tributaries. Basin residents have the opportunity to correct existing water quality problems in the basin and take preventive steps to reduce the impacts of new development on the water quality of the Cedar River and Lake Washington.
Important Groundwater Source
The basin planning area is an important regional groundwater source. The City of Renton depends on a sole-source aquifer that lies within the rapidly developing basin planning area. In addition, the City of Kent relies on a shallow groundwater source in the Rock Creek subarea for the majority of its municipal water. There are numerous small public and private wells scattered throughout the rural portion of the basin. Future development in the basin planning area may affect the quality and quantity of groundwater available for water supply as well as the amount available to sustain summer base flows to high value wetland and creek habitats. The development that has already occurred in the basin planning area is estimated to have reduced groundwater recharge by 5-10%. It has been well documented by studies in the basin and throughout the country that conversion of forested land to residential, commercial, agricultural and industrial uses reduces groundwater recharge and generates pollutants that can contaminate aquifers. Preventive measures are recommended to reduce the impacts of future development on groundwater quantity and quality.
What Has Already Been Done?
The Cedar River Basin Plan is not a plan that is intended to just sit on a shelf. Much has already been accomplished:
Elliot Levee Reconstructed - to re-establish flood protection and halt bank erosion
Ricardi Buyout - two homes repeatedly damaged by floods were purchased and removed from the floodplain
Madsen Creek Stabilized - a severely eroded ravine that threatened to rupture a sanitary sewer line was stabilized
Acquisition of Rock Creek Parcel - 98 acres of the highest quality salmonid habitat among the Cedar River tributaries were purchased
Construction of Spawning Channel - a groundwater fed sockeye spawning channel was constructed in conjunction with the Elliot Levee improvement
Lake Washington Studies and Fry Trapping - important ecological investigations being conducted to increase understanding of sockeye needs and population dynamics
As called for in the Plan, a group of citizens, tribal and government officials started meeting in 1995 to discuss the best ways for government and the community to work together on management of the Cedar River watershed. This Cedar River Watershed Council plans to prioritize spending on Cedar River projects, provide a forum to discuss watershed issues and to coordinate the actions of agencies and public and private interest groups.
The Cedar River Basin Steward has also been at work in the basin since 1994, responding to citizen inquiries concerning their watershed, organizing watershed improvement projects and education opportunities and assisting the Cedar River Watershed Council. Volunteers have taken part in numerous small-scale projects that address habitat, water quality, and drainage concerns. Partnerships between businesses, civic groups, landowners, schools and local government have evolved from some of these projects as a way to protect and restore key areas of the Cedar River.
Examples of what's been done:
Sand and sand bags delivered to Taylor Creek residents for flood relief by the Basin Steward.
Drainage and flooding concerns addressed at the Lake Desire outlet channel through beaver trapping, debris removal and channel maintenance.
More than 1,000 trees have been planted at Cavanaugh Pond, through the efforts of local residents, service clubs and the Boeing Company.
The Tahoma School District has adopted the new Rock Creek property and is assisting in establishing use and stewardship guidelines for Rock Creek.
The Renton Fish and Game Club monitors Cavanaugh Pond with sponsorship by US West.
Maple Valley Rotary has taken the lead in creating a new riverside park and collaborating with the Tahoma School District for on-site educational opportunities.
Public/private partnership formed to allow annual fish counts and habitat improvements to be done on private property.
Incentives for Forest Protection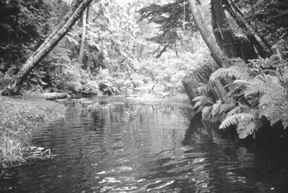 One of the important goals of the Cedar River Basin Plan is to encourage as much forest cover as possible because it is the best way to ensure that the Cedar has clean, stable streams. The idea is not to discourage harvesting of marketable timber, but to encourage replanting of trees after harvesting so the land stays in forest use over the long term rather than being converted to other uses. Retaining land in forest will also protect the quality and quantity of groundwater in the basin, and reduce tributary flooding, erosion, sedimentation and water quality degradation.
The initial draft Cedar River Basin Plan called for regulations to meet this goal. This proposal raised concerns from rural residents who feel they are being over-regulated. Staff from King County Surface Water Management met with those concerned about the proposed regulations and with their input crafted an alternative package of incentives to help land owners keep their land in forest use.
By offering this incentive package for retaining forest rather than the previously proposed regulations, King County is challenging the basin community to work in partnership with the County and their neighbors to ensure that this incentive package works. After five years the incentive approach will be evaluated by the Cedar River Watershed Council to see if it is effectively meeting the goal of retaining long-term forest uses and thereby maintaining clean, stable streams in the Cedar basin.
The following incentives for retaining land in forest uses are in the new draft Cedar River Basin Plan:
Tax Relief - Assistance in preparing applications for Timber Land and Public Benefit Rating System tax relief programs and modifying the Public Benefit Rating System to give extra points for forest retention.
Direct Assistance - New forester position to provide technical and tax reduction program information and assist with management plans and site restoration.
Stewardship Classes and Master Forester Program - Offer more low cost forestry classes to help landowners develop their own forest management plan. Develop a program similar to "master gardener" program in which participants learn forest practices then commit to share their knowledge with others.
Demonstration Site - Develop a working forest demonstration site where landowners can see forest practices and economics first hand.
Simplified Permit Processing - Streamline county clearing permit process for landowners with approved forest management plans.
Main Recommendations of the Cedar River Plan
Flood Damage Reduction
The principal flood damage reduction goals of this plan are to eliminate the worst risks that flooding poses to human life and to reduce economic and property damage caused by flooding. Most of the recommended flood damage reduction efforts are focused along the Cedar River mainstem rather than in the tributaries because the most severe risks to both human safety and property are located there. Recommendations are designed to lower flood risks and damages, while reducing the long-term costs of flood damage and minimizing environmental impacts (consistent with the countywide Flood Hazard Reduction Plan).
Key Recommendations:
Voluntary Purchase and Removal of Approximately 112 Residences at 12 locations along the mainstem to reduce flood damage and danger to residents where the most hazardous flood flows occur.
Provide Technical Assistance and Limited Financial Assistance to help floodplain residents and responsible agencies reduce flood damages in the less hazardous areas and improve flood emergency communications.
Study Masonry Dam Operations to determine the feasibility of improving mainstem flood control at the dam. To be done cooperatively by King County, the City of Seattle, the City of Renton and the Muckleshoot Indian Tribe.
Improve Drainage Structures to Reduce Flood Damages along the Tributaries, particularly along Taylor Creek, at Lake Desire, and the East Fork of Maplewood Creek.
Re-establish Channel Capacity of the Renton Reach to 100 year flood discharge in order to reduce flood damages.
Modify Levees and Revetments in selected areas to reduce public maintenance costs, restore natural flood storage and help reduce flood damage system-wide.
Aquatic Habitat
The principal habitat goals of the Plan are to protect and restore stream and wetland habitats critical to the Cedar River's salmon and steelhead runs and to reduce surface water management costs by preserving and restoring the overall ecological health of the Cedar/Lake Washington system.
Key Recommendations:
Purchase Critical Habitat Sites at 13 mainstem and 11 tributary sites as part of the King County Open Space Program.
Restore and Enhance Aquatic Habitat at 70 mainstem and 14 tributary sites with volunteer labor recruited for the smaller scale, labor intensive projects.
Continue Temporary Sockeye Salmon Hatchery Production and Lake Washington Study to sustain the existing sockeye salmon runs and determine the causes of salmonid declines in the Lake Washington system so that long term solutions can be implemented.
Protect Five Regionally Significant Wetlands by requiring expanded buffers, forest retention, retention/detention ponds, infiltration, and seasonal clearing limits in the catchment areas of these wetlands in order to minimize the adverse impacts of future development. (See map on pages 6-7).
Promote Existing Mitigation Bank Program to allow public agencies to fulfill their mitigation obligations for projects such as road widening in large, high quality, off-site mitigation bank sites within the basin, where this mitigation would be more functional than traditional on-site mitigation projects.
Restore Rock Creek Base Flows to address the low flow problems that limit fish use of the lower 1.7 miles of this otherwise high quality habitat by developing a low flow augmentation program with the City of Kent.
Water Quality and Groundwater Protection
The primary water quality goal of this Plan is to maintain the generally high surface water and groundwater quality in the basin. These recommendations address the basin's most significant water quality problems: total phosphorus loadings into Lake Washington, locally toxic concentrations of urban pollutants, high fecal coliform counts, and localized sediment problems. Priority is given to reducing sources of pollution where feasible rather than implementing costly treatment measures.
Several recommendations in the Cedar River Basin Plan help protect groundwater quantity and quality while also reducing erosion, phosphorus loadings, tributary flooding, and damage to aquatic resources.
Key Recommendations:
Enhance Stormwater Control Measures for New Development by implementing proposed updates to the King County Surface Water Design Manual to reduce surface water runoff, treat pollutants and maintain groundwater recharge.
Reduce Sources of Fecal Coliform Bacteria through increased technical assistance to septic tank owners and livestock owners.
Treat Toxic Runoff from existing roads and commercial and residential areas.
Promote Forest Retention using incentives for landowners to keep their land in forest uses such as tax relief and increased technical assistance.
Promote Shared Stormwater Treatment Facilities in the urban areas to minimize costs and land area required for stormwater control.
Protect Steep Ravines and Slopes of the Cedar River to prevent erosive runoff from new development through a combination of infiltration and enhanced retention/detention facilities.
Next Steps
Once the Cedar River Basin and Nonpoint Source Pollution Action Plan is finalized, it will be presented to the Metropolitan King County Council and the Renton City Council in early 1996 for their consideration and adoption. Regulatory elements will be adopted as part of the plan. Capital improvement projects will be funded through City and County capital improvement program budgets. New public programs, including the purchase of floodplain property, will be implemented as staff and budgets allow.
For more information on the condition of the Cedar River Basin, refer to the Cedar River Current and Future Conditions Report (Acrobat pdf). For additional information about the Lower Cedar River Basin and Nonpoint Action Plan contact Nathan Brown, Project Program Manager, King County Ecological Restoration and Engineering Services Unit.
Related information
Related agencies