Draft May Creek Erosion Stabilization Report
May Creek Sediment Transport Study Phase 3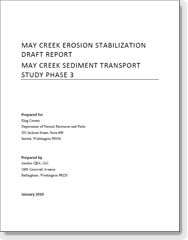 The May Creek Erosion Stabilization Draft Report summarizes erosion monitoring and evaluation efforts. The report describes geomorphic, hydrologic, and hydraulic conditions and their implications on sediment transport and bank erosion in the ravine reach of May Creek, between 148th Avenue SE and Coal Creek Parkway. This report builds upon the May Creek Sediment Transport Study, which involved installing equipment in May Creek to monitor and collect data on stream flows and transport of sediments, and analyzing this data to establish the flow at which erosion is likely.
This report was prepared for King County by Anchor QEA, LLC of Bellingham, Washington for King County Department of Natural Resources and Parks.
The May Creek Erosion Stabilization Draft Report is provided in Adobe Acrobat format for compatibility with a wide variety of browsers and computer systems. For help with Acrobat, please see our Adobe Acrobat help page.
Download Here:
For questions about the May Creek Erosion Stabilization Report, please contact Rachel Berryessa, Senior Engineer, King County Surface Water Engineering Services.