Tips on How You Can Help Miller/Walker Creeks: Start Being a Better Steward Today
We all can be good stewards of Miller and Walker Creeks! Whether you live right next to the streams or a mile away, your actions can help improve water quality and reduce stormwater. This, in turn, will help our region's efforts to improve Puget Sound. These tips also can make your home a healthier place and save money!
Remember,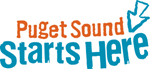 Clean up after your dog:
Practice "natural yard care":
Protect and restore native streamside ("riparian") vegetation:
Control invasive weeds:
Keep soap suds and grime out of storm drains:
Take care of your car:
Conserve water:
Put household hazardous waste in its place:
Reduce runoff/practice "low impact development":
Volunteer to restore our streams:
Stewardship of the Miller/Walker Creeks basin is jointly funded by the City of Burien, City of Normandy Park, City of SeaTac, King County, and the Port of Seattle. On behalf of the partners, this page is proudly hosted by King County Department of Natural Resources and Parks - Water and Land Resources Division.