Stream Blog for Miller and Walker Creeks: Observations from the Stream Bank During 2010
This Web page records observations of Miller and Walker Creeks from the people who live, work, and play alongside them. Observations during 2010 are on:
Water quality and quantity
Fish presence
Efforts by people to improve the heath of the stream basin
Reports from CSI: Highline on adult fish sightings in fall 2010 are available here.
Date: December 16, 2010
Location: Walker Wetland east of Des Moines Memorial Drive at S. 176th St. in Burien
Source: Dennis Clark, Basin Steward
Observation: Continuing the good work done begun in 2009, students from the Highline School District Waskowitz Environmental Leadership Semester (WELS) worked enthusiastically to control three common invasive plants found in the urban environment: Himalayan blackberry, English laurel, and English ivy. Nine students and four staff worked with me for three hours to cut and dig these invasive plants. Removing invasives will reduce competition with native plants resident in the wetland and those planted as part of the 2008 sewer line/trail construction. The Walker Wetland is the headwaters of Walker Creek and serves a sponge to absorb and filter stormwater.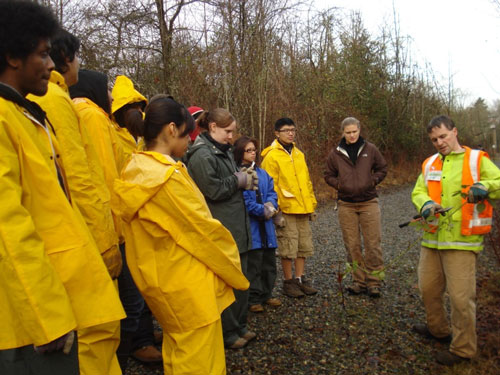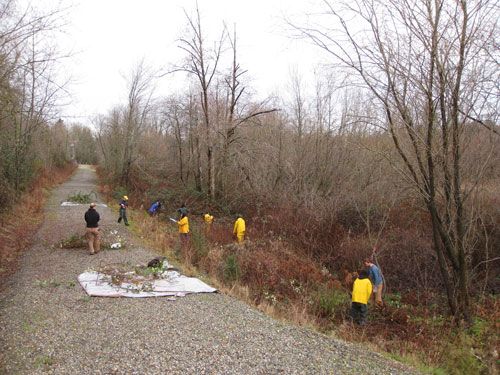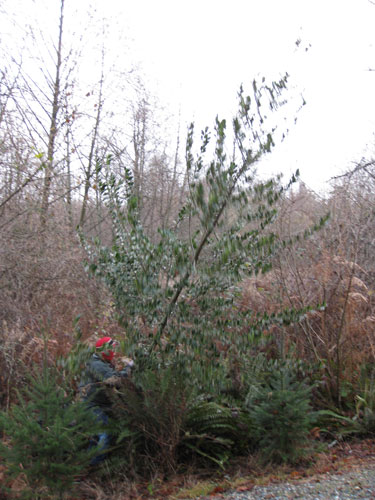 Date: December 12, 2010
Location: Miller and Walker Creeks Basin
Source: Dennis Clark, Basin Steward
Observation: In a 48 hour period ending at 6 p.m. on December 12, 3.58 inches of rain fell in the basin (2.19 inches fell on December 12 alone). Miller and Walker Creeks both flooded, most significantly in the floodplain above where the streams enter Puget Sound.
Photos of the flooding on December 12 at the Cove from a CSI: Highline team are here.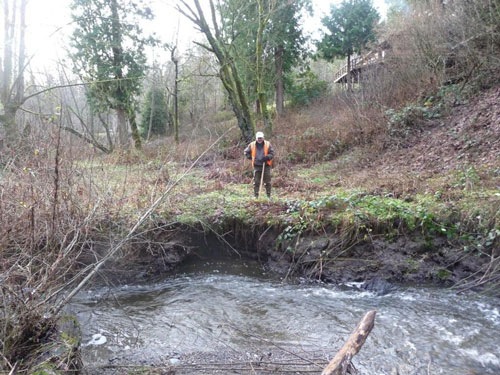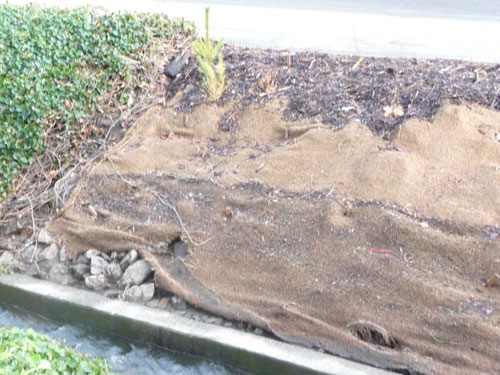 Date: November 20, 2010
Location: Arbor Lake, the headwaters of Miller Creek in Burien
Source: Dennis Clark, Basin Steward
Observation: Arbor Lake is a pleasant little lake in north Burien that is the headwaters of Miller Creek. Although not accessible to anadromous fish such as salmon, the lake supports many birds and a variety of freshwater fish. The neighbors are eager to volunteer for their park and today they were joined by other watershed residents for the first park stewardship project in many years. In partnership with Lisa Aumann from Burien Parks, Recreation and Cultural Services, we worked with 21 volunteers to remove a massive amount of Scotch broom and Himalayan blackberry from the the riparian planting zones along the shoreline. We got about half the job done and expect to complete the south and west shoreline weeding in winter 2011.
Date: March 13, 2010
Location: Walker Creek at the Cove (external link) in Normandy Park
Source: Andy Batcho
Observation: At the Stewards of the Cove work party on Saturday, March 13, I noticed 8 to 10 salmon fry in Walker Creek (in front of the Cove Building). I checked several places in that section of stream and found fry in nearly every section. Several others saw them also, Elaine & Tony Cassarino, Doug Osterman to name a few. The fry were about 1" to 1-1/4" long. Not sure if they were planted or wild coho or out migrating chum fry. I check the stream quite often & I had not seen fry in this area until last Saturday.
Tip from Basin Steward Dennis Clark: To tell coho and chum fry apart, look for the "parr marks," vertical bands on the side of the fish. On chum, the parr marks are above the "lateral line" only. The lateral line is a visible line that runs from the middle of the head to the middle of the tail on each side of the fish. With coho, the parr marks are located both above and below the "lateral line." Chum also have a blue-green color and stand out a bit more than coho. Of course, with such small, quick little fish, discerning these differences is no small task!
Date: January 23, 2010
Location: Southwest Suburban Sewer District plant (external link) in Normandy Park
Source: Dennis Clark, Basin Steward
Observation: Today was an exciting day for about 20 volunteers from Trout Unlimited - Duwamish/Green Chapter and the broader community. It was also an exciting day for tens of thousands of coho salmon that found a new home in Miller and Walker Creeks! Like last year, coho salmon eggs had been transferred in December from the Washington Department of Fish and Wildlife hatchery on Soos Creek to the Trout Unlimited hatchery on the grounds of the sewer plant in Normandy Park. For several weeks, trays of eggs were constantly bathed in 11 degree C (52 degree F) well water. Gradually the eggs developed into alevins and "buttoned up" by absorbing their yolk sacks. Just when they finished "buttoning up" and were ready to begin finding their own food, they were outplanted to streams throughout the Highline area.
Over 100,000 fish were outplanted to various locations in Miller/Walker/Sequoia Creeks, Des Moines Creek, and Salmon Creek. Outplanting these salmon helps compensate for the fact that few adult coho salmon are able to successfully spawn in our urban creeks. (See posts from 2009 on pre-spawn mortality.)
Not many of the outplanted fish will survive -- that's just the way nature works when it comes to young salmon. The initial large numbers, however, mean some will survive their first 16 months in our streams and ponds. Those that do survive the initial freshwater phase of their lives will head out to Puget Sound and the Pacific Ocean sometime in 2011. And of those, a small percentage will survive to return to the creeks in 2013 or 2014.
The coho outplanting program is a partnership between the Washington Department of Fish and Wildlife (external link) and Trout Unlimited. Volunteers such as Russ Welker and John Muramatsu visit the hatchery every day to pluck diseased eggs and fry from the trays to ensure the health of the others. The project also is supported by the Southwest Suburban Sewer District (external link), which provides space for the hatchery building and clean well water.
The ultimate success of the program depends on members of the community who improve water quality and habitat in the streams so that the outplanted fish survive in ever higher numbers. Remember, Puget Sound Starts Here!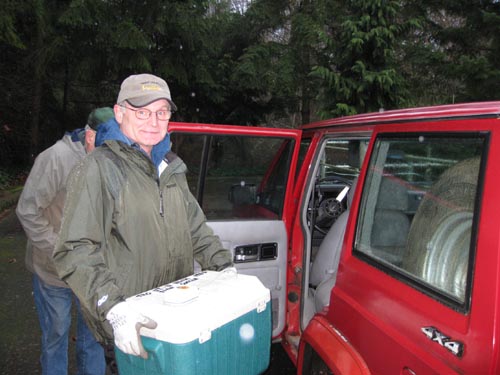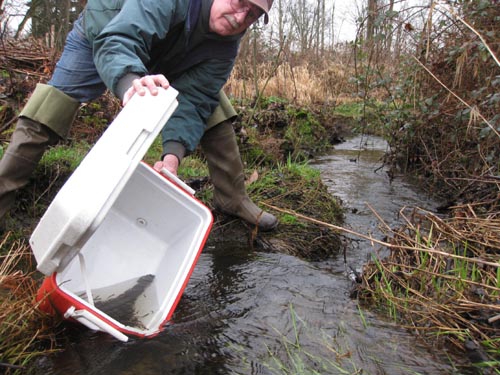 Stewardship of the Miller/Walker Creeks basin is jointly funded by the City of Burien, City of Normandy Park, City of SeaTac, King County, and the Port of Seattle. On behalf of the partners, this page is proudly hosted by King County Department of Natural Resources and Parks - Water and Land Resources Division.