Snoqualmie Fish, Farm & Flood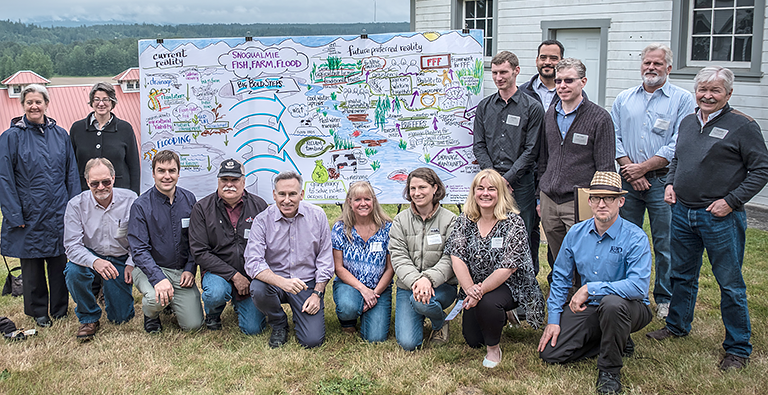 Among the top priorities for King County are protecting and enhancing farmland; restoring threatened salmon and associated habitat; and reducing flood risks to residents and infrastructure. However, balancing all of these critical priorities can be challenging in a shared landscape.
The 2012 King County Comprehensive Plan directed the Department of Natural Resources and Parks to create a collaborative, grass-roots effort to determine how to move forward toward achieving the goals of these sometimes competing priorities. In 2017, The Fish, Farm and Flood (FFF) Advisory Committee transmitted a set of recommended actions to the County Executive and Council and the FFF Implementation Oversight Committee (IOC) was created to ensure balanced implementation of those actions. Although the IOC works collaboratively to advance shared priorities, members representing each sector are led by an IOC co-chair: Cindy Spiry (Fish), Cynthia Krass (Farm), and Angela Donaldson (Flood).
Who...
In 2013, King County Executive Dow Constantine assembled representatives from the Snoqualmie Valley to examine the issues that were creating obstacles and conflict, and to advise King County on how to overcome them.
These representatives formed the Fish, Farm, and Flood (FFF) Advisory Committee, which provided a variety of perspectives on agriculture, salmon recovery and flood risk reduction interests, and also included participation by tribal, state and local jurisdictions. In 2017, the FFF Advisory Committee forged the first major agreement in King County to strike a balance between farming interests, salmon recovery, and flood risk reduction. The Advisory Committee unanimously agreed on 34 recommendations that, once implemented, would significantly improve ecological function and habitat quality, while at the same time strengthening the agricultural economy and reducing flood risk.
Where...
The Snoqualmie Watershed covers primarily the lower 30 miles of the valley from Snoqualmie Falls north to the Snohomish County line. This area includes the 14,600-acre Snoqualmie Agricultural Production District and some of the most important habitat for Chinook salmon, which was listed as threatened under the endangered species act in 1999.
How...
Implementation of the suite of Fish, Farm, Flood recommended actions is guided by the FFF Implementation Oversight Committee (IOC). The immediate priorities of the IOC include:
Development and implementation of a plan for integrated drainage maintenance.
Complete the Snoqualmie Valley Agriculture Strategic Plan through the Agriculture Strategic Plan Task Force
Convene the Riparian Buffer Implementation Task Force (BTF)
Explore the need of regulatory changes highlighted by the Regulatory Task Force (RTF)
Build a two-dimensional (2-D) model for the Snoqualmie Valley to assess and improve road conditions during floods
King County is not working alone in its efforts to collectively protect fish, wildlife and farmland; farmers, tribal nations, non-profits, resource advocates, and the County work collaboratively to reach this common goal. The result has been slow but steady movement forward with actions to implement the recommendations of the Advisory Committee. The keys to success are to respect and honor the differences of all participants and recognize that achieving the individual goals of fish, farm and flood interests will create a collective good for the environment, people, and fish.
For additional information regarding upcoming projects, please read our brochure.
Upcoming Implementation Oversight Committee Meetings
The following meetings are set to take place via Zoom as part of the Fish, Farm, Flood IOC Retreat:
September 20, 2021 from 9:00-11:30 a.m.
October 12, 2021 from 8:00-10:30 a.m.
October 13, 2021 from 8:00-10:30 a.m.
All meeting information is subject to change.
Past Meetings
Recordings of meetings from 2020 and later may be available upon request. Please contact Beth leDoux for details.
2021
October 13, 2021: Notes / Handouts
October 12, 2021: Notes / Handouts
September 20, 2021: Notes / Handouts
April 27, 2021: Notes / Handouts
February 23, 2021: Notes / Handouts
2020
December 8, 2020: Notes / Handouts
October 7, 2020: Notes / Handouts
August 25, 2020: Notes / Handouts
June 10, 2020: Notes / Handouts
February 26, 2020: Notes / Handouts
To view previous meeting documents from 2019 and earlier, visit the Historical Documents page.
Task Forces
Large Capital Projects