Summary of King County Water Quality Index Ratings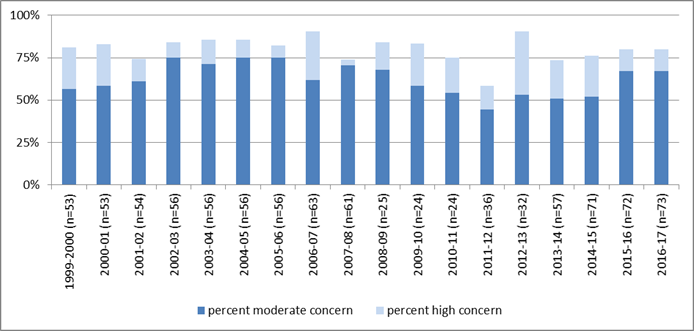 Percent of stream stations in WRIAs 7, 8, 9, and 10 with moderate to high concern WQI ratings.
Summary of King County Water Quality Index Ratings
Stream sites in the Snoqualmie-Skykomish (WRIA 7), Cedar-Sammamish (WRIA 8), Green-Duwamish (WRIA 9) and White-Puyallup (WRIA 10) drainage basins are sampled monthly as part of King County's Routine Stream Monitoring Program. Numerous water quality conventional parameters are measured, including those used to determine the Water Quality Index (WQI) – temperature, pH, fecal coliform bacteria, total suspended solids, dissolved oxygen, and nutrients. (See the Water Quality Index Background tab for information about this index.). A link to WQI scores for each stream site beginning in 2000 can be found on the Water Quality Monitoring Location List. For scores prior to 2000, please contact the Streams Program Manager: Debra Bouchard.
Environmental Factors Influencing the Water Quality Index
Overall stream water quality in King County is impacted by increased development in the region — primarily through stormwater runoff.
Stormwater, combined sewer overflows (CSO's), waterfowl and pet wastes are the most likely sources of bacteria in urban streams. Poor livestock manure management and failing septic systems can be a potential source of bacteria in agricultural and suburban areas. In wetlands, wildlife excrement and stagnant water conditions can lead to elevated bacteria counts. High phosphorus concentrations are found in fecal material and elevated concentrations are often linked to similar sources as bacteria. In addition, elevated phosphorus concentrations are linked to areas undergoing development since phosphorus occurs naturally in soils, as well as organic material.
Low dissolved oxygen concentrations can be associated with low flows, wetlands, high temperatures (colder water holds more oxygen), and high levels of organic matter (bacteria use up oxygen in the process of decomposing).
The WQI indicator highlights the need for comprehensive and coordinated approaches to resolving problems related to instream flow management since lower flows and excessive storm water runoff exacerbates every water quality measurement of the WQI.
King County Stream Monitoring Program Changes
Due to budget cuts, the WLRD Stream and River Monitoring Program was significantly reduced in 2009 from 63 sites on three rivers and twenty-eight streams in WRIAs 8 and 9 to twenty-four sites on three rivers and eighteen streams. In early 2013 KC Council added enough funds to reinstate 20 routine stream sites. Beginning in 2014 KC Council again added funds to add an additional 14 routine stream sites back into the program. Four of these stream sites are Vashon Island streams that are monitored through funding sources not associated with the Ambient Stream and River Monitoring Program. The 2009 Ambient Stream and River Monitoring Program reductions represent a significant gap in a long-term data set for many stream stations that have been monitored since the inception of Metro's monitoring programs in the early 1970s.
The King County Council passed a Surface Water Management (SWM) fee increase beginning in 2011 that, in part, funded the expansion of this program into the portions of the County that comprise the Snoqualmie-Skykomish River drainage (WRIA 7). The WRIA 7 Routine Streams Monitoring program consists of twelve sampling sites that are distributed throughout the watershed on tributary streams and mainstem rivers that drain a variety of land covers. The purpose of the program is to expand on the existing King County Routine Streams Monitoring Program that has historically been primarily centered on WRIAs 8 and 9.
In 2015 a station in Boise Creek in WRIA 10 was added.