Maury Island Natural Area
Parking lot update: Partial closure estimated through Summer 2022
To minimize public exposure to contaminated soil, King County Parks capped the site of a former skeet range by building a gravel parking lot at the site, which opened in October 2021. However, heavy rains in November caused erosion in an area of the lot, requiring King County Parks to close the site to protect public safety and contain the damage. King County Parks estimates repairing the eroded area will take until Summer 2022.
The lot is partially open. Back side has been fenced off to prevent further erosion. Please be safe and respect the closed area of the parking lot.
The parking lot has space for 21 vehicles and 4 equestrian trailers, as well as 2 equestrian mounting blocks. King County Parks also removed three acres of invasive vegetation on the south side of SW 260th St, replacing with natives in Winter 2021-22.
Sign up for our e-newsletter and stay updated about the park and remediation activities.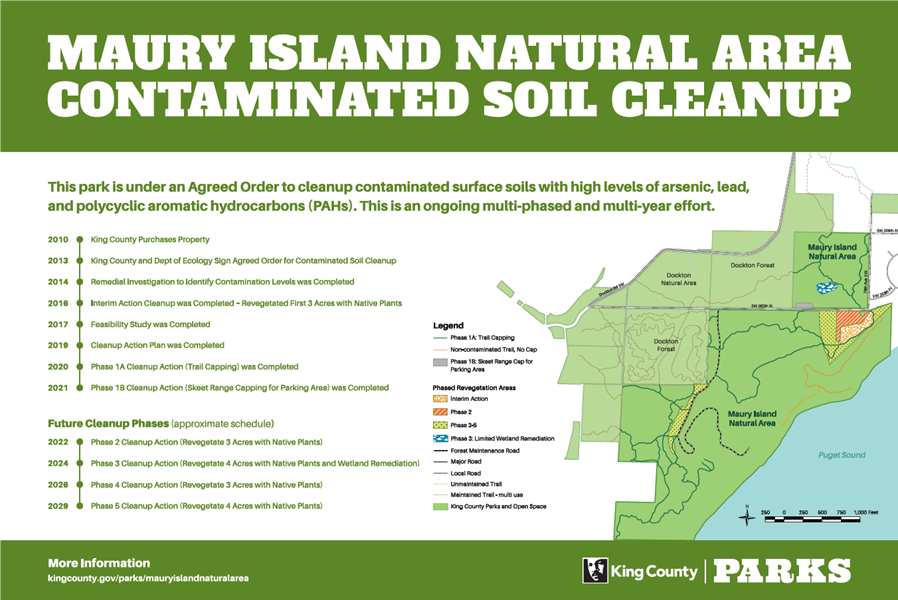 Click to view larger image.
---
Site Management Plan

The Friends of Maury Island Park have offered to serve in a planning advisory role to assist King County's efforts to finalize the Site Management Plan for the Maury Island Natural Area. That work has just begun and will continue throughout the fall. This management plan covers all future use of the natural area, not just the plans for cleanup. A draft was prepared in 2013 but could not be finalized until the details of the cleanup were decided.
---
About the Park

Located on the southeast shore of Maury Island on lands formerly operated as a sand and gravel mine, the Maury Island Natural Area is now a 275-acre park. The park contains madrone forests and habitat that supports endangered species such as Chinook salmon, orca, and bull trout. The site's nearly one mile of shoreline is the longest undeveloped stretch of Puget Sound shoreline in King County. When combined with the nearby 320-acre Maury Island Marine Park, the two parks represent the largest public holding of protected marine shoreline in all of Puget Sound.

Park Activities: The park can be reached from Seattle by the Fauntleroy-Vashon ferry and from Tacoma by the Point Defiance-Tahlequah ferry. Once on Maury Island, head south on Dockton Road SW, east on SW 260th St.
Parking
There is a 21-vehicle gravel parking lot, with 4 equestrian trailer sites, located off of SW 260th St.
Park History
Local activists and environmental groups fought plans for mine expansion and advocated for public acquisition of the site, which was purchased in December 2010. Acquisition funding came from the King County Conservation Futures Tax, Washington State Department of Ecology ASARCO Settlement fund and an amendment to CalPortland's existing royalty agreement for another mining site. In addition, community groups including Forterra, People For Puget Sound, Preserve Our Islands, Vashon-Maury Island Land Trust, and Washington Environmental Council began a fundraising campaign to help ensure the site would be protected and cared for in perpetuity.

Due to previous mining activity and the site's location within the historic Tacoma Smelter plume, plans for land reclamation and soil remediation have been an integral part of site management planning. King County Parks has been working with a planning advisory group, which helped identify appropriate site uses and amenities, such as trail improvements, water access, restroom facilities, picnic areas and parking. We will finalize those recommendations as part of the planning process and in coordination with the Washington Department of Ecology.
---
Relevant Links
Phased Clean-up Project Map (Oct 2021)

January 2021 Bid Set of Construction Plans for King County Maury Island Open Space – Phase 1 Parking Area
May 2019 Bid Set of Construction Plans for King County Maury Island Open Space – Phase 1 Trails
March 2019 Maury Island Natural Area Clean-up - questions from community members
2013 Draft Maury Island Natural Area site management plan
2013 Maury Island Natural Area draft site management plan maps (100 MB)
---
Agreed Order Cleanup Resources
WA Dept of Ecology Cleanup Action Plan Public Notice
RI/FS/DCAP SEPA DNS (March 2018)
RI/FS/DCAP SEPA Checklist (February 2018)
September 2017 Public Review Draft Cleanup Action Plan
April 2017 Draft Final Feasibility Study
WA Dept of Ecology Site Clean-up Project Webpage
July 2016 WA Dept of Ecology Interim Action Clean-up Public Notice
July 2016 SEPA Documents Interim Action Clean-Up
June 2016 Interim Action Work Plan
February 2016 Wetland Bioassay Report
June 2014 Final Remediation Investigation (84 MB)
September 2016 WA DNR Derelict pier removal
WA Dept of Ecology Tacoma Smelter Plum Clean-up
About the environment on Vashon-Maury Island