Green to Cedar Rivers Trail
PROJECT UPDATE - King County Parks is proposing to develop a 2-mile-long section of the Green to Cedar Rivers Trail (G2C Trail) to connect SE Kent-Kangley Road to the Black Diamond Open Space. This project is part of a larger vision to improve mobility and access to high-quality regional trails for people of all ages and abilities to enjoy. King County Parks recently created a public input survey to hear from community members. Click here to view results.

The Green to Cedar Rivers Trail is currently in design. Once completed it will be a north-south connection for cyclists, pedestrians and equestrians, weaving through the best of an exceptional landscape connecting south King County communities to rivers, lakes, creeks, and natural areas. This 11-mile trail will improve a section of existing soft-surface trail to a full standard shared-use trail and eventually extend it, connecting the Cedar River Trail to Flaming Geyser State Park on the Green River.

Want updated construction information?
Visit the Project Information by Segment section to view the latest in design, outreach, technical reports and more. We'll keep all our Green to Cedar Rivers Trail neighbors and stakeholders up to date as design progresses.
New to the trail?
Visit the Trail History section to learn more about the trail's history, why King County has chosen this project, and the projects scope and timeline.
Be a part of the trails community!
The Green to Cedar Rivers Trail, much like all of our Regional Trails System trails, is a work in progress requiring constant management and upkeep. We always welcome constructive suggestion about trail maintenance, or safety from our users. Be sure to let us know if you see something on the trail that you think we can improve.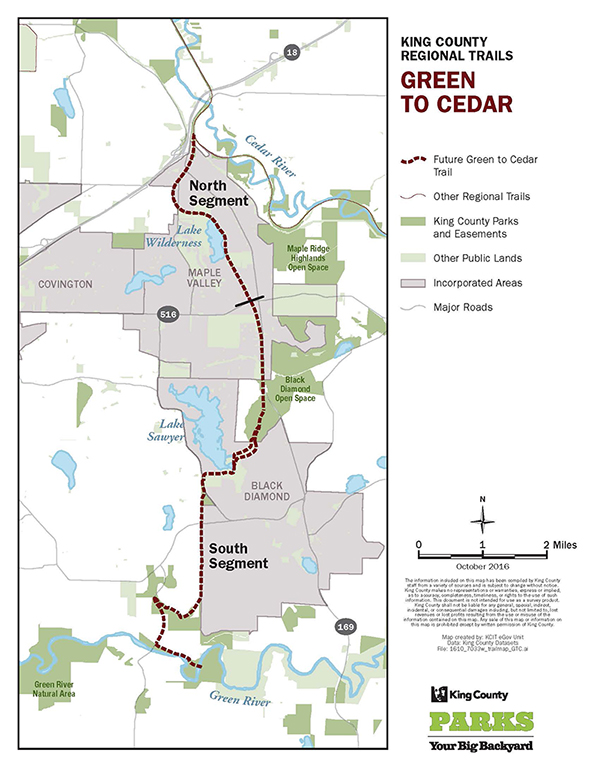 Questions? Comments?
www.parksfeedback.com
---
A trail from Seattle to Flaming Geyser State Park – The vision for the trail was originally proposed in the 1992 King County Regional Trails Plan as the "Maple Valley-Flaming Geyser Trail". The County has been in discussion about the trail vision with the cities of Black Diamond, Maple Valley, and Covington, as they are primary stakeholders within the corridor. In 2012, King County conducted a feasibility study for the trail corridor that identified key opportunities and constraints for future development. Funding for the preliminary design of the entire corridor and construction of the North Segment was proposed as part of the 2014-2019 King County Parks, Trails, and Open Space Replacement Levy.
Why is King County developing the Green to Cedar River Trail? – The Green to Cedar River Trail is part of a larger vision of mobility and access to all residents of King County. Not only does our Regional Trails System provide a connection between locations, it also connects people to healthy living, recreational opportunities, mental health, stress reduction and much, much more.



A trail for the community – By 2018, design of the 3.3-mile north segment portion of the paved trail is expected to be approved, and in the years following, the southern portion of the trail along Black Diamond to Flaming Geyser State Park is anticipated.
Design and construction of each portion will continue to adhere to the agreements made during the early planning phase to provide a safe, multi-use regional trail for bicyclists, pedestrians, joggers, skaters, strollers, wheelchairs, and users of all ages and abilities.
Project Information by Segment:
---
Location: 3 miles beginning at the Cedar River Trail to SE Kent Kangley Road
Project update: King County Parks is moving forward with this important trail project that will upgrade the Green to Cedar Rivers Trail to Regional Trail standards, including a 12-foot wide paved trail. This upgrade will make the trail accessible for all ages and abilities while connecting communities, inspiring healthy living and supporting a sustainable future. The north segment of the trail is currently a 10-foot wide gravel trail that is accompanied by a narrower side trail in some sections of the corridor.
Recent Activity
SEPA was completed in summer 2018. The timeline for final design and construction of the north segment is not yet determined, pending funding and permitting.
---
Design:
Technical Reports: Check back here to review all technical reports for this segment once available.
Public Outreach:
Neighborhood Meeting Summaries:
Location: 8 mile corridor between SE Kent Kangley Road in Maple Valley and Flaming Geyser State Park, just south of the Black Diamond city limits.
South Interim Trail
Recent Activity:
The consulting team, led by Parametrix, has been given the Notice to Proceed for the design of the 2 mile interim trail between SE Kent Kangley Road and the Black Diamond Open Space parking lot. The consultants will start by collecting data for the design work, such as traffic count, geotechnical borings, and ground and tree survey.


This data will help to shape the design, building off of the preliminary master plan design from 2019. The master plan trail was planned as a 12-foot wide paved trail with 2 foot gravel shoulders on each side. The interim trail will set the foundation for the master plan design, will keeping within the constraints of the project budget. This design will include a 12 foot wide pedestrian bridge over the BNSF railroad crossing, and pedestrian safety improvements at the road crossings along the corridor.
In November 2019, the King County Council adopted and Executive approved Ordinance 19021, which directed King County Parks to explore alternative uses for Levy Funds for the Green to Cedar Rivers Trail – North Segment A. This report contained a summary of stakeholder engagement, discussion of alternatives explored, and the joint recommendations of the City of Maple Valley and the King County Department of Natural Resources and Parks (DNRP) for use of the Levy funding. In the report, DNRP reached a joint recommendation with the City of Maple Valley for use of Levy funds to design and construct an interim gravel trail on Green to Cedars Rivers Trail South Segment A rather than fully developing North Segment A.
Read the full report
.
As a result of this action, DNRP is actively beginning work on this interim gravel trail. King County Parks is currently working through the consultant selection process with design anticipated to begin in February 2022, or as soon as the contract is negotiated.


This interim trail will be approximately 2 miles long and travel from SE Kent Kangley Road to the Black Diamond Open Space (BDOS) trailhead parking lot. It will include a pedestrian bridge crossing at the BNSF railroad and four safe trail crossings at SE 271st Place, SE 276th Street, SE 280th Street and 288th Ave South.


Construction will begin once permits and a construction maintenance agreement with the railroad is acquired. This project is currently anticipated to advertise for construction in Spring 2024.
View interim trail Map
.
Ravensdale Fish Barrier Removal
Project title:
SR 169 - Ravensdale Creek - Fish Passage
Location: SR 169 in Maple Valley, Black Diamond Open Space and the Green to Cedar Rivers Trail south of SE 288th Street.
Duration: Summer 2021 – Fall 2022
Reason: Fish passage improvement


King County Parks is partnering with WSDOT to improve fish passage within Ravensdale Creek. This project will remove two culverts within the Black Diamond Open Space (BDOS) and one culvert under the SR 169 highway. The culvert east of the Green to Cedar Rivers Trail will be removed and the creek will be restored. The culvert under the trail will be removed and replaced with a pedestrian trail bridge. The culvert under SR 169 will be removed and replaced with a new bridge. The old road bed through BDOS (which served as the main road prior to SR 169 construction) will be temporarily utilized for a vehicular traffic bypass while the SR 169 bridge is being reconstructed. This bypass will provide a direct route through the area in lieu of a lengthy detour and it will be restored with native plantings after the SR 169 bridge is constructed. WSDOT is managing the design, permitting and construction of the project.
Recent activity:
The contractor will complete the majority of the work on the Ravensdale fish barrier removal project at SR 169 and the Black Diamond Open Space by the end of September 2022. The new bridge at SR 169 was completed early this year. More recently, a new pedestrian bridge along the Green to Cedar River Trail was installed after the existing culvert within the railroad embankment was removed. In total, three fish barriers (culverts) were removed and the stream channel was improved for fish habitat. Water is once again flowing within Ravensdale Creek as the contractor preps the project site for landscape planting and restoration, which will begin in October. This project will be complete by December 2022.

Other:
King County received a grant from the state of Washington's Recreation and Conservation Office (RCO) through the Brian Abbott Fish Barrier Removal Board for the King County portion (the two culverts in BDOS) of this project.