Green to Cedar Rivers Trail

The Green to Cedar Rivers Trail is currently in design. Once completed it will be a north-south connection for cyclists, pedestrians and equestrians, weaving through the best of an exceptional landscape connecting south King County communities to rivers, lakes, creeks, and natural areas. This 11-mile trail will improve a section of existing soft-surface trail to a full standard shared-use trail and eventually extend it, connecting the Cedar River Trail to Flaming Geyser State Park on the Green River.

Want updated construction information?
Visit the Project Information by Segment section to view the latest in design, outreach, technical reports and more. We'll keep all our Green to Cedar Rivers Trail neighbors and stakeholders up to date as design progresses.
New to the trail?
Visit the Trail History section to learn more about the trail's history, why King County has chosen this project, and the projects scope and timeline.
Be a part of the trails community!
The Green to Cedar Rivers Trail, much like all of our Regional Trails System trails, is a work in progress requiring constant management and upkeep. We always welcome constructive suggestion about trail maintenance, or safety from our users. Be sure to let us know if you see something on the trail that you think we can improve.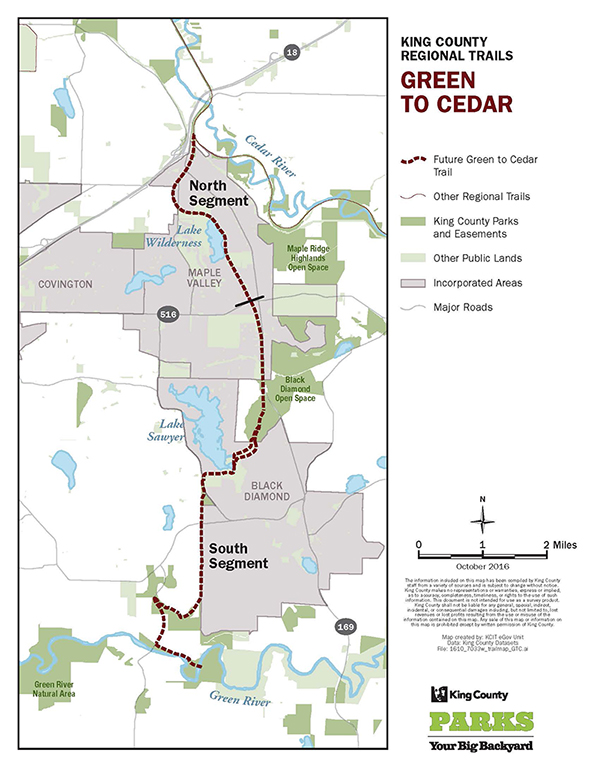 Questions? Comments?
www.parksfeedback.com
---
A trail from Seattle to Flaming Geyser State Park – The vision for the trail was originally proposed in the 1992 King County Regional Trails Plan as the "Maple Valley-Flaming Geyser Trail". The County has been in discussion about the trail vision with the cities of Black Diamond, Maple Valley, and Covington, as they are primary stakeholders within the corridor. In 2012, King County conducted a feasibility study for the trail corridor that identified key opportunities and constraints for future development. Funding for the preliminary design of the entire corridor and construction of the North Segment was proposed as part of the 2014-2019 King County Parks, Trails, and Open Space Replacement Levy.
Why is King County developing the Green to Cedar River Trail? – The Green to Cedar River Trail is part of a larger vision of mobility and access to all residents of King County. Not only does our Regional Trails System provide a connection between locations, it also connects people to healthy living, recreational opportunities, mental health, stress reduction and much, much more.



A trail for the community – By 2018, design of the 3.3-mile north segment portion of the paved trail is expected to be approved, and in the years following, the southern portion of the trail along Black Diamond to Flaming Geyser State Park is anticipated.
Design and construction of each portion will continue to adhere to the agreements made during the early planning phase to provide a safe, multi-use regional trail for bicyclists, pedestrians, joggers, skaters, strollers, wheelchairs, and users of all ages and abilities.
Project Information by Segment:
---
Location: 3 miles beginning at the Cedar River Trail to SE Kent Kangley Road
Project update: King County Parks is moving forward with this important trail project that will upgrade the Green to Cedar Rivers Trail to Regional Trail standards, including a 12-foot wide paved trail. This upgrade will make the trail accessible for all ages and abilities while connecting communities, inspiring healthy living and supporting a sustainable future. The north segment of the trail is currently a 10-foot wide gravel trail that is accompanied by a narrower side trail in some sections of the corridor.
Recent Activity
SEPA was completed in summer 2018. The timeline for final design and construction of the north segment is not yet determined, pending funding and permitting.
---
Design:
Technical Reports: Check back here to review all technical reports for this segment once available.
Public Outreach:
Neighborhood Meeting Summaries:
Location: 8 mile corridor between SE Kent Kangley Road in Maple Valley and Flaming Geyser State Park, just south of the Black Diamond city limits.
Construction update: South segment preliminary design is nearly complete. At this time, there is no funding allocated for additional design and construction. However, the preliminary plan gives Parks a roadmap of project pahsing and costs that will help us plan for the future.
Recent Activity: Jan 2019 - The City of Maple Valley is constructing Summit Park, near Tacoma High School. Park is partnering with the city to build a trailhead parking lot withing the Green to Cedar Rivers Trail corridor, adjacent to the new park.