COVID-19 Testing and Traveling During the Holiday Season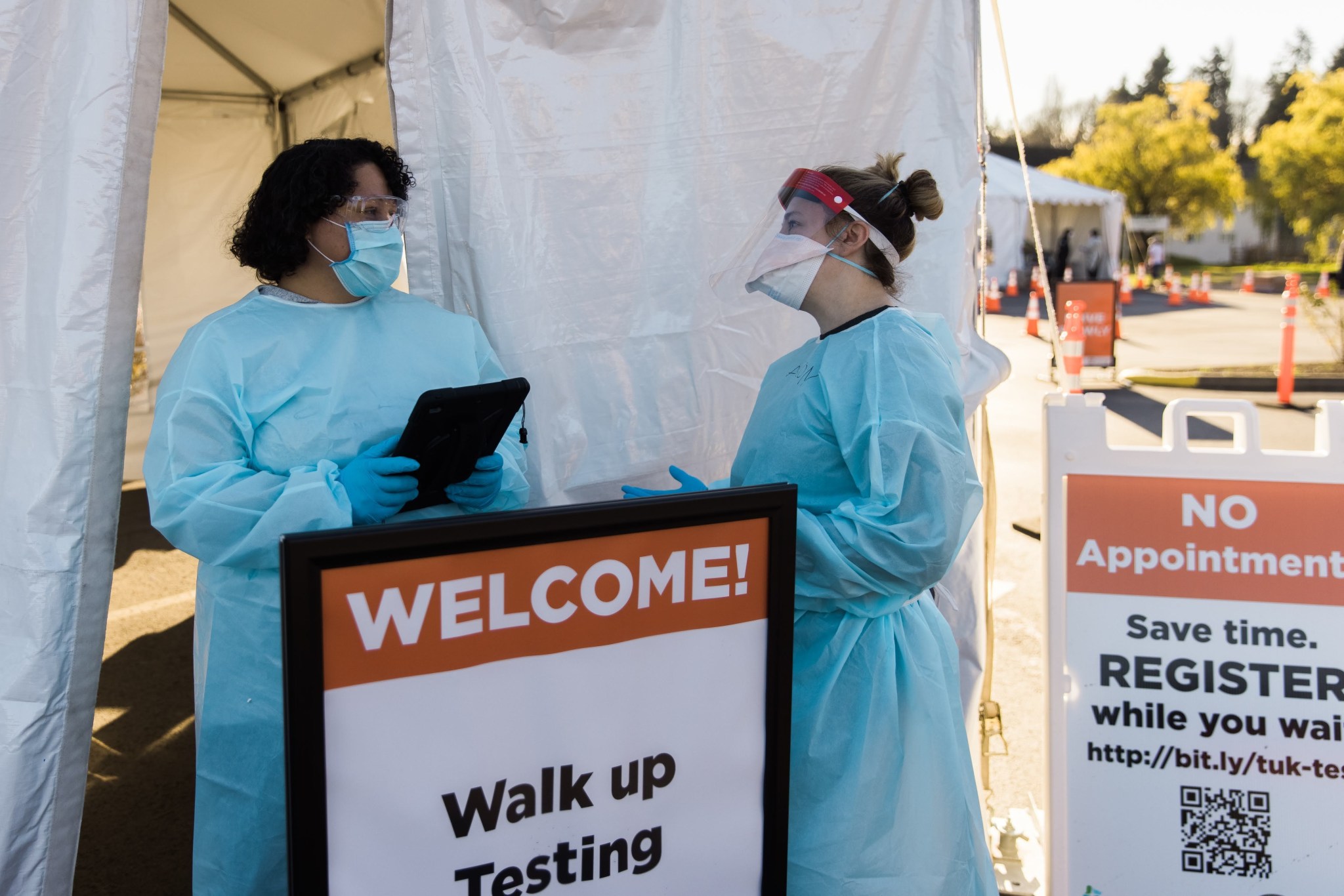 Traveling
What should I know before I plan to travel?
On November 13, 2020, Governor Inslee released a COVID-19 Travel Advisory for non-essential travel. Everyone is encouraged to stay home or in their region and avoid non-essential travel to other states or countries.
People arriving in Washington from other states or countries, including returning Washington residents, should self-quarantine for 14 days after arrival to monitor for COVID-19 symptoms. Interactions should be limited to immediate family members. The advisory applies to all forms of non-essential travel including travel by air or car.
Even after the advisory is lifted on December 14, Public Health strongly advises residents to limit non-essential travel to avoid another partial shutdown.
How long should I wait to get tested if I think I've been exposed to the coronavirus?
We recommend waiting 5-7 days after your potential exposure to get tested. It typically takes 5-7 days after exposure for the test to report more accurate test results.
If you have any symptoms, get tested as soon as you can. If you can't determine the exact moment when you were exposed or you were exposed over a longer period of time, then get tested as soon as you can. If possible, avoid getting tested any earlier than 3 days after your potential exposure to prevent a false negative result.
If I have to conduct essential travel, what steps should I take to reduce my chances of getting sick or getting someone else sick?
Travel increases your chance of getting and spreading COVID-19. You should not travel if you are sick or have been around someone with COVID-19 in the past 14 days. If you must travel:
Avoid close contact by staying at least 6 feet from anyone who is not from your household.
Wear a mask to keep your nose and mouth covered when in public settings, including on public transportation and in transportation hubs such as airports and stations.
Wash your hands often or use hand sanitizer.
Avoid contact with anyone who is sick and don't travel with someone who is sick.
Avoid touching your eyes, nose, and mouth.
The safest food options are drive-thru, delivery, take-out, and curbside pick-up.
Make sure you are up to date with your routine vaccinations, including measles-mumps-rubella (MMR) vaccine and the seasonal flu vaccine.
Follow Washington state guidance after you return from travel.
What is the risk of getting COVID-19 on an airplane?
Traveling by plane is a high-risk activity because of the time you are required to spend inside airports: in security lines and airport terminals. This time indoors around many people bring you in close contact with other people and frequently touched surfaces.
While the air is well filtered on airplanes, the risk of getting COVID-19 is still increased because it is difficult to maintain social distance. You are very likely to sit within 6 feet of others, sometimes for hours. This may increase your risk for exposure to the virus that causes COVID-19, especially if they are not wearing a mask correctly.
Are travelers being screened at the airport?
Travelers are not currently screened at the airport. In September 2020, the United States removed requirements to direct certain international flights to designated airports for screening.
However, on November 13, 2020, Governor Inslee released a COVID-19 Travel Advisory for non-essential travel for all residents of Washington. CDC also recommends that travelers avoid all nonessential travel.
Testing
Do King County Open Access testing sites test people who need to show a negative result in order to travel?
King County testing sites are intended to test people who are at risk of having COVID-19 due to having symptoms or have been exposed to a COVID-19 case, and they are meant to serve communities that are disproportionately affected by COVID-19 or have less access to healthcare.
Because of this, King County Open Access testing sites may not be the best for meeting the specific needs of people who require documentation of a negative test result in order to travel.
Does King County provide rapid testing for travelers?
No. The King County test sites do not offer rapid testing of any kind, including antigen testing, at the sites.
How long will the results take?
At King County sites, you can expect results between 24 and 48 hours. As demand for testing continues to increase, results may extend beyond 48 hours, up to 72 hours.
Note that there are also private, fee-based companies, which advertise same day or next day results.
The country I am traveling to has some specific requirements for my results. Are you able to meet those requirements?
Our testing sites only offer whether COVID-19 was "Detected" or "Not Detected," along with the person's name, DOB, test type, and date tested.
If you need more details, you may need to get testing at a private company specializing in travel, or at a provider's office. Public Health does give recommendations for specific private testing companies, but you may be able to find one using an internet search. King County testing sites are not intended to screen travelers.
Where can I find an accreditation certificate for the lab?
For passengers travelling from the United States, a copy of a 'Certificate of Accreditation' issued by the Centers for Medicare & Medicaid Services (CMS), Clinical Laboratory Improvement Amendments (CLIA) program is usually acceptable.
People with tests done by other labs will need to contact testing site or lab.
Where else can I find information about domestic and international travel?
For more information about traveling during the COVID-19 pandemic, please visit the CDC's guidance for travelers: https://www.cdc.gov/coronavirus/2019-ncov/travelers/travel-during-covid19.html.
For international travel, please visit the Department of State's guidance: https://travel.state.gov/content/travel.html.
For more information or answers about testing, please visit our COVID-19 testing page: www.kingcounty.gov/covid/testing
For more information about travel, check out CDC's Travel Guidance.