General Manager's vision
Moving forward together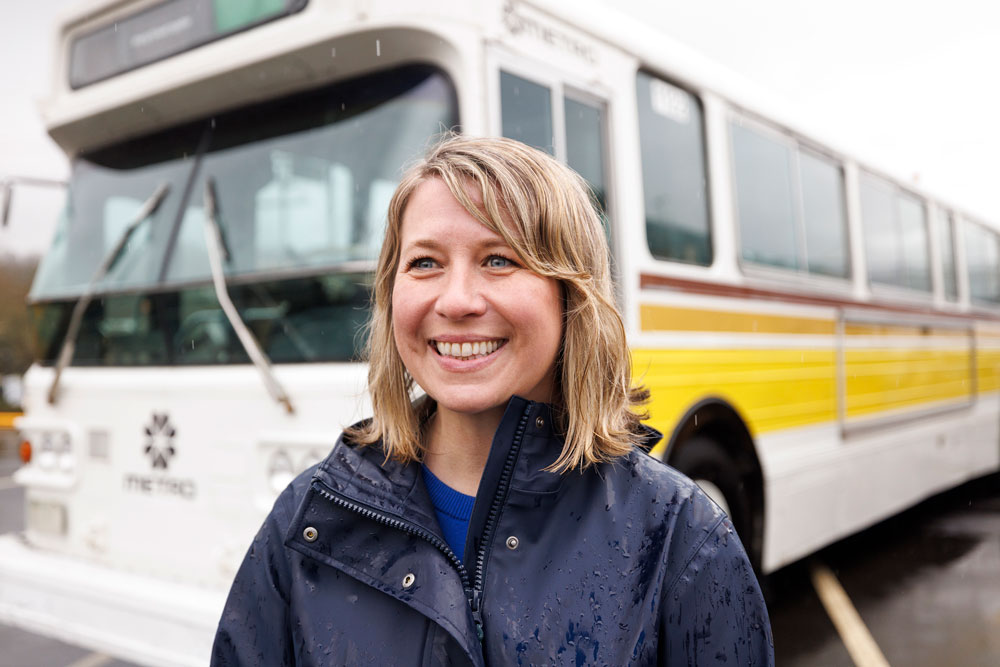 I am honored to lead King County Metro. It's a privilege to serve our hundreds of thousands of daily riders. I'm also fortunate to work alongside more than 5,000 mission-driven colleagues.
Throughout my life, I have witnessed the power—and the life-sustaining necessity—of community. My first experience with grassroots mobility came from growing up in rural Alaska. Because a simple trip to buy essentials meant a 10-hour roundtrip drive, we'd begin by calling neighbors, collecting shopping lists and borrowing a trailer. We relied on each other, supported those who needed help, and learned how friendship and humor make the difference between an arduous chore and a fun adventure.
Since I moved to Seattle more than 20 years ago and joined King County 13 years ago, I've seen time and again how Metro achieves a similar objective on a dramatically larger scale. We are entrusted to help everyone in our community—regardless of ability, income or identity—get where they need to go, geographically and in life.
Metro safely takes students to school. We connect customers and employees to area businesses. We bring together family and friends. We transport fans to art, culture and sporting events. And we connect all of us—including the most vulnerable—to food, medicine and other opportunities.
As we look ahead, transit must lead with equity and deliver world-class service. I want to share three main priorities to move all of us forward together. Each is informed by our deep and ongoing engagement with the community we serve and we'll continue that partnership every step of the way.
Reliable service our riders can depend on
We want to be your first choice for getting where you need to go. Together, we've built a network of buses, on-demand services, paratransit vans, streetcars, water taxis and other modes to do exactly that. In the coming years, you'll see our service evolve to correspond with post-pandemic travel trends while still prioritizing where needs are greatest.
Our main focus right now is on stabilizing service delivery to ensure we can provide reliable trips for our riders. We're also innovating—from technology that spaces out bus arrivals based on real-time conditions, to automatic wheelchair devices that only require riders to touch a button, to on-demand vehicles for residents who live or work too far from bus or light rail.
Unfortunately, the historic, national supply chain and workforce challenges have sometimes meant canceled trips or even suspended routes. While the unprecedented nature of these disruptions means that it will take some time to stabilize our system, Metro is doing everything possible in both the short- and longer-term. We acknowledge and apologize for the impacts on our riders and your travel. When cancelations cannot be avoided, my colleagues and I work to minimize disruptions, maintain service to hospital and schools, and provide clear communication—and alternate routes—to riders. Across our agency, we are also tackling the core issues—namely by securing more vehicle parts and attracting new employees—and commit to providing regular reports on our progress.
As we aggressively recruit for drivers, mechanics and other roles, you may have seen our advertising on billboards, on buses and even during the Men's World Cup. We will be pursuing candidates in other parts of the U.S., too, especially in support of the fast-growing Sound Transit Link light rail network that Metro operates. We are also focusing on improving retention and on designing initiatives to deploy our staff more efficiently.
Metro offers a great salary, fantastic benefits and a pension. Our employees receive training, the opportunity to advance from frontline to management, and the sense of purpose that comes from public service. I invite you to visit kingcounty.gov/MetroCareers to join us.
Safe and welcoming
As a woman, my transit experience—especially early in the morning or late at night—is different from many of my colleagues. Conversely, I have privilege in other areas—including as a white person—that are important to acknowledge. Our goal is to ensure EVERYONE feels safe and welcome throughout their entire journey—whoever they are, and whenever or wherever they travel.
When I was Deputy General Manager, Metro engaged with roughly 8,000 community members and employees to inform how we should achieve that. We simultaneously sought to eliminate disproportionately negative outcomes for customers and employees who are Black, Indigenous and People of Color. The response was clear. You asked for a more visible safety presence while emphasizing we needed to show up in the right way.
Guided by you, we partnered with community organizations to support neighbors in crisis, launched a multilingual effort to raise awareness and reporting of harassment, and added more transit security officers in more places. Our work is far from done though—and we're always adjusting and improving. When you see something amiss or feel unsafe, please let us know—even if it's not an emergency. Your reporting lets us respond and to continue to make transit safer.
Transit must lead with equity and provide world-class service
Engaging, representing and uplifting our community
My proudest moment at Metro was when Executive Dow Constantine and the King County Council embedded equity and sustainability into our agency's long-term strategic plan. It was the culmination of years of building the trust of our community members, empowering them to guide the future of transit in our region, and then codifying our partnership and shared values.
Community engagement—customers deciding what service looks like and where it runs—is vital. After all, you know the most about your trip, your neighborhood and your neighbors. And after decades and centuries of systems being rigged, Metro's vision now rightly prioritizes BIPOC community members, residents with low incomes, immigrants and refugees, non-English speakers and people with disabilities. From affordable and equitable fares, to more thoughtful service plans, to our next-generation zero-emission buses launching in south King County, all of our work—and all of our customers—are the beneficiaries.
The next game-changer will be workforce representation. The people in government—and that includes Metro—must look more like the people we serve. That means proactively and intentionally hiring for all pay levels and positions across ability, age, country of origin, ethnicity, gender and sexual identity, lived experience, native language and race.
With many in our current workforce approaching retirement, we have a unique opportunity to take this momentous step. Metro can no longer merely seek out the experience of our community. We must embed our community into Metro.
Even before becoming general manager, when people hear I work at Metro—even if it's at a cookout or a soccer game—they're often excited to tell me where we're succeeding and where we have more work to do. While I might not have a perfect answer, I'm grateful to live in a region that knows how important transit is—both today and as we plan for the future. And I never tire of hearing how beloved our frontline staff are.
In the coming months, I'm looking forward to hearing from as many people as possible. I'll be revisiting all of our worksites to connect with colleagues, meeting with labor partners, and attending sessions with advocates, community members and partners to learn from our customers.
I could not be more excited to embark together on the journey ahead.