ORCA LIFT
Lower fares. More possibilities
Get the most out of transit with reduced fares and ORCA LIFT! This card offers a convenient, more affordable way to get around Puget Sound.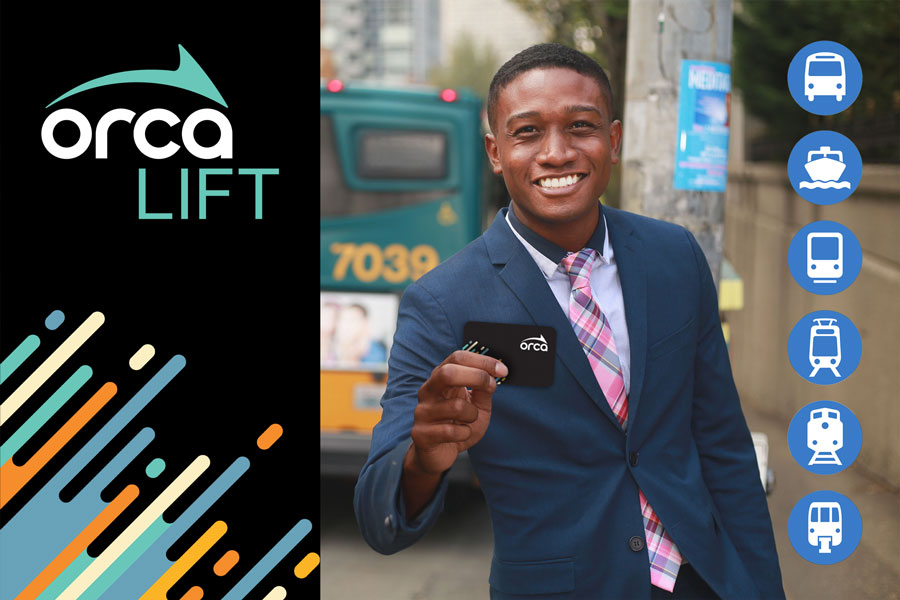 Are you eligible?
Household income amount
To qualify, your gross household income (before taxes are taken out) must be no more than 200 percent of the Federal Poverty Level, as established by the U.S. Health and Human Services Department. Those receiving Apple Health Medicaid, WIC and Basic Food are eligible for the program.
200% of federal poverty level
Family Size
Monthly Income
1
$2,430
2
$3,287
3
$4,143
4
$5,000
5
$5,857
6
$6,713
7
$7,570
8
$8,427
How to apply
See if you qualify

Review the eligibility requirements above, or if you need help understanding if you qualify, call the Community Health Access Program (CHAP) 800-756-5437.

Apply for a card

Apply online or in person at an authorized enrollment office. Be prepared with proof of income and proof of identity (see eligibility section).

Apply over the phone by calling CHAP at 800-756-5437 and your card will be mailed to you.

If you qualify, there is no initial fee for the ORCA LIFT card but you will need to lead your card with funds to ride transit.

Youth 18 and under are able to ride most transit in our region at no cost. Visit myORCA.com for more information.

Load your card to pay

Before you try to pay for transit with an ORCA LIFT card, be sure to load it with money (E-purse) or a monthly pass.

Note: stores such as Safeway and QFC are only able to load E-purse funds, not monthly passes. You can convert these e-purse funds to a pass by calling Metro at 206-553-3000 or by logging into your ORCA account.

Ride

Plan your trip, tap your card and go!
Proof of enrollment in the following State programs
Apple Health/Medicaid (ProviderOne)
Washington Basic Food (EBT Card)
WIC (Women Infants Children)
Award Letters
Statement from Unemployment
Labor and Industries (L&I) statement
Other award letters: Social Security, Supplemental Security Income
If you currently do not have any source of income
Employment Security verification form (or screenshot from website) showing no income
If you are employed and paid by an employer
Proof of gross income for last 30 days (paystubs, screenshot showing income before any deductions taken)
If paid in cash, a statement signed and dated by employer stating gross income for the last 30 days; or a bank statement showing money deposited into your account
Self-employed
Copy of your most recent tax return. Income is based on the modified adjusted gross income on your most recent tax return: Form 1040 line 37; Form 1040 A, line 21; Form 1040 EZ, line 4; or completion of the self-employment worksheet
Gig Workers (Uber, Lyft, Door Dash): proof of your income (after expenses) for last 30 days
---
Documents that prove who you are
Current Government-issued photo ID
Driver's license (any state or country)
Photo ID card from any state, province, county or country
Armed Services ID with photo
ID card from any foreign consulate
Passport from any country
School photo ID—university/college
Tribal ID
US certificate of citizenship, naturalization (with signature and photo)
Any other form of photo ID issued by a government agency of any country or a combination of two or more documents
Or, a combination of two or more documents
Non-government-issued document with name and a photo of you as an adult, and a document that indicates your name and birthdate, such as:
Adoption papers
Baptismal records
Birth certificate
Border crossing card
Court order
DHS "Trusted Traveler" cards (NEXUS, SENTRI, FAST)
Driver's instruction permit
DSHS identification letter for those in custodianship
Employee ID card
Immigration ID
Marriage license
School records / transcript (certified)
Social Security card
Transportation Worker Identification Credential (TWIC)
Unemployment card
What to pay
Your ORCA LIFT card gives you a reduced fare of $1.00 on Metro and many other transit systems around our region. Some agencies do not offer an ORCA LIFT fare—on those trips, you will need to pay the full fare with your E-purse or pre-loaded PugetPass.
Agency price list
†Regional Reduced Fare Permit for senior Riders (age 65 or older), Riders with a disability, Medicare card holders and U.S. military with ID.
FAQ
King County Metro buses
King County Water Taxi
Community Transit buses
Everett Transit buses
Kitsap Transit buses
Pierce Transit
Seattle Center Monorail
Seattle Streetcar
Sound Transit Link light rail
Sound Transit Regional Express buses
Sounder Trains
Other agencies may accept the ORCA LIFT card, but you will need to pay a regular (not discounted) adult fare for transit aboard those vehicles. You can pay that fare with your card's E-purse value or a PugetPass that you have loaded.
You will be credited the trip value of your PugetPass and will have to make up the difference with E-purse funds.
There is no initial card fee for qualified riders. If your ORCA LIFT card is lost, stolen or damaged, replacement cards cost $3. You are responsible for the cost to load E-purse or monthly passes to the card.
The ORCA LIFT card is good for two years from the time you receive it. Your card's expiration date is printed on the back. If your card expires, you can apply to renew it for another two years by following the application process. Visit the Reduced Fare Portal for details.
You may use your ORCA LIFT card until it expires. When your card expires, simply reapply for the program or use your card to pay a regular Adult fare.
Youth 18 and under are able to ride most transit in our region at no cost. Visit myORCA.com for more information.
If you lose your ORCA LIFT card, report it right away. Your old card will then be locked and no longer valid for fare payment. Any valid E-purse or passes previously loaded onto your old card can be transferred to your new one.
Replace your card:
If you don't have enough money to cover your next trip, the ORCA LIFT card will allow you to travel with a negative balance of up to -$2.75.
Just tap your ORCA card when boarding and you can pay the fare back before your next trip, when you reload your E-purse or PugetPass.
You can reload your card online at myORCA.com, with the myORCA app or at one of the many locations where ORCA cards are sold. To find a location near you, visit our retail map on myORCA.com.