Guidelines for Bank Stabilization Projects in the Riverine Environments of King County
Published by King County in June, 1993. If you are familiar with the 1993 document, and have any suggestions for revisions, please forward your comments to Jeanne Stypula. Thank you.
Synopsis:

King County published the Guidelines for Bank Stabilization Projects to assist scientists and engineers with the design of bank stabilization projects for river and streambank protection. The Guidelines document is a practical guide for assessing erosion problems, evaluating alternative solutions and designing and constructing a bank stabilization project. The document includes several types of methods that use rock, large woody debris, soil, plants and natural fabrics. These methods can be utilized to enhance fish and wildlife habitat, reduce local stream velocities, increase the structural integrity and reduce the long-term maintenance costs of bank protection projects.
The Guidelines document was developed in 1993 as part of the adopted King County Flood Hazard Reduction Plan. Since that time, the Guidelines have become a contemporary standard used throughout Western Washington. Numerous local, state and federal agencies have applied elements of these Guidelines in bank stabilization projects and portions of the document have been incorporated in technical documents developed by several state and federal agencies, including the USDA Natural Resources Conservation Service.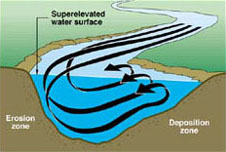 Files are in Adobe Acrobat format. Refer to the Acrobat help page if needed.
Download here: