Transit Task Force Members
Chuck Ayers
Mr. Ayers is the executive director of Cascade Bicycle Club, a 13,000-member nonprofit organization that strives for more livable communities by promoting health, recreation, and non-motorized transportation through bicycle activities, advocacy, and education.
His previous employment includes a faculty position at the UW School of Social Work, political organizing, solar engineering, and instructing Outward Bound programs. Board and organizational positions include Washington Wildlife and Recreation Coalition, Seattle Great City Initiative, Seattle's Bridging the Gap Transportation Levy Oversight Committee, the Alaskan Way Viaduct Stakeholder Advisory Committee and North Central (Seattle) Little League.
Ayers did doctoral work at the UW and received an MSW from the University of Michigan and a bachelor's degree in environmental sciences and alternative energy systems from Evergreen State College.
Shiv Batra
Mr. Batra is a co-founder, CEO, and president of INCA Engineers, a consulting firm that provides transportation, civil, structural, hydraulic, mechanical, electrical engineering, and surveying services to public and private clients.
Batra has been an active member of numerous professional organizations that serve the engineering and construction industries for more than three decades. He has served terms as president, special consultant, committee chair, and board member for these organizations.
Batra is active in shaping the transportation future and infrastructure of the Puget Sound Region. Currently, he is a board and executive committee member of the Bellevue Downtown Association and past board member of the Bellevue Chamber of Commerce. He represents the Bellevue Chamber on the Board of the Puget Sound Regional Council. He is a strong advocate for bringing multimodal solutions to Eastside communities.
Gene Baxstrom
Mr. Baxstrom is a senior analyst with the Joint Transportation Committee of the Washington State Legislature. Since joining the committee at its inception in 2005, he has managed JTC studies on topics ranging from transportation finance to special needs transportation and freight investment. He is currently project manager for this year's JTC study to develop a statewide blueprint to guide state investments in public transportation. Before the JTC was established, Baxstrom worked for 31 years with the Senate, House and legislative transportation committees, as an analyst and committee coordinator. During his tenure, he worked extensively in public transportation issues, regional transportation policy legislation, and local and state transportation finance and governance.
Fred Butler
Mr. Butler is a member of the Issaquah City Council. He was first elected in 1999 and has focused his attention on transportation and transit in the Puget Sound region. He served as chair of the Eastside Transportation Partnership and is currently vice chair of the King County Regional Transit Committee and a vice chair of the Sound Transit Board.
Butler is a retired U.S. Army Corps of Engineer colonel.
Suzette Cooke
Ms. Cooke was elected mayor of the City of Kent in 2005 and re-elected in 2009. As CEO of Kent's local government, she works with a seven-member city council and almost 800 city employees. Kent's population of 88,380 will increase to approximately 112,000 on July 1 with the successful vote by the Panther Lake area to annex to the city.
Prior to being mayor, Cooke was president/executive director of Renton and Kent Chambers of Commerce, economic development manager for the City of Burien, director of the Kent Senior Center, recreation supervisor for Seattle Parks, and recreation specialist for the City of Bellingham. In the 1990s she was elected to three terms in the Washington State House of Representatives, where she chaired the Children and Families Services Committee.
Grant Degginger
Mr. Degginger has served as a member of the Bellevue City Council since November 1999, including two terms as the city's mayor and one term as the deputy mayor. Prior to his election to the City Council, he served for over six years on the Bellevue Planning Commission.
Degginger has held leadership positions in regional infrastructure and growth planning. He is the past-chair of the Cascade Water Alliance, a consortium of eight East and South King County cities and water districts that supply water to more than 300,000 residents and 22,000 businesses. He continues to serve as Bellevue's representative on Cascade's board. He serves on the King County Growth Management Planning Council, the Puget Sound Regional Council's Executive Committee, and task forces focused on improving Interstate 405 and State Route 520. As chair of the City of Bellevue's Construction Codes Advisory Committee, Degginger worked to streamline the permitting process and improve delivery of inspections and other development services.
Degginger is a shareholder in the Lane Powell PC law firm where he chairs the firm's construction and environmental practice group.
Kevin Desmond
Mr. Desmond is the general manager of King County Metro Transit.
Prior to coming to Metro, Desmond was vice president of operations and development at Pierce Transit in Tacoma. He started his career in New York City working on transportation issues in the mayor's office, as assistant commissioner of administration at the New York City Taxi and Limousine Commission; and as chief of operations planning at New York City Transit.
Desmond holds a master's degree in public administration from New York University. He was selected to participate in the first International Transit Studies mission, in 1994, to learn about advances in mass transit in several European cities. He was also part of the inaugural class for leadership of the American Public Transportation Association.
Bob Drewel
Mr. Drewel is the executive director of the Puget Sound Regional Council. The PSRC was formed in 1991 by the local governments in the central Puget Sound region as a forum for making key decisions on regional growth and transportation issues. The PSRC serves as the metropolitan planning organization and regional transportation planning organization for King, Kitsap, Pierce and Snohomish counties and cities. Drewel is past president and member of the executive board of PSRC. He is former chairman of Sound Transit.
Drewel completed his third and last term as Snohomish County Executive in 2003. In Snohomish County he has served as a board member of the Economic Development Council, Healthy Communities Initiative, United Way, Snohomish County Tomorrow, Snohomish County Needs Assessment Project, Economic Investment Plan, SnoNet and City/County Task Force on Criminal Justice. He has been active in numerous other community projects. He is the former president and chief executive officer of Everett Community College.
Drewel is a 1970 graduate of the University of Washington.
Chris Eggen
Mr. Eggen was elected to the Shoreline City Council in 2007. He is an Air Force veteran and a project manager at the UW Applied Physics Laboratory. He is an environmental advocate who serves on the boards of the Paramount Park Neighborhood Group, the Shoreline Solar Project, and Sustainable Shoreline. He is also on the boards of Shoreline Chamber of Commerce and Dollars for Scholars and served on the Shoreline Housing Advisory Committee. He is a Democratic Precinct Committee Officer and on the 32nd Legislative District Democrat Executive Board.
Eggen grew up in Seattle and attended the UW in physics and electrical engineering.
David Freiboth
Mr. Freiboth has served as the executive secretary-treasurer of the King County Labor Council since March 2006. The M. L. King County Labor Council, AFL-CIO comprises approximately 150 local unions representing more than 75,000 union members in King County. Freiboth is a vice president of the Washington State Labor Council. He serves on the governing boards of the Seattle-King County Workforce Development Council, the Committee to End Homelessness/King County, the United Way of King County, CityClub, Enterprise Seattle, the Puget Sound Regional Council, the Puget Sound Labor Agency, AFL-CIO, and the Worker Center, AFL-CIO.
Freiboth joined organized labor in 1975 when he was employed as a deckhand for Washington State Ferries. After working in the maritime trades for 12 years, David was elected as patrolman/business agent, regional director and national president of the Inlandboatmen's Union of the Pacific, Marine Division of the International Longshore and Warehouse Union. He served as the Maritime Trades representative on the Martin Luther King County Labor Council Executive Board for eight years.
Freiboth attended Olympic College and Central Washington University, majoring in history.
Noel Gerken
Mr. Gerken served on the Maple Valley City Council for seven years and was selected as mayor in January. His passion on the council is long-term community planning. Gerken serves on SCATBd, the Regional Transit Committee, the Transportation Policy Board and the SE King County Commuter Rail Elected's Group.
Gerken has lived in south King County since 1962. He is a member of the Chamber of Commerce, Rotary, Lake Wilderness Preservation Association, Lake Wilderness Arboretum Society, and Creative Arts Council.
He has a bachelor's degree from the University of Washington and works as an engineer for Boeing.
Christine Hoffmann
Ms. Hoffmann has been the president/CEO for the Greater Redmond Chamber of Commerce since 2004. Prior to this position, she held a similar position at the Lake Oswego, Oregon, Chamber of Commerce for eight years. The Greater Redmond Chamber of Commerce has formed collaborative partnerships with the City of Redmond, the East King County Legislative Coalition, Eastside Business Alliance, Association of Washington Businesses, local business and not-for-profit entities to have an impact on local plans and regulations as well regional, state and federal issues.
Hoffmann previously served as director of education for Moody Gardens, Galveston, TX, creating an educational program for students and teachers. Prior to that she was CEO of the Rocky Mountain Region for five businesses under the Azumano Travel, Inc. banner.
Hoffmann chairs the education and transportation committees for the East King County Chambers of Commerce Legislative Coalition. She has lobbied for transportation issues and business in Olympia.
Carl Jackson
Mr. Jackson started his transit career as an operator and has worked at four of Metro's seven transit operating bases, settling into a 17-year involvement at Atlantic Base as an electric trolley bus operator. He has had assignments in Metro's award-winning Vehicle Procurement Group, Transit Service Information Group, and Vehicle Maintenance Special Projects Group. For his work managing Metro's 2005 Street Team Project, Jackson received both the Metro Transit General Manager's Award and the Washington State Department of Transportation "Wall of Fame" award. In 2005, Jackson received the Metro Atlantic Base "Operator of the Month" award for outstanding performance. In 1999, he was a gubernatorial appointee to the Elevated Transportation Company Board tasked to design, build and manage the Seattle Monorail. For more than nine years, Jackson has been a Transit Advisor to Amalgamated Transit Union-Local 587. His current Metro assignment is at South Lake Union Streetcar as an operations and maintenance supervisor.
Jackson is on the board of directors for All Aboard Washington, a passenger rail advocacy group, and is a member of the Oregon Electric Railway Historical Society; The Electric Railroaders' Association, New York Chapter; and the Transit Museum Society of Vancouver, B.C.
Rob Johnson
Mr. Johnson became the executive director of Transportation Choices after serving four years as the regional policy director. Johnson's work as regional policy director included leading the passage of $20 billion in funding for transit in Washington, serving as the staff lead on the State Route 520 and Alaskan Way Viaduct mediation teams, and implementing several other policy programs. Prior to Transportation Choices, Johnson spent two years as a transportation planning consultant in Washington, D.C. He has worked as a grassroots organizer for several political campaigns and as a public sector planner.
A graduate of Willamette University in Salem Oregon, Johnson also holds a Masters Degree in Urban Planning from UCLA.
Kate Joncas
Ms. Joncas has been president of the Downtown Seattle Association since 1994. She has over 30 years experience in downtown revitalization in the private, public and nonprofit sectors in communities around the world.
Joncas has written workbooks on downtown revitalization and won awards in national urban design competitions.
Joncas is the past chair of the International Downtown Association. She is very active in her community, serving on the Seattle Police Foundation, Executive Alliance, Seattle Center Advisory Commission, Interagency Council to End Homelessness, Seattle Art Museum Advisory Council, Leadership Team for Cascade Agenda, co-chair of the Police Chief Search, and Nexus Advisory Board.
Josh Kavanaugh
Mr. Kavanaugh is the director of transportation services at the University of Washington. He previously served as the associate director of parking and transportation services at the University of New Mexico.
Kavanaugh earned an MBA at the University of New Mexico, Robert O. Anderson School of Management, and a bachelor's degree in education from the University of Wisconsin-Eau Claire.
James Kelly
Mr. Kelly has been the president and CEO of the Urban League of Metropolitan Seattle since 1999.
Kelly began his career as an investigator for Washington State Child Protective Services. He then worked in the City of Seattle Attorney's Office and in 1989 was appointed by Governor Booth Gardner to head the newly created Commission on African-American Affairs. In 1996, he became special assistant to the secretary of the Department of Social and Health Services and in 1998 was named deputy assistant secretary for the Economic Services Administration, a $2 billion administration with 5,000 employees.
During his tenure at the Urban League, the Employment and Training, Housing, and Education departments have significantly expanded services and a new program called the Contractor Development and Competitiveness Center was designed to address the underutilization of minority and women-owned businesses.
In 2003, the Urban League purchased the Colman School property, which was renovated and opened in March 2008 including The Urban League Village and the Northwest African-American Museum.
Kelly received the 2006 University of Washington Distinguished Alumni Award for the School of Social Work, was named as one of Seattle Magazine's Best of 2006, and received ColorsNW's 2008 Maya Loren award for outstanding community service.
Kelly holds a bachelor's degree in psychology from Western Illinois University and a master's degree from the University of Washington's School of Social Work.
Jane Kuechle
Ms. Kuechle is a 26-year resident of Issaquah. She is a development professional and has worked for human service nonprofit organizations in King County including Camp Fire USA, United Way of King County and AtWork!, an employment program for people with developmental disabilities.
Kuechle serves on the King County Metro Transit Advisory Committee. She is familiar with transportation mobility challenges for people with disabilities, people who reside in low-income households or who are homeless, and youth. Her community involvement includes seven years on the Bellevue Chamber board of directors, a previous term as president of the Leadership Eastside Board, and membership in the Bellevue Breakfast Rotary Club.
Steve Marshall
Mr. Marshall has more that 25 years of experience working on energy/infrastructure issues, serving as chief outside counsel to the state's largest utility and more recently as assistant general manager in charge of power, transmission and conservation at Snohomish County PUD.
Marshall is the immediate past chair of the Municipal League of King County. He is a senior fellow of the Cascadia Center for Regional Development where he has written extensively on moving from oil to electricity and biofuels in transportation, including a Seattle Times op-ed calling for actions to accelerate and integrate flexible fuel plug-in electric vehicles with the power grid and transportation systems.
Marshall graduated from the University of Washington and Harvard Law School.
Ed Miller
Mr. Miller is a senior national account executive for Starbucks Coffee Company and serves as the vice chair of the King County Metro Transit Advisory Committee, which provides advice on policy issues affecting Metro. As a resident of Kent, Miller represents public transit riders who live in District 5. He commutes to work using both Metro and Sounder.
At Starbucks, Miller leads the expansion of store and business development for the Starbucks stores located in the travel industry, primarily in the airports and travel plazas located across the United States. Miller leads a team that supports several functions including new store locations, launching promotions and marketing of new product lines, managing national operations, and creating budgets and business plans for 330 stores that generate over $400 million in annual revenues.
Miller's 28 years in business development has involved extensive national and international travel. He is also involved in the Partners for Sustainable Living group at Starbucks.
Lynn Moody
Ms. Moody is director of transportation at Hopelink, which serves homeless and low-income families, children, seniors and people with disabilities.
Estella Ortega
Ms. Ortega is the executive director of El Centro de la Raza, a Seattle-based civil rights, human services, educational, cultural and economic development organization. Stella oversees the strategic and operational management of the organization, which has approximately 80 employees and an operating budget of $5 million.
Ortega began a career of service and community organizing as a young adult through participation in advocacy, voter registration and anti-war initiatives in her hometown of Houston, Texas. She went on to join the peaceful occupation, in 1972, of the old abandoned Beacon Hill Elementary School that would later become El Centro de la Raza.
For the next 35 years, Ortega actively engaged in coalition building, political advocacy and strategic development while working at El Centro. She also acquired extensive experience in organizational management, human services, economic development and strategic planning..
Ortega serves on various boards and committees including Seattle Mayor McGinn's Youth and Families Initiative and the city's Race and Social Justice Initiative. Ortega has received numerous recognitions and awards with most recent being the 2009 Latino Heritage Award presented by former Seattle Mayor Greg Nickels and City of Seattle Latino Employees.
Tom Pierson
Mr. Pierson is CEO of the Federal Way Chamber of Commerce. Prior to joining the Chamber, he was staff director to the vice chair of the Metropolitan King County Council. He also has served as a legislative assistant to a state senator.
Pierson graduated from Washington State University with a bachelor's degree in political science, and is a graduate of the Western Association of Chamber Executives Academy.
Tom Rasmussen
A member of the Seattle City Council, Mr. Rasmussen chairs the council's Transportation Committee and the Special Committee on the Alaskan Way Viaduct and Seawall Replacement Project. He is also vice-chair of the Parks and Seattle Center Committee. Rasmussen was first elected to the City Council in 2003 and was elected to his second term in 2007. Prior to his election, Rasmussen was the director of the Mayor's Office for Senior Citizens. Rasmussen began his public service as a Deputy Prosecuting Attorney in Yakima and subsequently served as legislative aide to Seattle City Councilmember Jeanette Williams for many years.
As a community leader, Rasmussen chaired the Parks Committee of the Queen Anne Community Council. He led the acquisition of property resulting in the development of one of the largest new parks on Queen Anne.
A long time advocate for human rights and social justice locally and nationally, Rasmussen served on the national board of Lambda Legal Defense and Education Fund and was a founder and first co-chair of the Privacy Fund.
Carla Saulter
Ms. Saulter has been riding Metro buses since childhood and has been completely car-free—using the bus as her primary mode of transportation—since 2003. Since 2006, she's been the author of the blog, Bus Chick, Transit Authority, in which she chronicles her experiences as a person who visits gas stations only for restroom emergencies.
Jared Smith
Mr. Smith is a senior vice president and Northwest regional manager at Parsons Brinckerhoff. In his career as a transportation planner and civil engineer, he has managed numerous high-profile transportation projects around the region, including both transit and highway programs.
Prior to re-joining PB in 2001, Smith held a four-year appointment as the City of Seattle's regional transit manager and assistant director for transportation planning and policy. He was responsible for coordinating all City of Seattle efforts related to regional transit. He also oversaw the City of Seattle's Transportation Policy and Planning group, which was responsible for numerous transportation policy, planning and program development initiatives.
Smith is a Seattle native and was a co-founder of the Central Area Development Association. He serves on the Greater Seattle Chamber of Commerce board of directors, the Downtown Seattle Association Board of Trustees, and the Futurewise board of directors.
Jim Stanton
Mr. Stanton has been at Microsoft for nine years managing transportation, government affairs, and development entitlement issues. Stanton was the lead on developing and implementing Microsoft's real estate master plan in 2004-2005, and negotiating the subsequent development agreement with the City of Redmond to enable 2.2 million square feet of new development on the corporate campus.
Prior to joining Microsoft, Stanton worked for the City of Redmond in a variety of planning and management capacities, managing the city's Building Department for the last five years.
Last year, Stanton was a member of the Seattle Urban Partnership team with King County Executive Ron Sims, WSDOT Secretary Doug MacDonald and others.
Stanton has a bachelor's degree in political science from St. John Fisher College in Rochester, NY and a master's degree in urban planning from the University of Washington.
Bob Swarner (replacing Sue Blazak)
Mr. Swarner is an engineer who analyzes and plans wastewater conveyance and treatment facilities in King County. He lives in SeaTac and has been a regular commuter on Metro/King County buses for the past 20 years and now uses both a bus and the light rail to commute to work downtown.
Ron Tober (replaced by Greg Walker starting in September)
Mr. Tober has served as deputy chief executive officer of Sound Transit since February 2009. In this position he is responsible for the day-to-day management of Sound Transit's business activities and transit operations. He was also hired into this position to oversee the July 2009 start-up of Sound Transit's new light rail line.
Prior to coming to Sound Transit, Tober served as chief executive officer of the Charlotte Area Transit System from 1999 thru 2007 where he oversaw a doubling of the size of the transit system and the construction of Charlotte's first light rail line. Prior to Charlotte, Tober was CEO of the Greater Cleveland Regional Transit Authority from1988 to 1999. Prior to that he was director of transit for the Municipality of Metropolitan Seattle for six years starting in 1982 when the Downtown Seattle Transit Tunnel was designed and built. Overall, Tober has more then 40 years experience running urban transit systems including stints at major transit operations in Miami and Boston.
Liz Warman
Ms. Warman has served as manager for state and local government relations–NW region since 1986 for The Boeing Company, spending 10 years in Oregon managing government, community and media relations. In 1995, she transferred to the Puget Sound area, retaining Oregon government relations work.
Warman has served as a board member and chair of numerous business and philanthropic organizations. She currently serves on the board of directors for Associated Oregon Industries, the Tacoma Pierce Chamber of Commerce, Tacoma Executive Council, the Puget Sound Regional Council Transportation Policy Board and the Washington State Commute Trip Reduction Board. She is vice chair of the Seattle Chamber of Commerce Transportation Committee.
Warman is a past board member of the Chambers of Commerce in Gresham, Oregon and Auburn, Renton, Kent, and SW King County; Mt. Hood Festival of Jazz, and Edgefield Children's Center. She chaired the Portland Workforce Investment Board from 1992-1995.
During a scheduled leave in 2001-2003, Warman planned and completed a sailing trip to Central and South America, studying new cultures and history and building houses for Habitat for Humanity.
Warman received her Bachelor of Arts in public relations from Washington State University, Edward R. Morrow School of Communication, in 1979 and a master's degree in public administration from the Evans School, University of Washington in 2009.
Larry T. Yok
Mr. Yok is vice president for administration at Highline Community College with responsibility for human resources and labor relations in addition to finance, facilities and operations, budget, auxiliary services, information technology, institutional research, and campus safety.
His previous professional positions include: human resources and labor relations director, Group Health Cooperative; deputy director of construction and facilities maintenance, King County; interim labor relations director, Washington State Ferries; policy and management director, Seattle Personnel Department; human resources director, Seattle City Light; human resources director, East Bay Municipal Utility District (Oakland, CA); director of finance and administration, Pierce Transit; operations manager, Intercity Transit; and management consultant, Ira F. Hurlburt & Co.
Yok also maintained his own labor relations consulting practice to municipalities and special districts in Washington for many years. He is a frequent speaker on human resources management and labor relations for professional and industry associations. He is an adjunct faculty member at San Francisco State University, College of Extended Learning, Human Resources Certification Program.
Yok earned a master of business administration degree in finance from the University of Puget Sound and a bachelor of science degree in community services and public affairs from the University of Oregon. He is certified by the Society of Human Resource Management as a senior professional in human resources.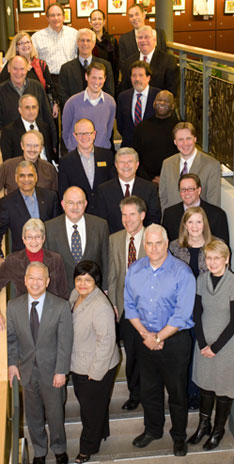 Members of the Regional Transit Task Force.