Executive urges Council to try again and develop more responsible Metro funding plan
Summary
Vetoes legislation that would spend money Metro doesn't have, inappropriately use one-time money for ongoing expenses, and cut service based on politics.
Story
Saying the legislation falls short of responsible budgeting, King County Executive Dow Constantine today vetoed an ordinance passed 5-4 by the King County Council that fails to provide sustainable funding for Metro bus service.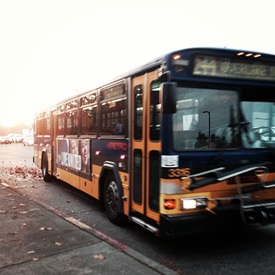 "We need a reliable way to pay for bus service – but until then, we shouldn't spend money we don't have, we shouldn't use one-time money to pay ongoing expenses, and decisions to save or cut service should be based on objective criteria and data, not on politics," said Executive Constantine. "This ordinance falls short on all counts. I must respectfully veto this legislation, and ask that the Council keep working on a solution that is responsible and sustainable."
Read the Executive's veto message to the Council.
"This legislation is no different than writing a big check without enough money in the bank, hoping you can cover it before the check bounces – without an approved plan or the revenues to do so," said Council Chair Larry Phillips. "To operate the nation's 10th-largest transit system, carrying 400,000 riders a day on 1,300 coaches, requires thoughtful planning and fiscal responsibility. Unfortunately, while the legislation passed today strives to be thoughtful, it fails to be responsible. It is based on hopes and guesses, rather than on revenue that can be counted upon."
"I want to thank the Executive for giving us this opportunity to keep negotiations alive," said Councilmember Dave Upthegrove. "I believe we can find a compromise solution. I look forward to working with all of my colleagues on the Council to find a solution that balances Metro's budget and keeps buses running throughout the County."
"Our Strategic Plan exists to take the politics out of bus route decisions. The ordinance adopted today irresponsibly takes us off this path and does little to immediately address Metro's ongoing revenue shortfall," said Councilmember Joe McDermott, Chair of the Budget and Fiscal Management Committee. "I'm hopeful we can find a more fiscally responsible path forward that keeps as many buses on the road as possible."
"I applaud the Executive's decision to veto the legislation passed out today," said Councilmember Larry Gossett. "We owe the residents and bus riders of King County accountability, transparency, and honesty, but today's legislation does not do that. I look forward to working with the Executive and all of my colleagues on the Council to pass effective and responsible transit legislation."
More resources: