Reforms and efficiencies help King County save 150,000 hours of Metro bus service
Summary
Reforms, efficiencies, and a decline in fuel prices have enabled King County Executive Dow Constantine to propose preserving 150,000 hours of Metro bus service that had earlier been assumed for reduction.
Story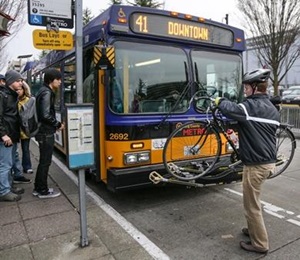 Reforms, efficiencies, and a decline in fuel prices have enabled King County Executive Dow Constantine to propose preserving 150,000 hours of Metro bus service that had earlier been assumed for reduction.
"Revenues have remained stable since March, while we have worked to identify additional savings that would allow us to add back more service," said Executive Constantine. "Our half-decade of continuous improvement is yielding ever-greater efficiencies, making it possible to further reduce the necessary cuts. It's welcome relief, but as increased crowding on many buses attests, we need to be adding service just to keep up with rising demand."
The 2015/2016 biennial budget for Metro that the Executive will propose on Monday matches expenditures to available revenues by reducing the system by 400,000 hours of annual service, rather than the 550,000 hours proposed last spring.
The County Council has approved the
first round of 151,000 hours of service reductions
, which take effect Sept. 27. The second round of 169,000 service hours slated for reduction in February was approved Tuesday by a Council committee, and is awaiting full Council action.
The remaining 80,000 hours of unfunded service would be pushed back to March 2016, when budget analysts will have new economic numbers and a better understanding of how Metro service can integrate with the launch of Sound Transit's U-Link line.
New efficiencies and cost savings
The Executive's continuous improvement and Lean initiatives, countywide and at Metro, have produced significant savings. With the County's move to a biennial budget, the dollar figures represent savings over a period of two years:
Buying 40 fewer buses – In response to a 2009 performance audit, Metro has identified ways to better align service with fleet needs, enabling it to purchase 40 fewer buses without impacting service, for an estimated one-time savings of $40 million.
Favorable bus pricing – Metro negotiated bus and trolley purchase prices that are lower than earlier projections, for an estimated one-time savings of $50 million.
Safety training and reduced workers' compensation costs – Work countywide to improve safety training for operators and crews of all kinds has reduced accidents, liability claims, and workers' compensation costs. Savings: $13 million.
Lean – By embracing Lean practices and other business process improvements, transit staff are using techniques to standardize repairs, improve inventory management, and reduce redundant data entry. Savings: $2 million.
Health care savings – King County's nationally recognized Healthy Incentives program promotes employee wellness and reduced growing healthcare costs. The County's contribution to health care is capped at a four percent annual increase through 2016, significantly lower than rates experienced in previous years. Savings: $3 million.
Trimming the workforce – Service reductions will result in reductions to positions to match service cuts. Savings: $3 million.
Access service – Access ridership growth is leveling off as people with disabilities have more opportunities to use less expensive alternatives, such as regular bus service, community shuttles, and dial-a-ride. Access costs are also projected to be lower thanks to favorable fuel prices. Savings: $7 million.
General governance efficiencies – Work countywide to control internal service costs have resulted in significant reductions in the charges to departments for financial accounting, facilities, and central services. Savings: $5 million.
These efficiencies and other actions will allow Metro to sustain more service than previously projected. For more details, see Metro's
financial reforms and budget fact sheet
.
Steadiness of financial outlook
The latest price forecast for diesel fuel – a substantial part of Metro's operating costs - shows a 25-cent per gallon drop in price over the next biennium compared to earlier forecasts. Even greater savings are anticipated in future years.
While the August sales tax forecast has not materially changed since the March forecast, the steadiness of the forecast enables budget analysts to rely upon it in determining the level of service reductions that will be required moving forward. However, the County's economic forecasting model does not account for recessions that historically occur in cycles; the Executive's budget does.
"With this new budget, we are doing exactly what we said we would do – creating more efficiency while adjusting to changing dynamics," Metro General Manager Kevin Desmond said.
By the end of the year, Metro ridership is projected to reach a record 120 million trips – about one million more than the previous ridership record set in 2008 before the recession. Under Metro's guidelines, to keep pace with current and future demand the system should be growing by 15 percent, or more than 500,000 hours of bus service. Combined with the 400,000 annual hours of service reductions in the proposed budget, Metro will have a gap of 900,000 hours between the reduced level of service and where it should be to meet rising demand.
If proposed service reductions for next February are adopted by the County Council, and the Seattle transit initiative is approved by voters in November, those service cuts will be postponed until June 2015 to provide time for Seattle and other jurisdictions to submit Community Mobility Contracts to preserve service. Seattle and others could also contract to restore services slated to be cut Sept. 27.